TOGETHERNESS
with Alessia Russo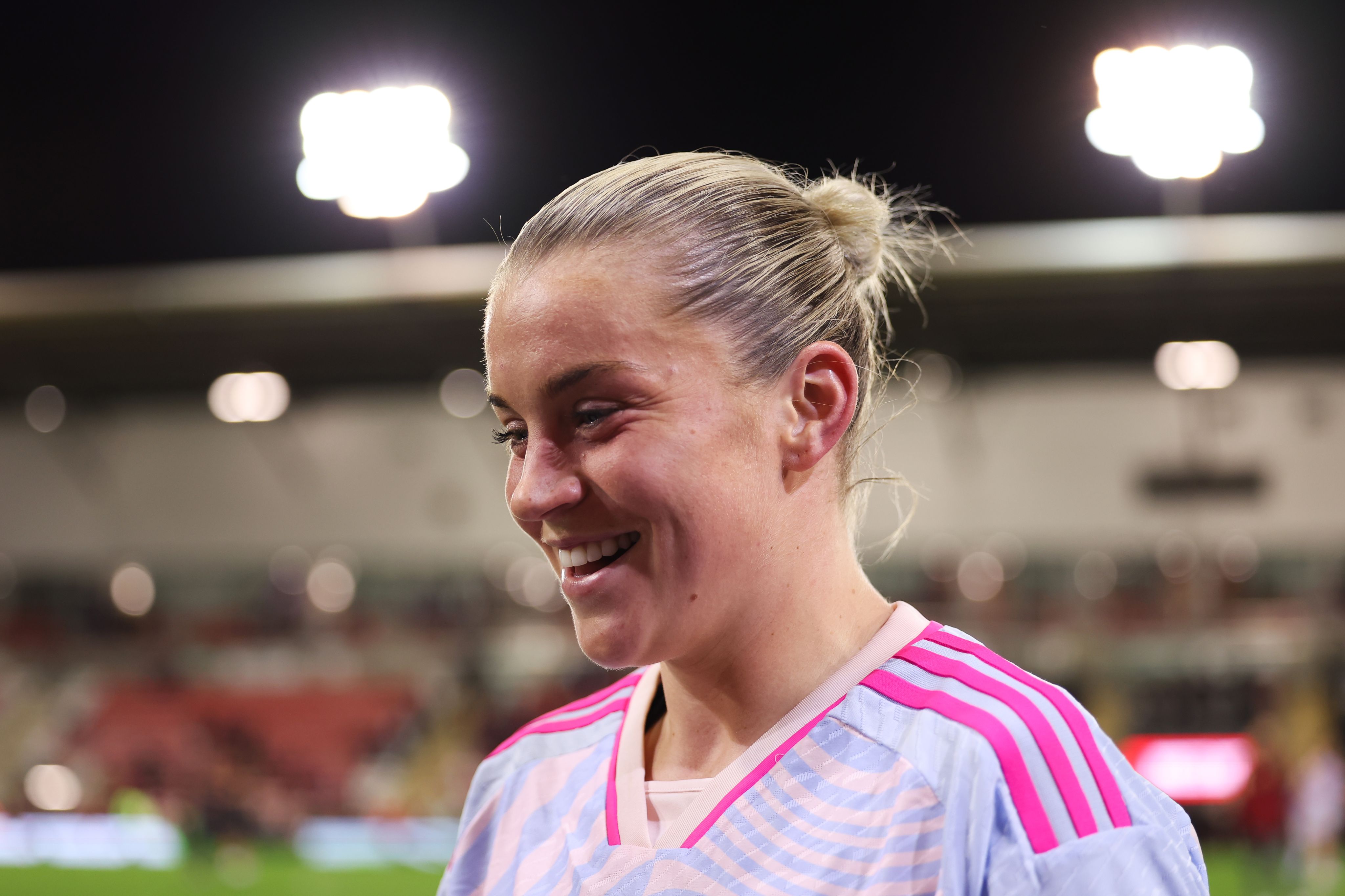 Welcome to Arsenal, Alessia. First up, what do you think is the most important ingredient of a team?
Togetherness. You could probably ask any player here and that's what they'd say! I think when times get tough, it's a case of knowing that you've got their back and they've got yours.
The highs are easy to celebrate, but it's the tougher moments that you need each other for. I've not been here long but I can already see that togetherness in this group of girls, which is really special. There's a family feel as soon as you walk through the door - I've loved every minute of it.
What does team spirit mean to you?
I think just enjoying each other's company and spending time together away from training and matches. The foundations of our relationships are obviously built when we're playing football and doing what we love, but when you step away from the pitch and you just go for coffee or sit chilling by the pool, that's when you really get to understand each other as people.
Once you know your teammates as people, you're able to know how they react in high-pressure moments. I think it's been really nice to be able to do team bonding activities away from the pitch, which really helps that connection grow.
Tell us about your current teammates – who are you closest to in the team?
Lotte. We've been through so many good times together. We went to the same college in the States but before that, we came through the youth teams for England and we were actually club rivals! She's always been one of my closest friends and I look to her more as a sister than a friend now because of the things that we've been through.
Moving to the other side of the world together and having that experience was really special. We were actually sitting by the pool the other day and laughing about our favourite memories from college. I think when you not only share football memories with someone but also grow up side-by-side and become adults together, it just makes your bond even stronger.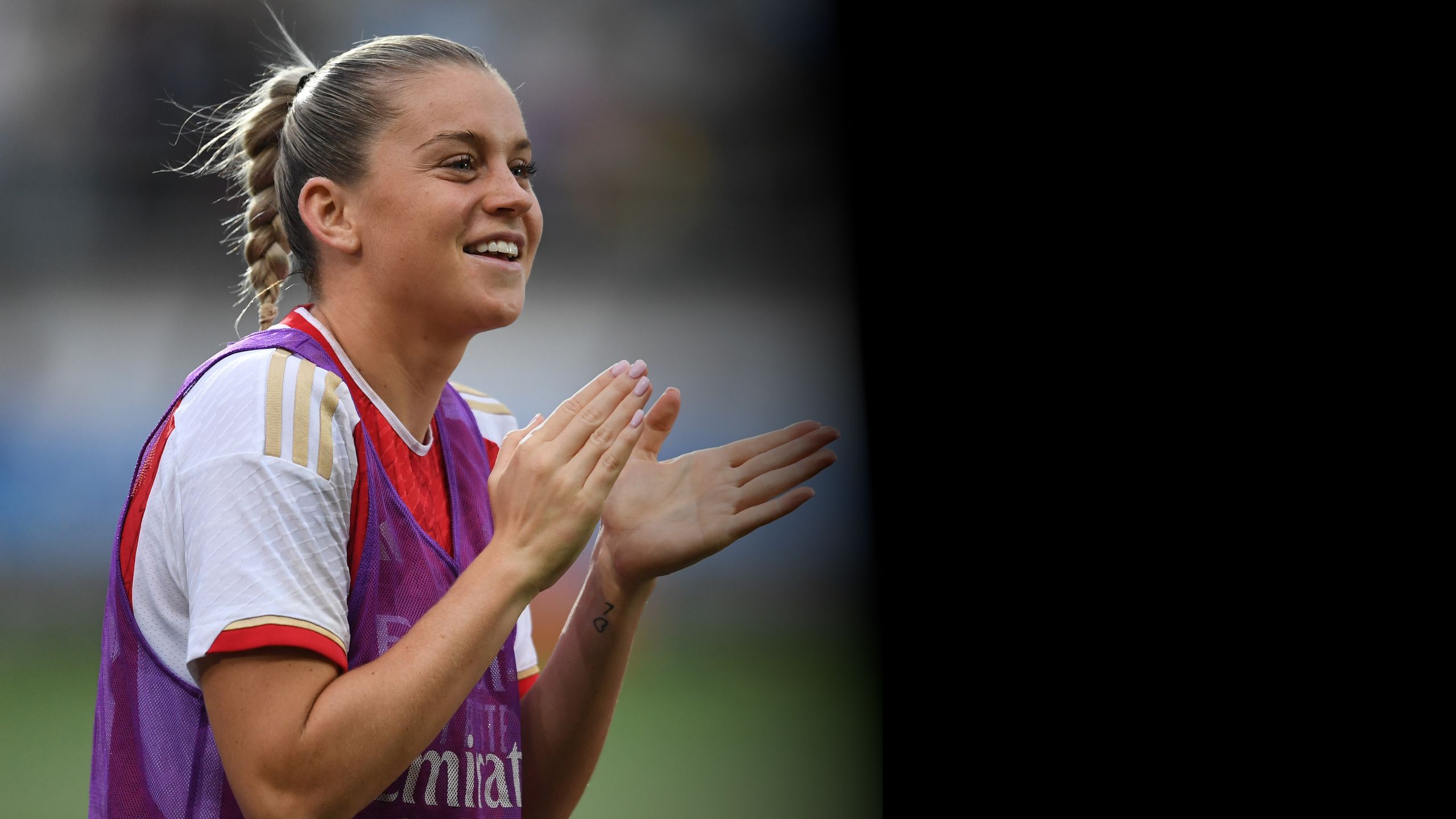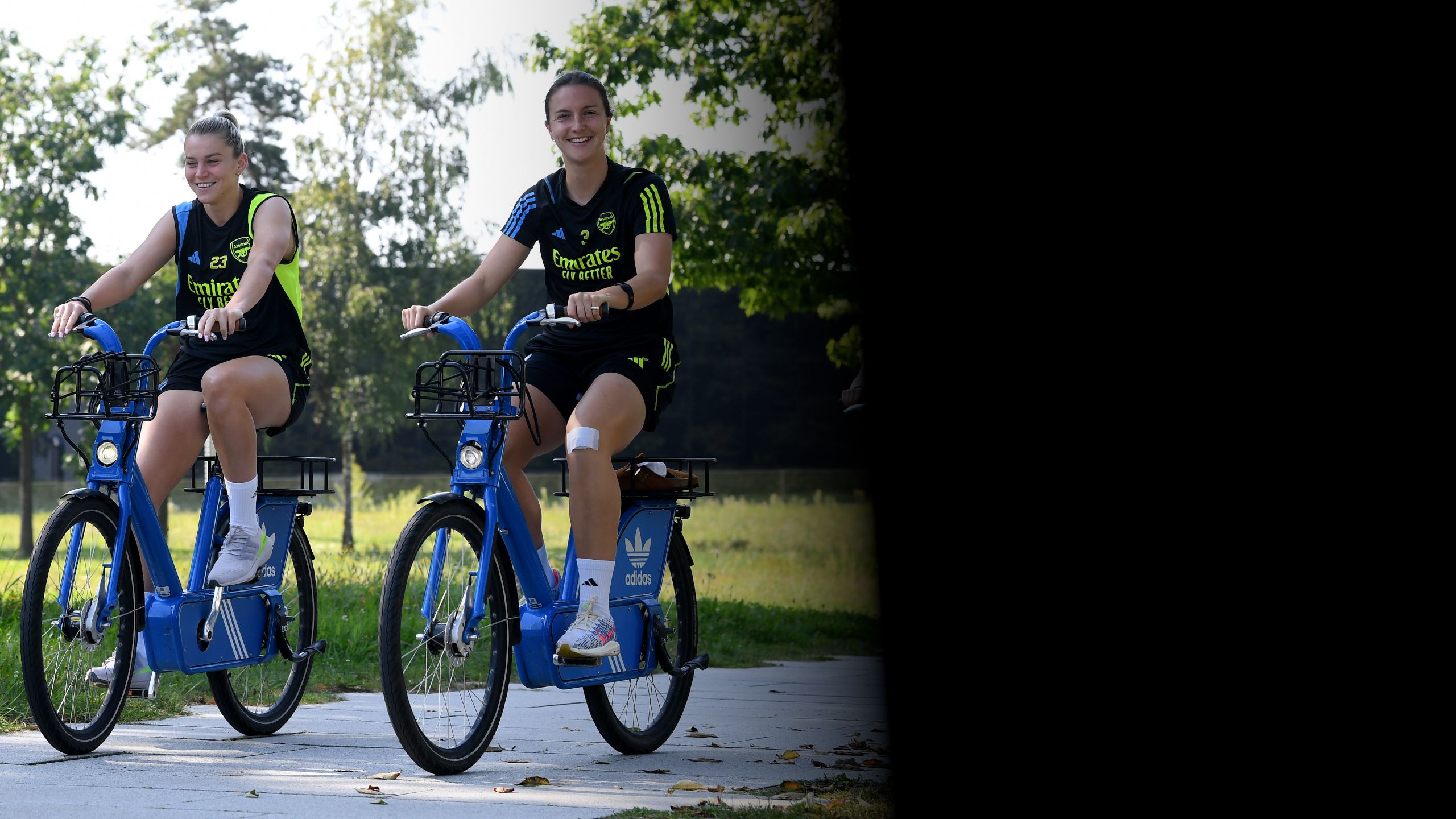 "
There's a family feel as soon as you walk through the door. I've loved every minute of it

."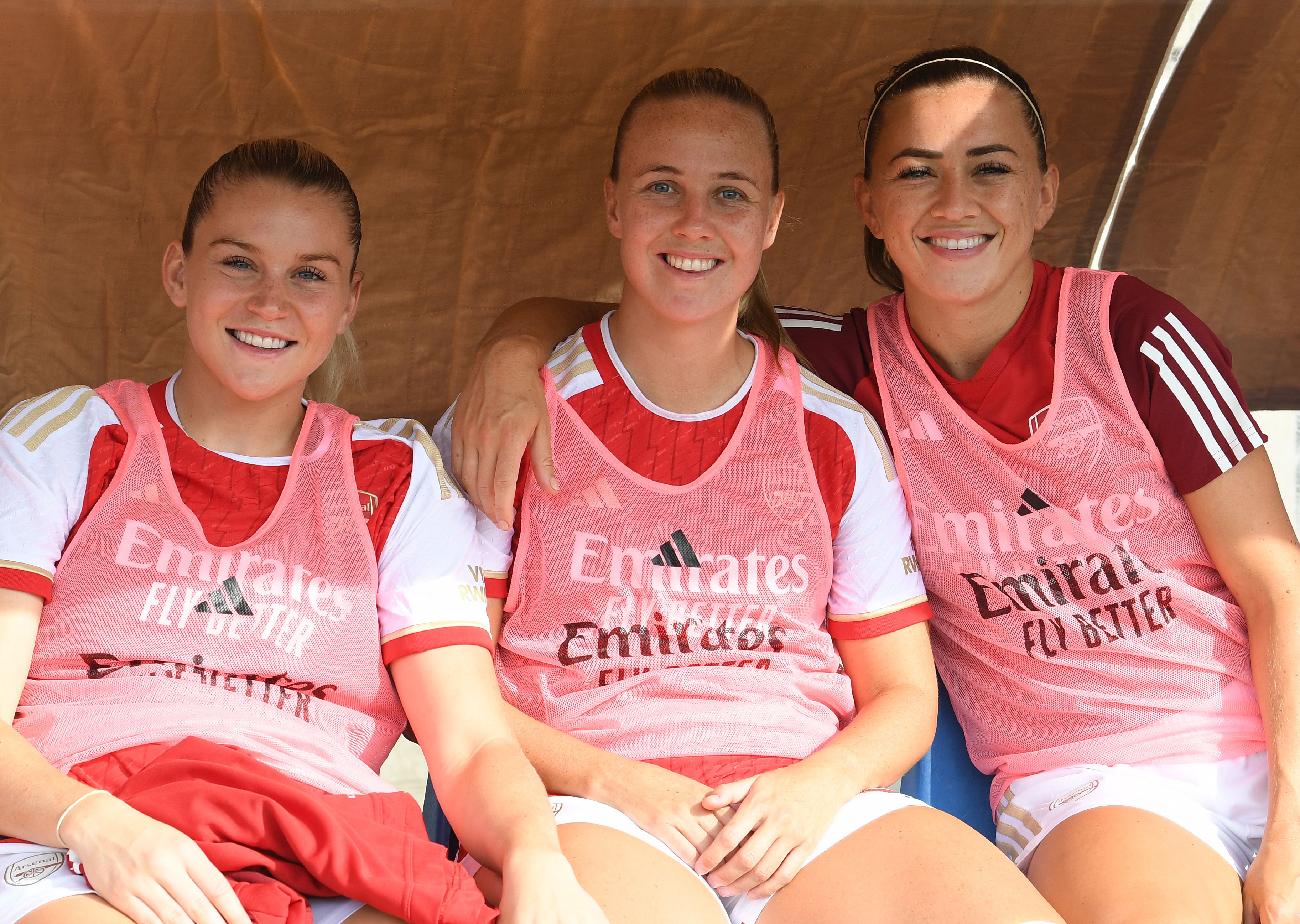 Does everyone have defined roles? Social organiser, joker and the like?
Vic is a bit of a joker - she's so funny. We play ping pong together and if you lose, you get ear flicks. So we've been having a bit of a bit of a battle there! Beth is someone who always has a smile on her face and she just brings the energy every day which is always great to have in the group. She's like a little ray of sunshine.
Kim's got a very wise head on her shoulders and I think she's like our team mum. She's really mature on and off the pitch - such a talented player who leads by example in every way. It's been really nice to come in and see all the dynamics!
You can feel like the new kid at school when you come into a new team, but everyone has been incredibly welcoming. You've just got to put yourself out there and have the conversations to get to know each other. Having those bonds off the pitch will only help you all on the pitch as well. We're all here because we love being a team and we love being together, so it's nice to build those friendships.
It's also been lovely to not feel alone during these early stages because I'm not the only new arrival for the squad this summer and we're all settling in together. We're even sat together in the changing rooms because it's organised in the order of how long you've been at the club, so I'm next to Laia and Amanda.
We've got a lot of young players in the squad - what benefits does that bring? And what challenges?
It's massively important to have young, fresh players come into the environment. Whether it's their first professional contract or just they've moved away from home, they've come to us to learn and we can learn so much from them too.
They're in a new environment and they are thriving but you've also got the girls who have been here for a really long time, who know how things work, the history of the club and the importance of wearing the badge. It's really important to learn from one another.
Having those different levels of experience makes a team great because you've got people who are excited and just getting involved, balanced with those who know how to handle the pressure and high stakes of our game.
How much do you know about the Arsenal Women Invincibles team of 2006/07? And what do you think it will take to dominate in that way?
They're a huge part of women's football. I think it's important for players now to recognise the history because those players set the tone for the modern game.
Obviously, as Arsenal players, we want to go on and win as many games and as many trophies as we can, so understanding the process and how to get there is really important. We can learn from them.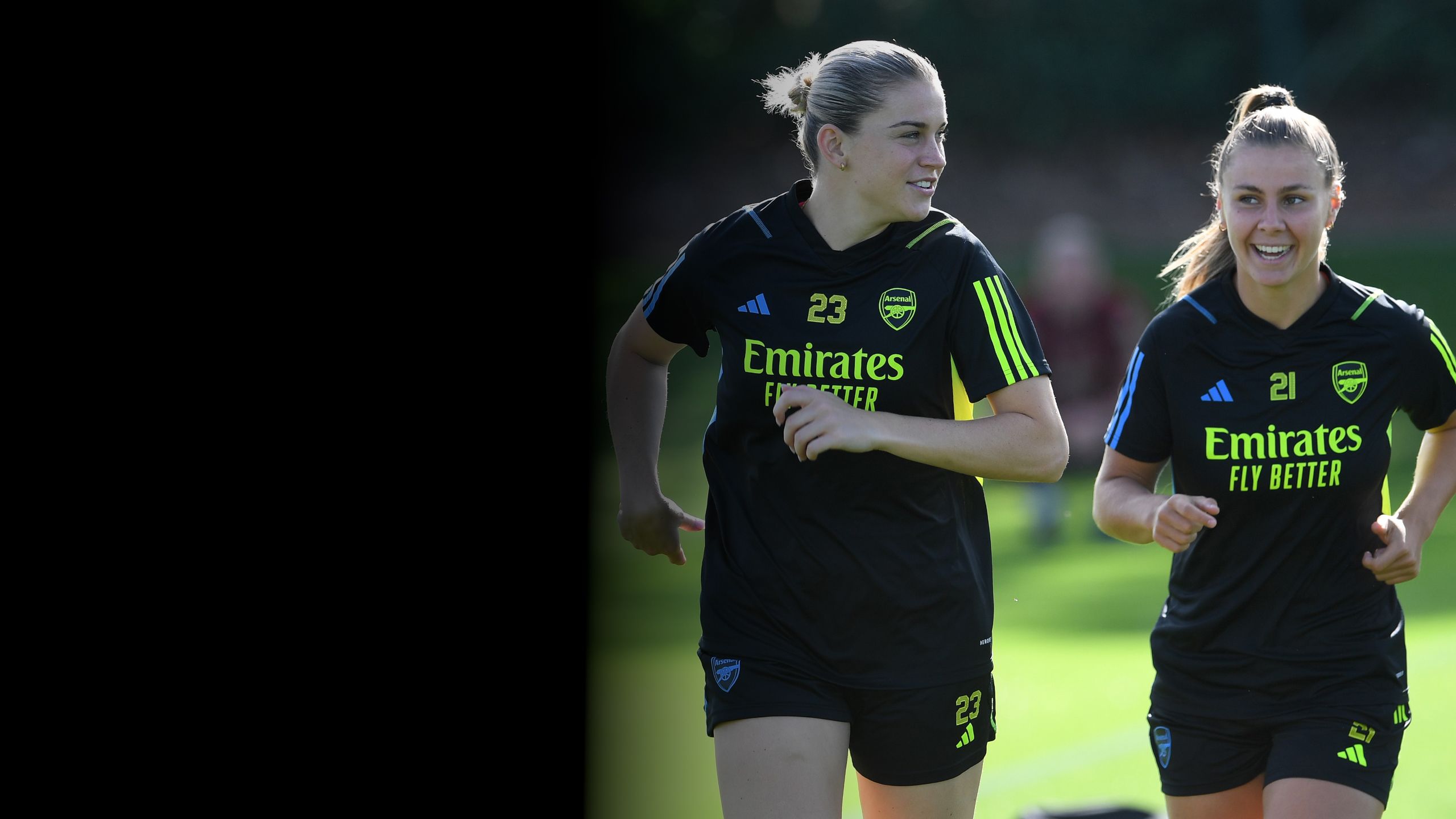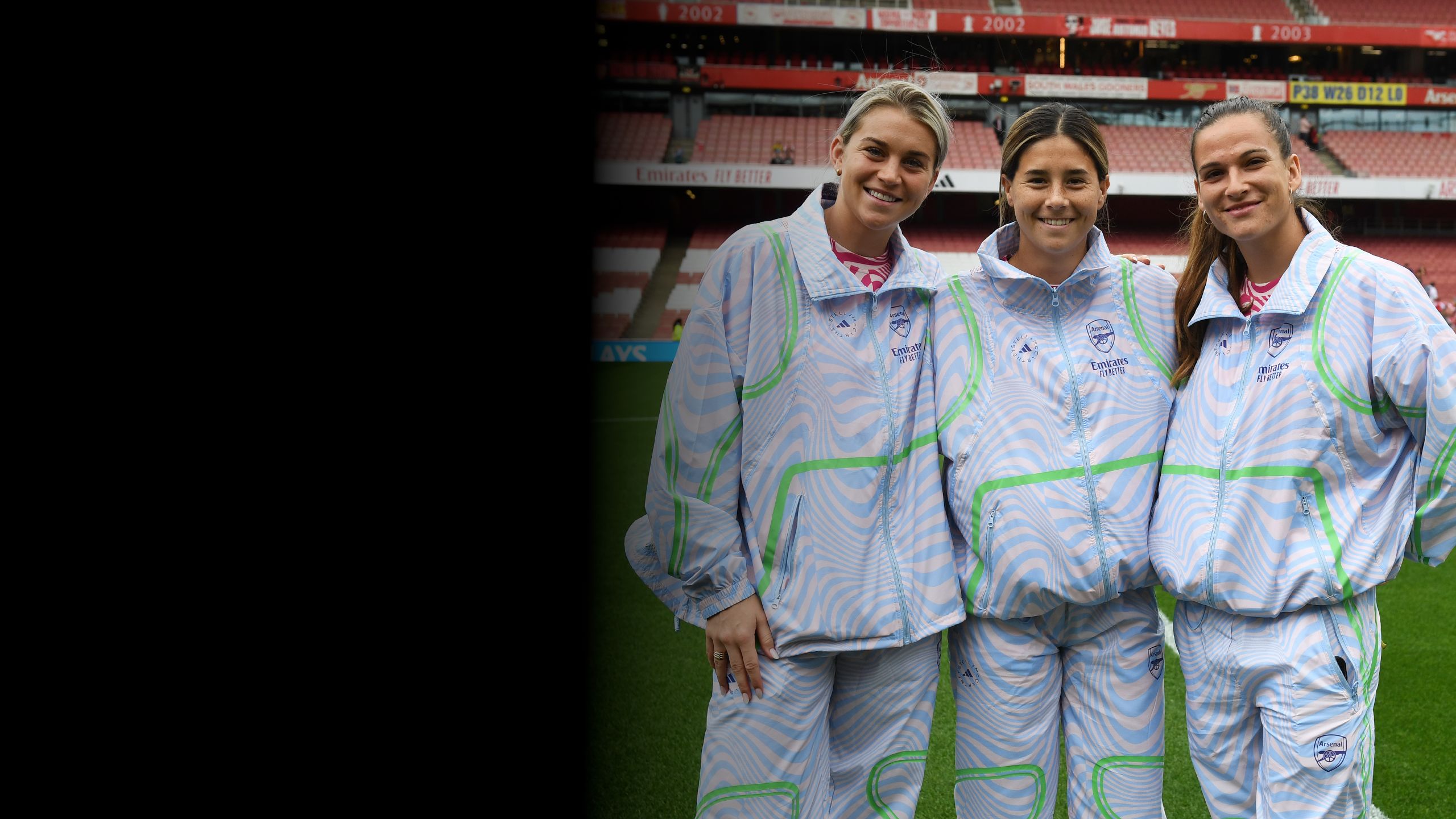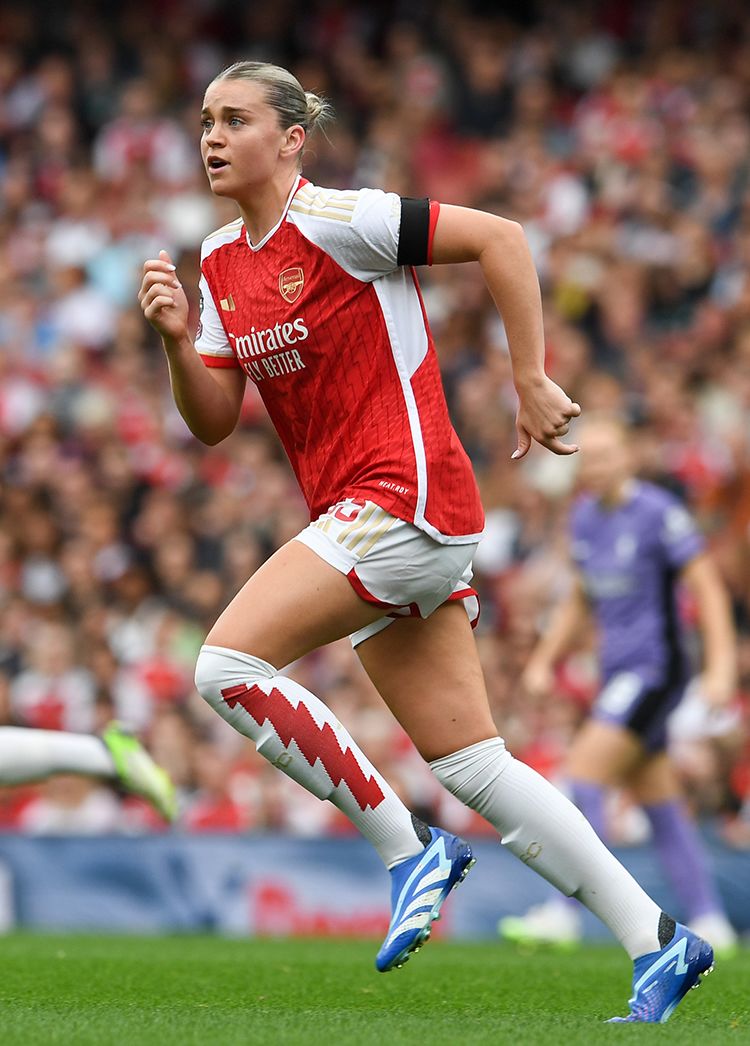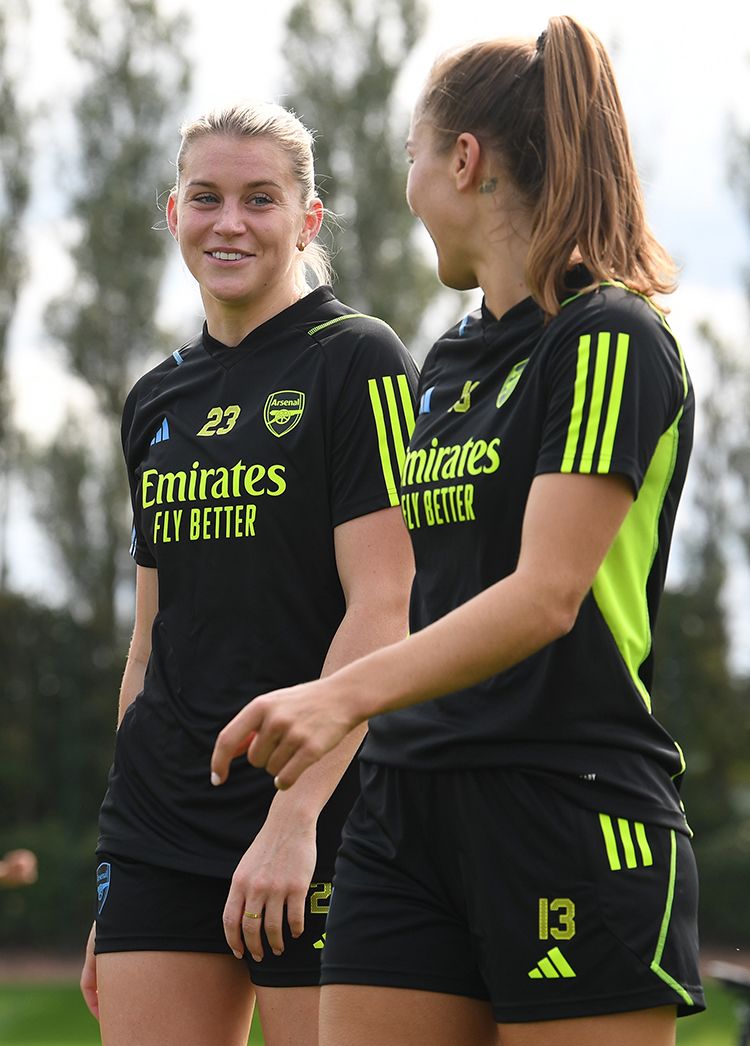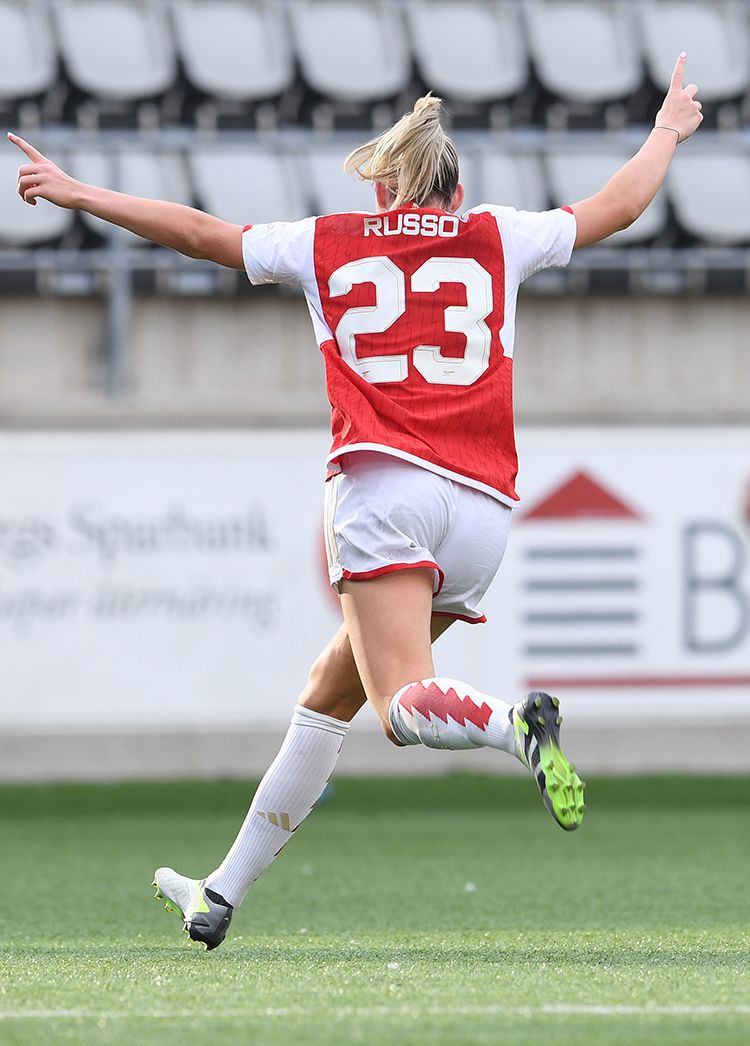 Could you imagine playing an individual sport like golf or tennis, rather than a team sport?
No - never! I actually used to do athletics when I was younger, and I used to get so nervous before every single race because the pressure was solely on me. It was great and taught me a lot but, at the same time, I thrive off other people.
I thrive being in a team and I think being able to have a group of girls around you that would do anything for you on the pitch and vice versa is really special. So I don't think I'll be switching sports anytime soon.
There's a whole team behind the team at Arsenal: the medical staff, coaches and the like. How much time do you spend with them and have they helped you?
It's been incredible. There are so many staff members here that I'm struggling to remember everyone during my first few weeks! You can really see the team behind the team and that's important in any line of work, but especially in professional sport. We play on the pitch and we're who everyone sees each week, but there's so much work that goes into every game that not many people can see.
So, as players, we're always really grateful to everyone who is involved at the club, because without them, we definitely wouldn't be anywhere near where we are today. For an athlete to be able to perform at a high level, there's a whole team in the background, so it's been great to see the level of support that everyone is shown here at Arsenal.
Are your family your own personal team?
For sure. For as long as I can remember, I've been involved in football and my family have been with me all the way. I'm their biggest fan and they're my biggest fan and I definitely wouldn't have achieved what I've achieved without them.
They did a lot for me growing up and still come to every game now, which is really nice. My family is a huge part of me as a person and as a player, and they're on the journey alongside me. They're who I do it all for, so having them involved is incredibly important.
Can you think of a time when your teammates have been there for you at a difficult moment?
Football is full of highs and lows and there are definitely more lows than highs, so I think you've just got to stay as measured as possible through it all. It's important to never get too high or too low because things change, games come around so quickly and a season is over before you know it. So you never want to miss a moment.
Obviously, times can be tough but I think what's special in team sports is that you have each other's backs through the good times and the bad.
Going out in the Champions League qualifiers was incredibly tough to take but I think we've got to look forward. You can never look back in football and in life in general. We'll learn from the experience before we stick together, refocus and move on.
What's the best example of togetherness with the supporters you can remember?
As soon as we walked out at Wembley for the Euros final, you could feel it. The atmosphere was electric. The way the fans supported us throughout the whole journey was unbelievably special. I'd never experienced anything like that home tournament support before and you can really feel the difference it brings when a whole nation comes together and gets behind a team.
From game one, all the way through to the final, the crowd was really our 12th player. We felt them during the tough moments, but also got to celebrate with them during the good. Winning it all made that feel even better. That summer will forever hold a really, really special place in my heart.
Now, I can't wait to play at Emirates Stadium as an Arsenal player. The club holds a lot of history and that stadium is really special. I'm buzzing to go out there and meet the supporters and play in front of them all. Hopefully, we go out there and put on performances that we're proud of and that the Gooners are proud of too.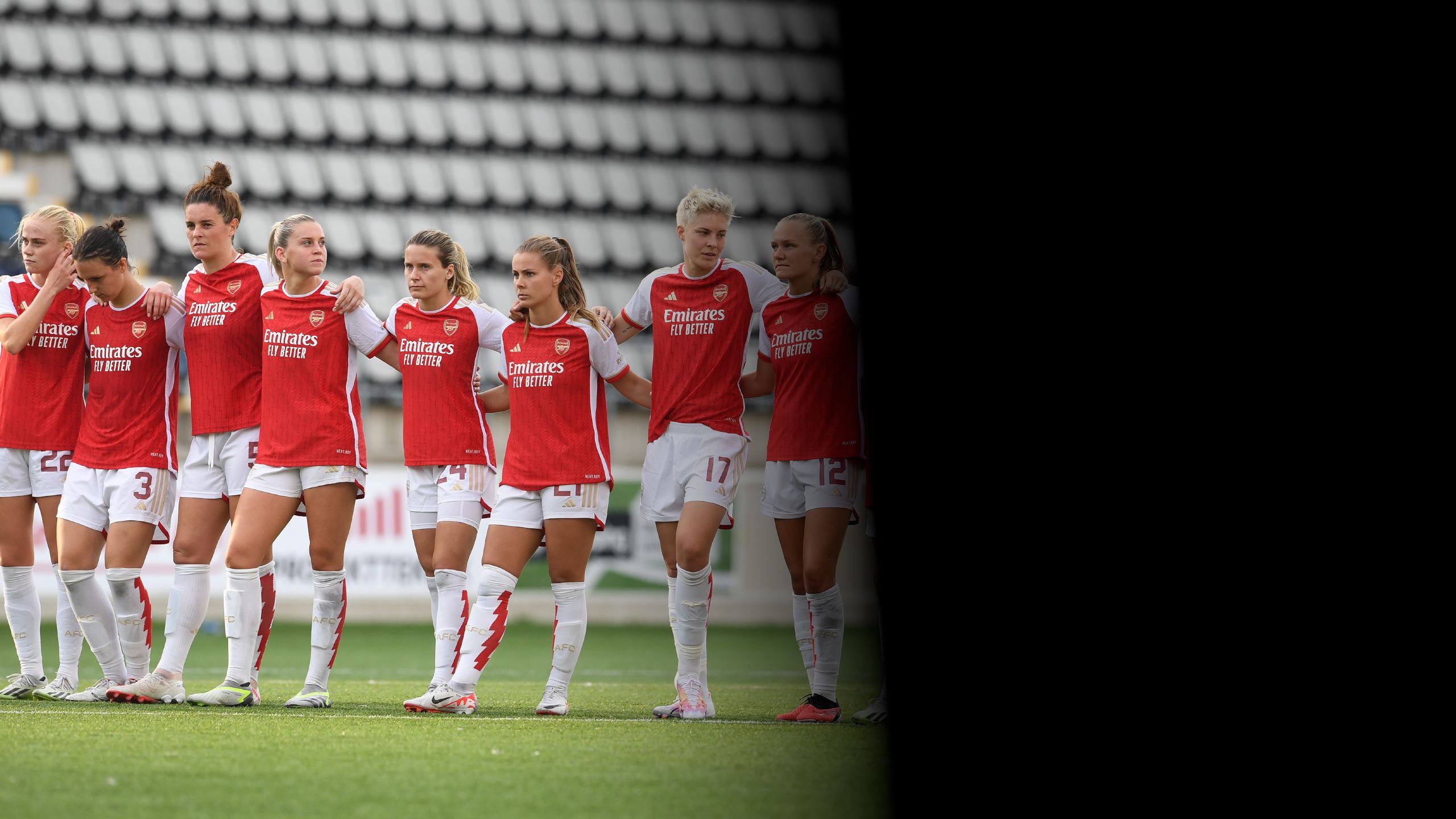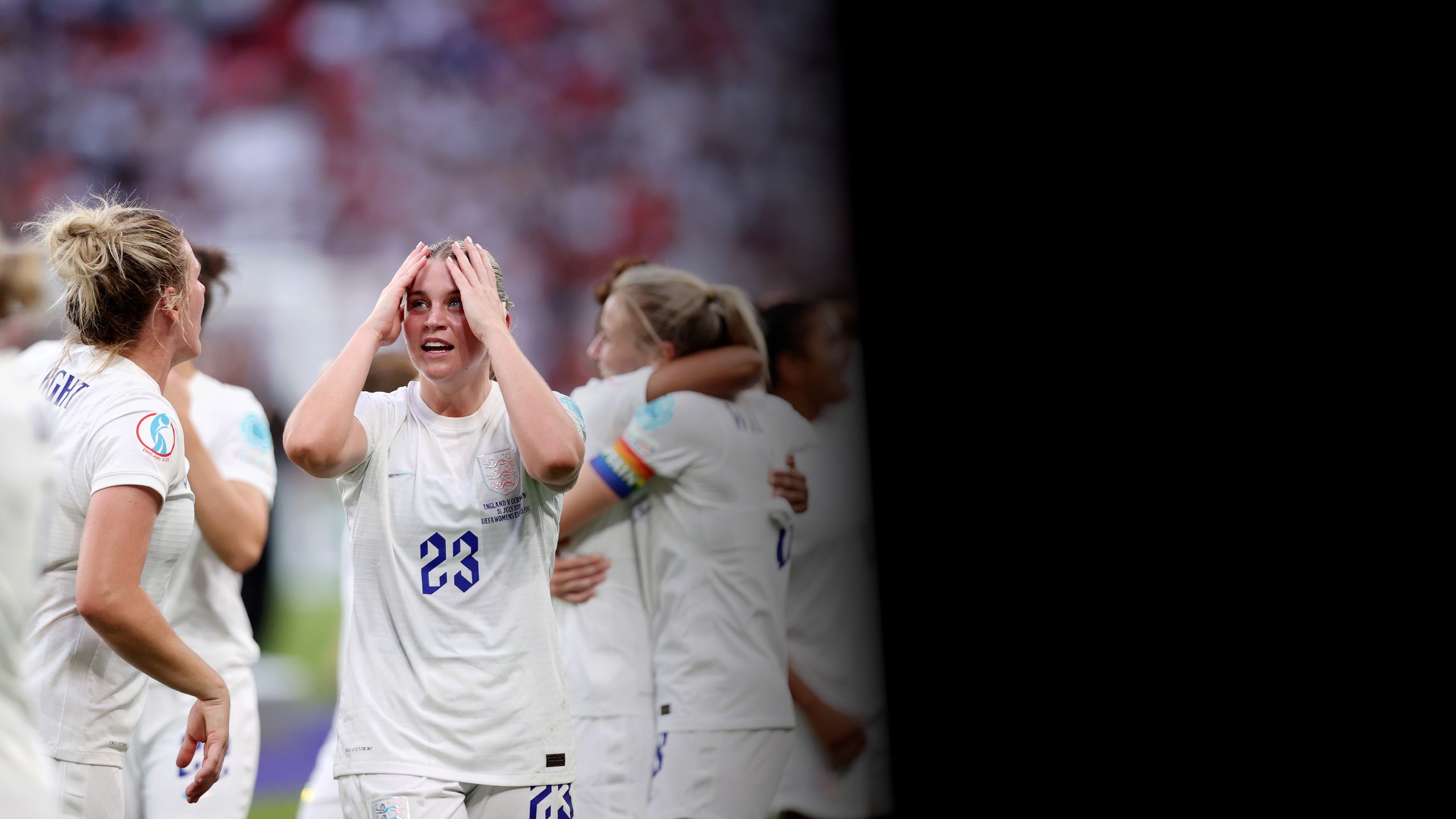 "I'm buzzing to go out there and meet the supporters and play in front of them all."