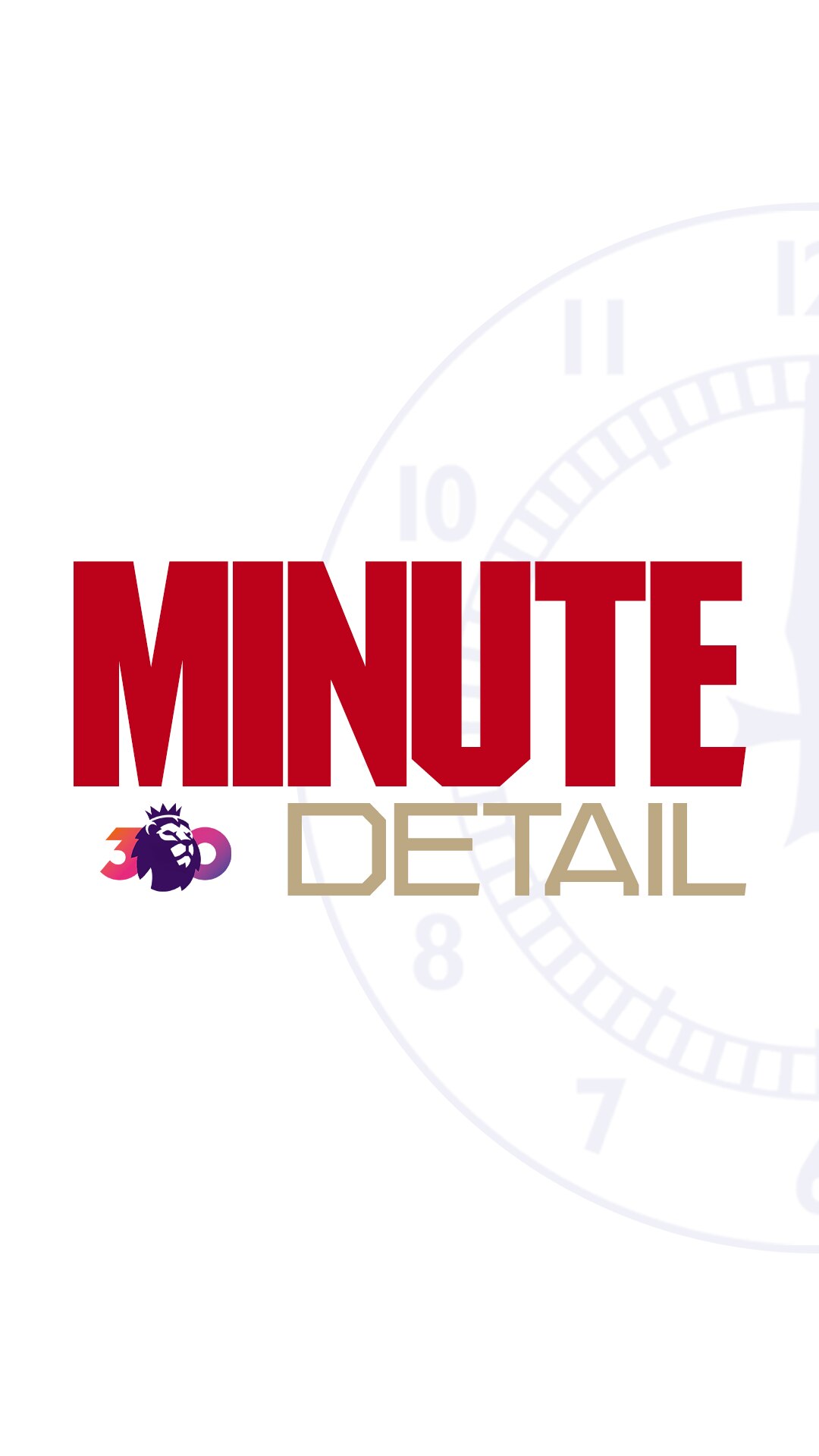 MINUTES 16-30
We pick out a goal from every minute of our Premier League history, including some of the greatest in our history, as well some lesser-remembered strikes.
By Josh James
16
Alexandre Lacazette
Tottenham HOTSPUR 2-1 Arsenal
July 12, 2020
There weren't any supporters inside the stadium to witness it, but the first-ever north London derby goal at Tottenham Hotspur's new stadium was an absolute beauty.
Granit Xhaka beat Serge Aurier to the ball in midfield, and Alexandre Lacazette picked up possession. He took a couple of touches to bring the ball forward, as things started to open up before him.
Fully 25 yards from goal, the striker then powerfully put his right boot through the ball - with little backlift - sending an arrow of a shot into the top corner.
He became the first player to score in both north London derbies in the same season for us since Per Mertesacker eight years earlier. Spurs would turn it around to record a scarcely deserved late 2-1 win - but Laca's place in NLD history was assured.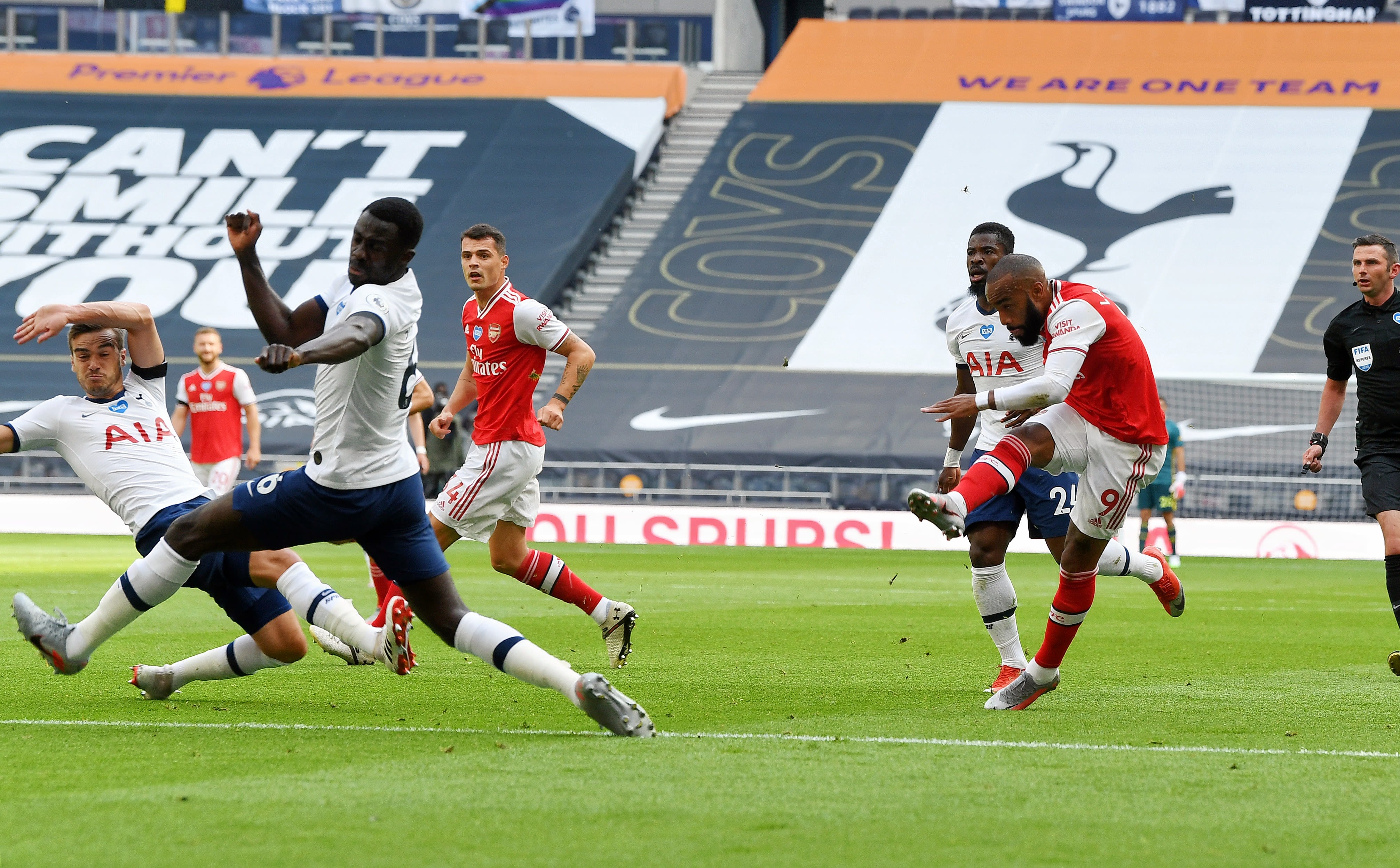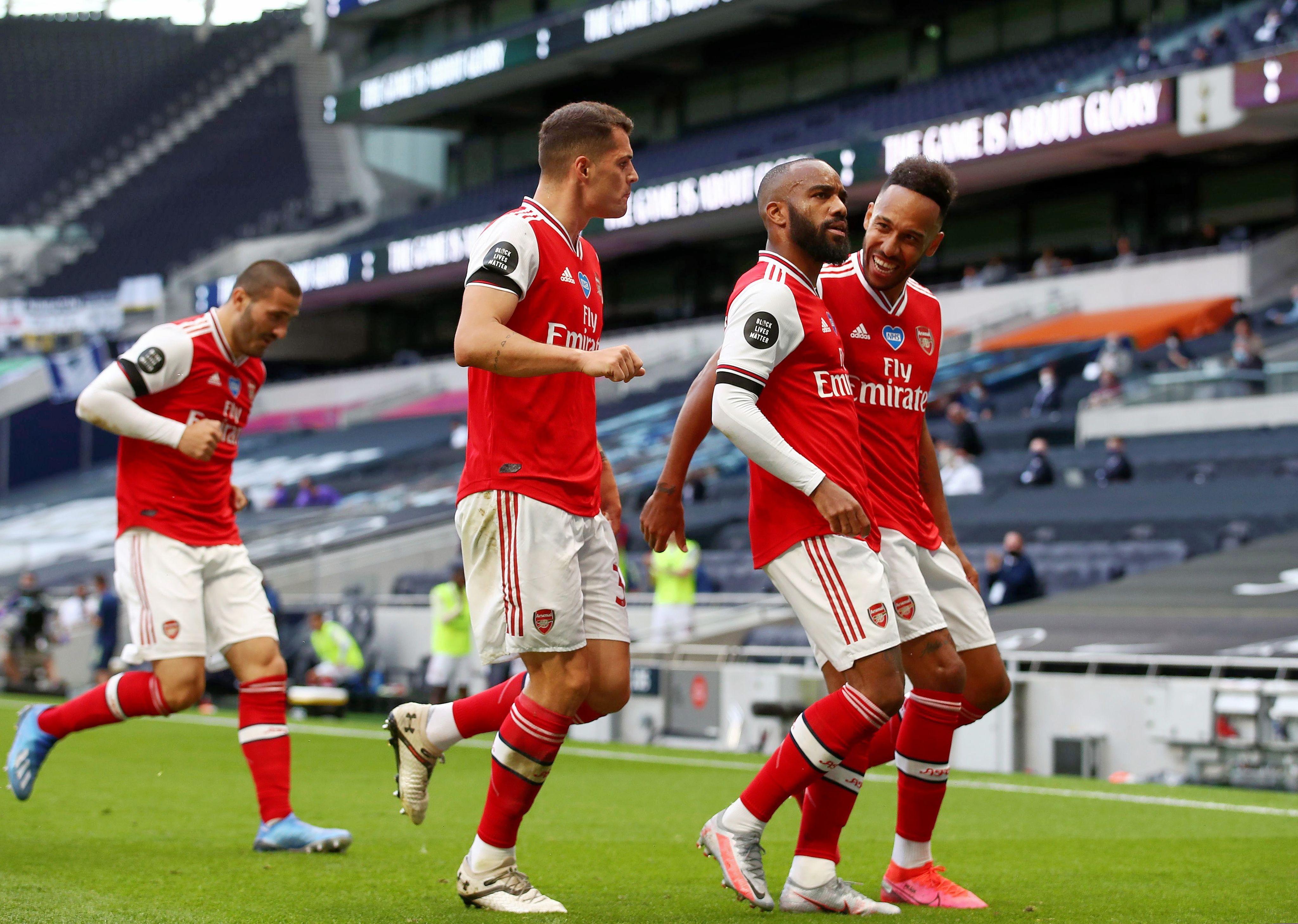 17
Olivier Giroud
Arsenal 2-0 Crystal Palace
January 1, 2017
The only entry on our list to win the FIFA Puskas Award for Goal of the Year, Olivier Giroud's piece of quick-thinking inventiveness on New Year's Day 2017 had the whole of Emirates gasping.
Giroud was involved near the start of the counter-attack, flicking Hector Bellerin's pass to Granit Xhaka and then making a bee-line for the penalty area. Alexis Sanchez's cross was high and slightly behind the Frenchman, but Giroud stretched out his left leg and flicked the ball over keeper Wayne Hennesey and in, off the underside of the bar.
"I tried to keep the ball alive by finishing the move and having a shot, and had maximum efficiency with a bit of luck," Giroud said.
"I never worked on it in training, though people who play with me know I love doing acrobatic moves – I loved Jean-Pierre Papin's overhead kicks and have scored a couple myself. I did mean it, but hitting the underside of the crossbar made it that much better – it was just one of those things. It was a very, very special moment."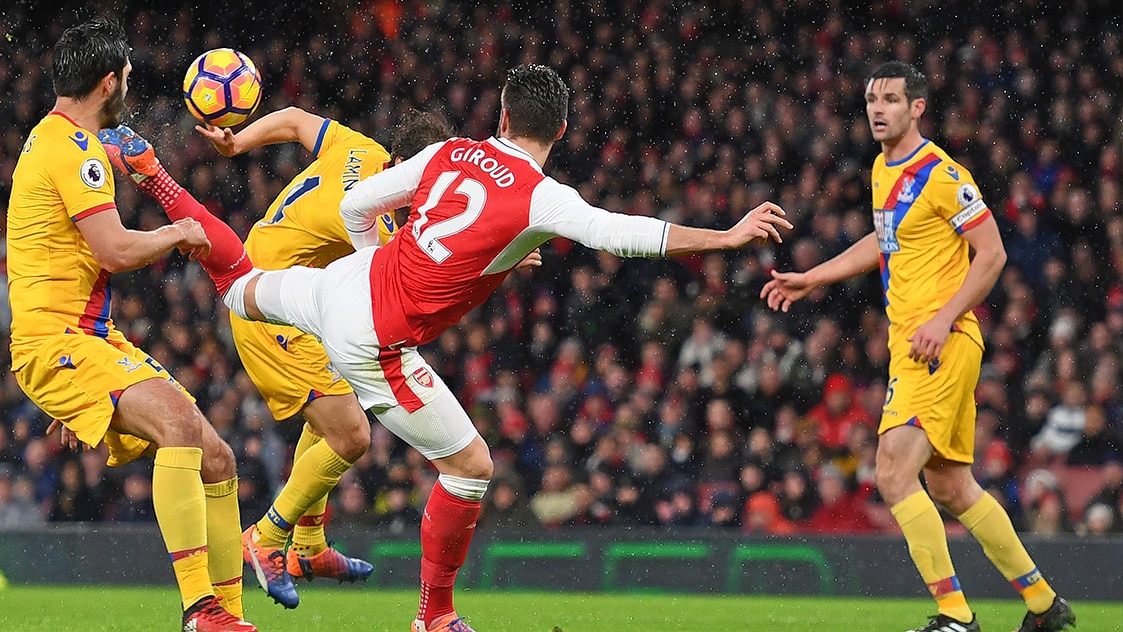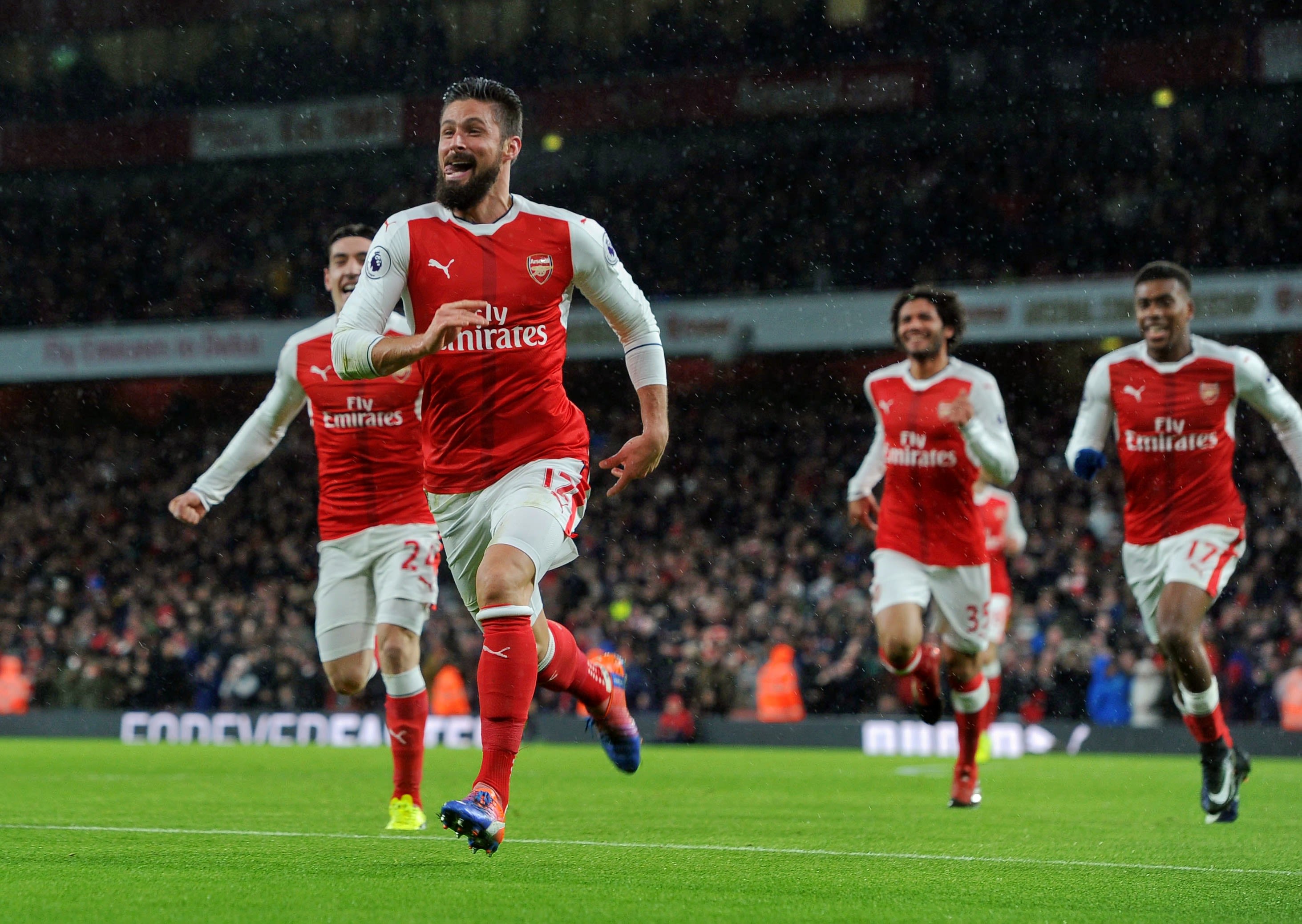 18
Jack Wilshere
Arsenal 4-1 Norwich CITY
October 19, 2013
Voted Match of the Day's Goal of the Season for 2013, and surely one of the most memorable goals ever scored at Emirates Stadium, it's often described as 'peak Wengerball'.
Santi Cazorla and Jack Wilshere played a quick one-two outside the area, before Cazorla passed first time to Olivier Giroud. He in turn played a first-time one-two with Wilshere, flicking the ball through to the midfielder and taking out four defenders in the process.
Wilshere then cushioned the ball home on the volley, with the Norwich defence static, unable to even react to the speed of the move. "It sounds mad, and people don't believe me, but that used to happen all the time in training," Wilshere said.
"That is Arsène Wenger. That's the way he wanted to play, quick passing like that, and we worked on it loads. I didn't realise how good the goal was when I scored it, but Giroud ran over and said: 'that was special'. Then I saw the replay on the big screens."
The Emirates crowd gasped in union as well when it was replayed in the stadium, aware they had just witnessed something truly special.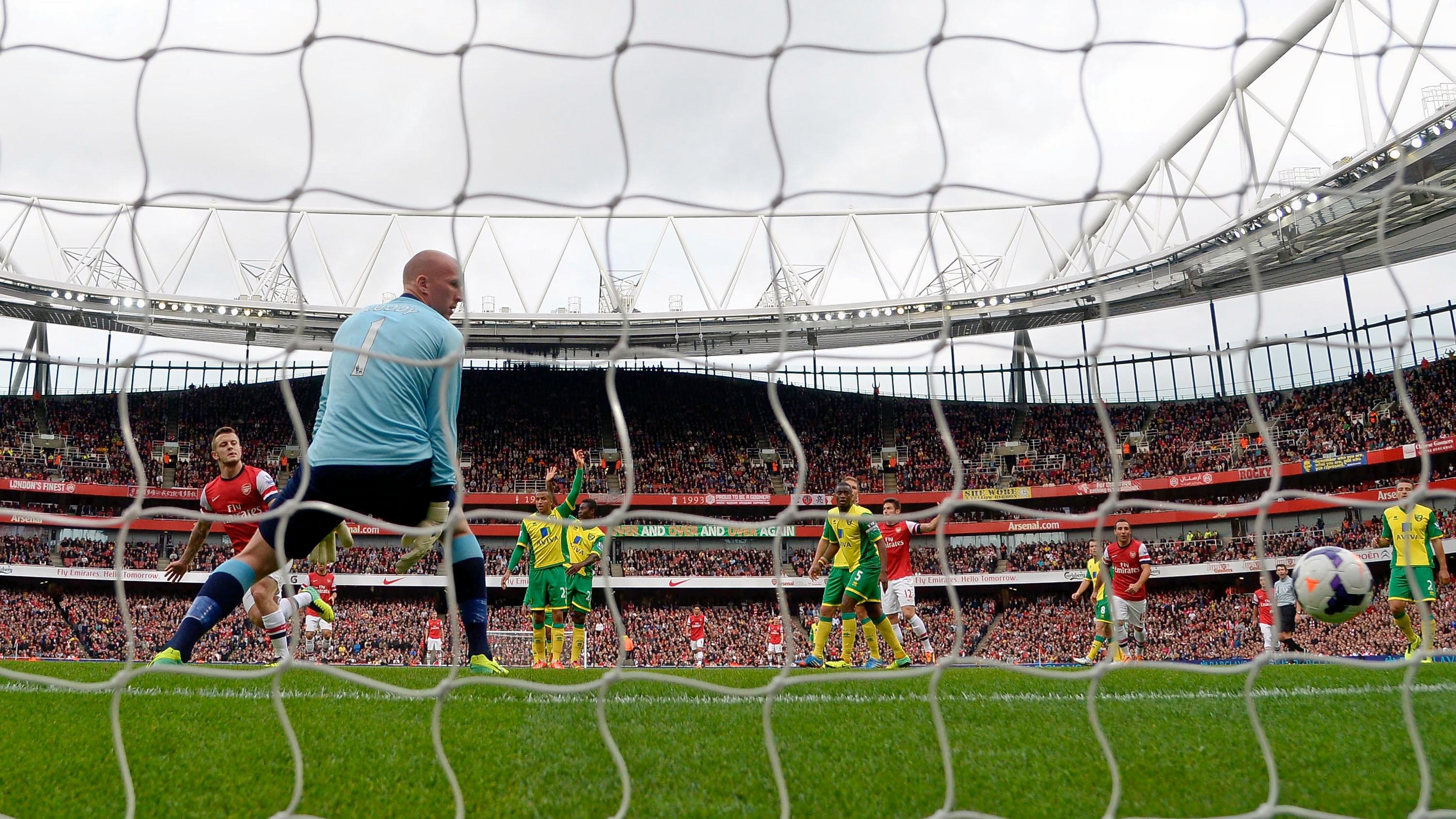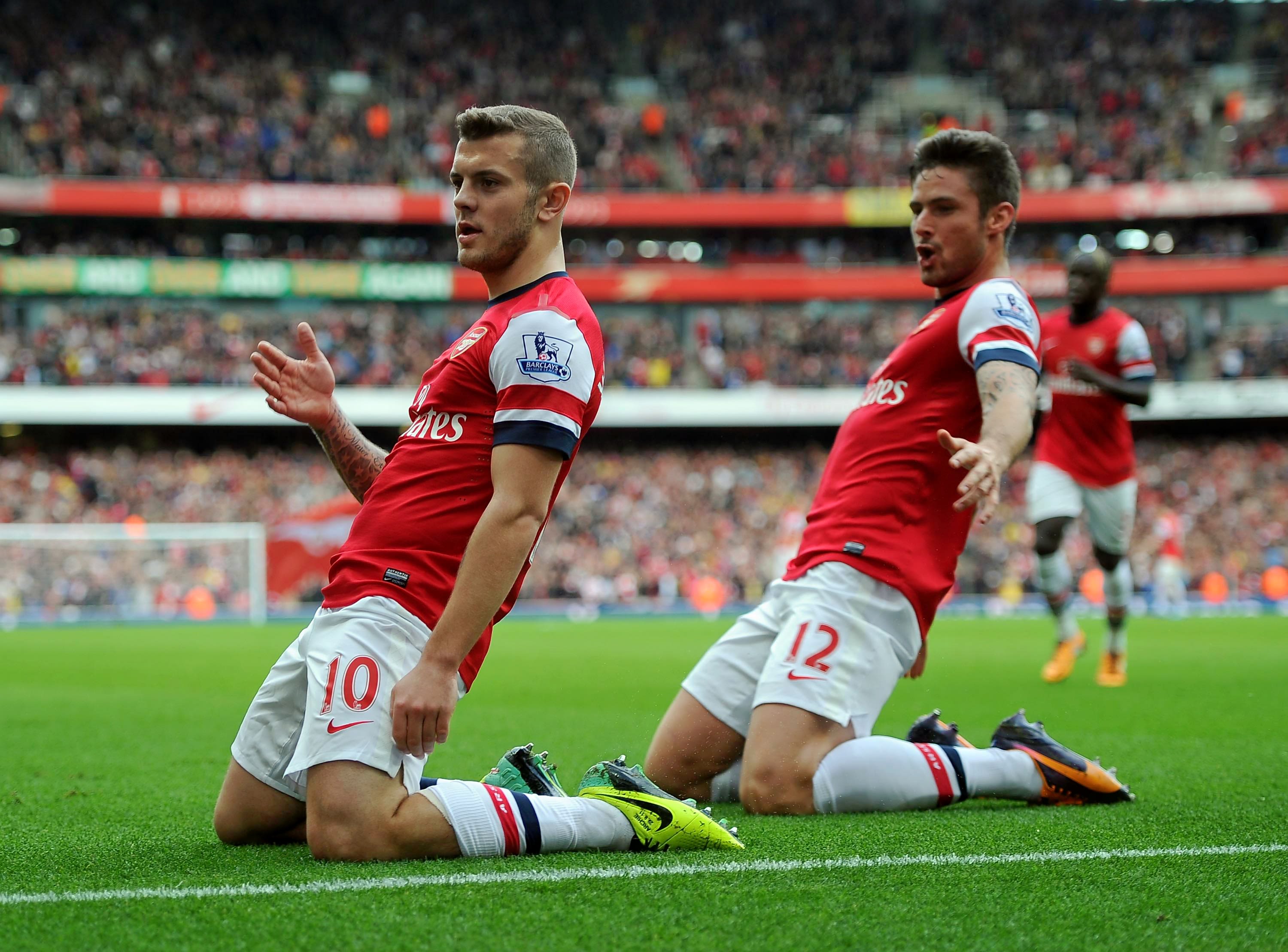 19
Alexis Sanchez
Arsenal 3-0 Manchester United
October 4, 2015
The Gunners ripped into United from the off on this October afternoon, and this strike from Alexis Sanchez after 19 minutes made it 3-0 to Arsene Wenger's rampant team.
The Chilean had already scored an excellent back-flicked effort from close range from Mesut Ozil's cross after only six minutes, and Ozil himself doubled the lead a minute later before this pearler put the Emirates crowd in dreamland.
Theo Walcott found Alexis, and he forced his way past one challenge then let rip with his right foot from the edge of the area, flashing his shot beyond David de Gea into the top corner.
It was hit with such power that the ball was already in the net with the keeper still grasping at thin air.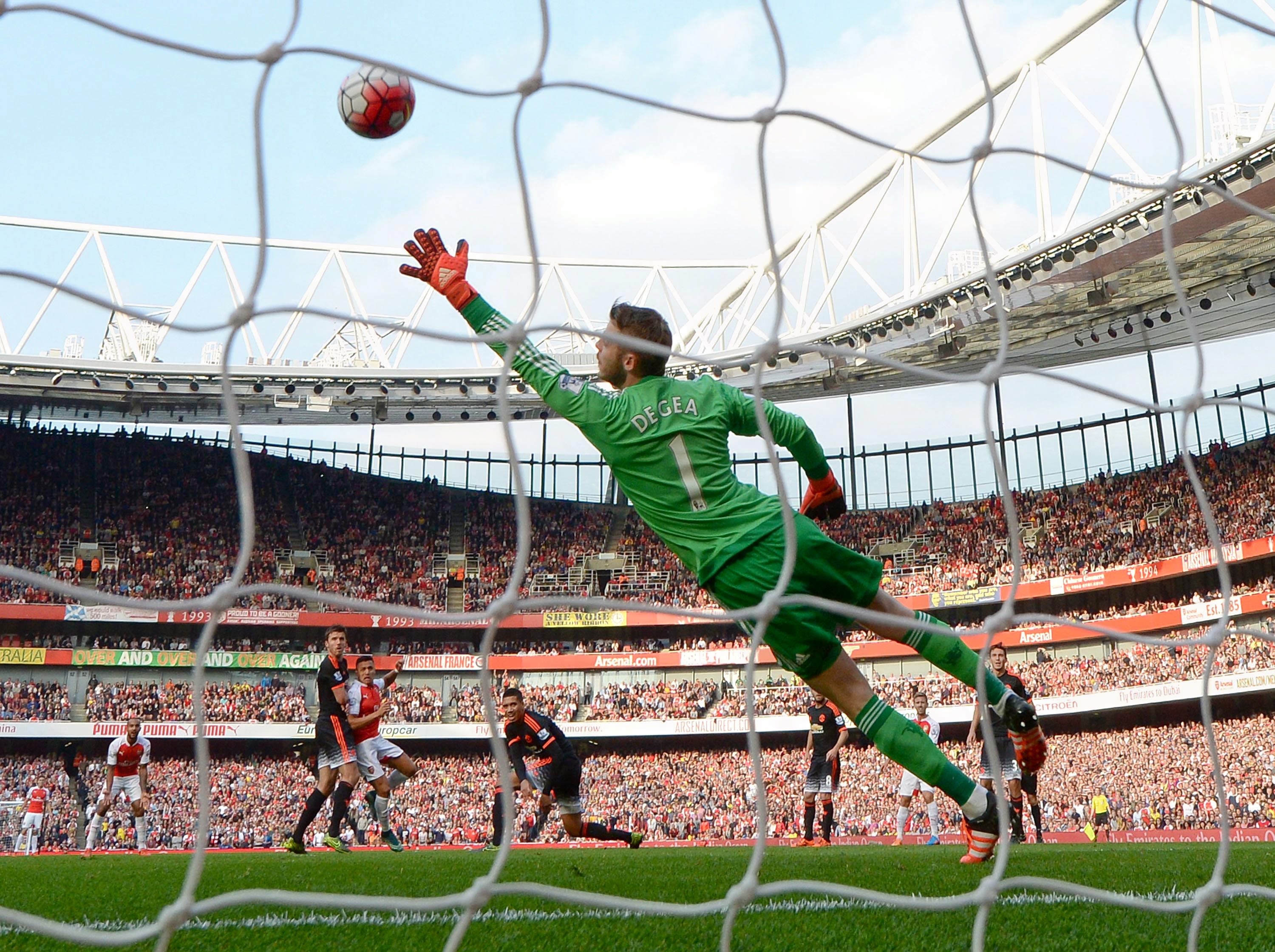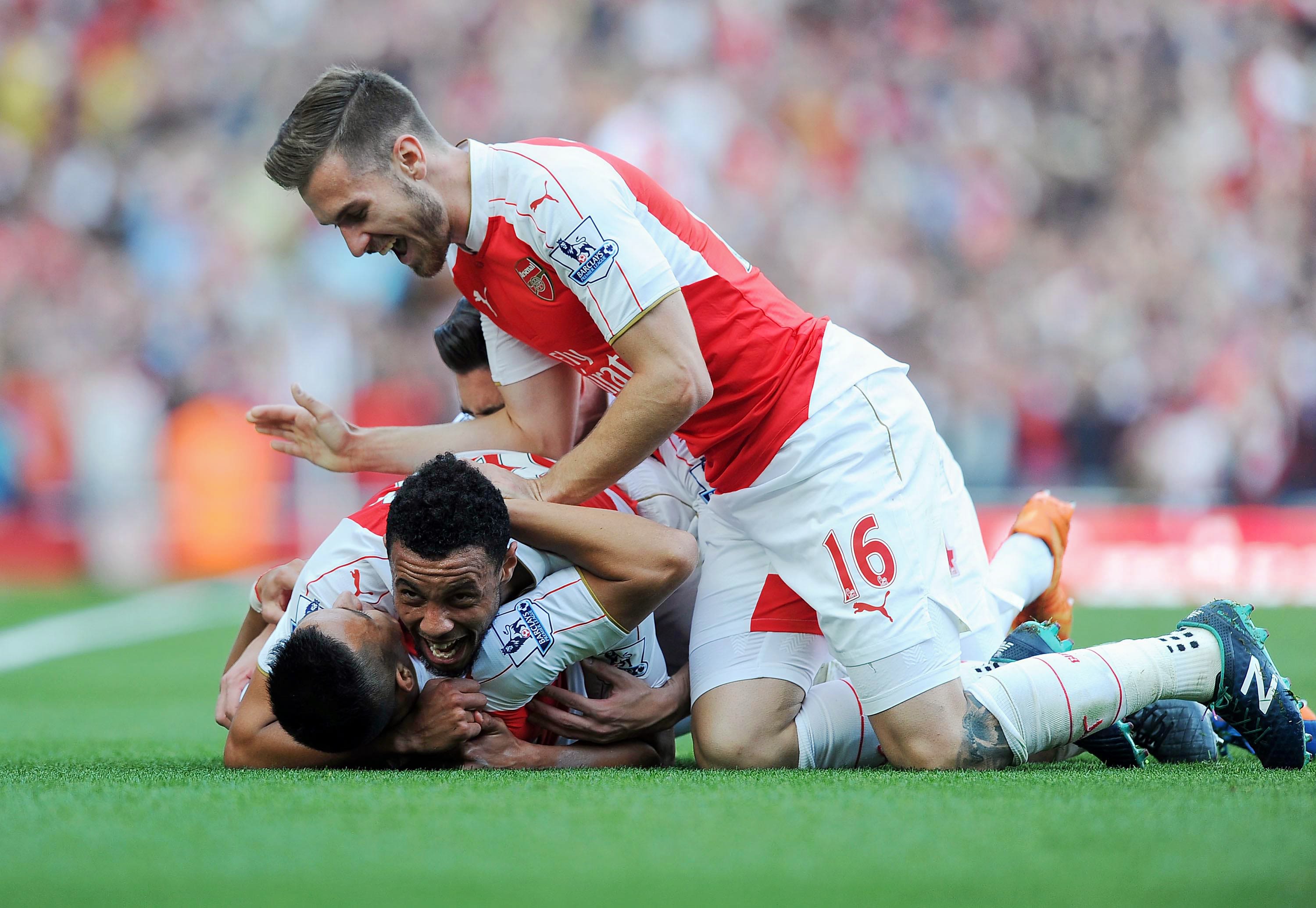 20
Emmanuel Eboue
Blackpool 1-3 Arsenal
April 10, 2011
A game made more famous for Jens Lehmann breaking the record as our oldest-ever Premier League player, aged 41, defender Emmanuel Eboue was never one to be overshadowed.
The effervescent Ivorian didn't score many goals in an Arsenal shirt (10 in 214 games) but this one put the seal on an excellent move at Bloomfield Road late in the 2010/11 season.
Abou Diaby had already given us an early lead before Eboue doubled the advantage in the 20th minute. We were stroking the ball around effortlessly, and the move for the second was a neat one-two between Jack Wilshere and the overlapping Eboue on the right flank.
Once in the area he reacted like a centre forward, slamming his powerful left-shot into the net, and putting us well on the way to three points.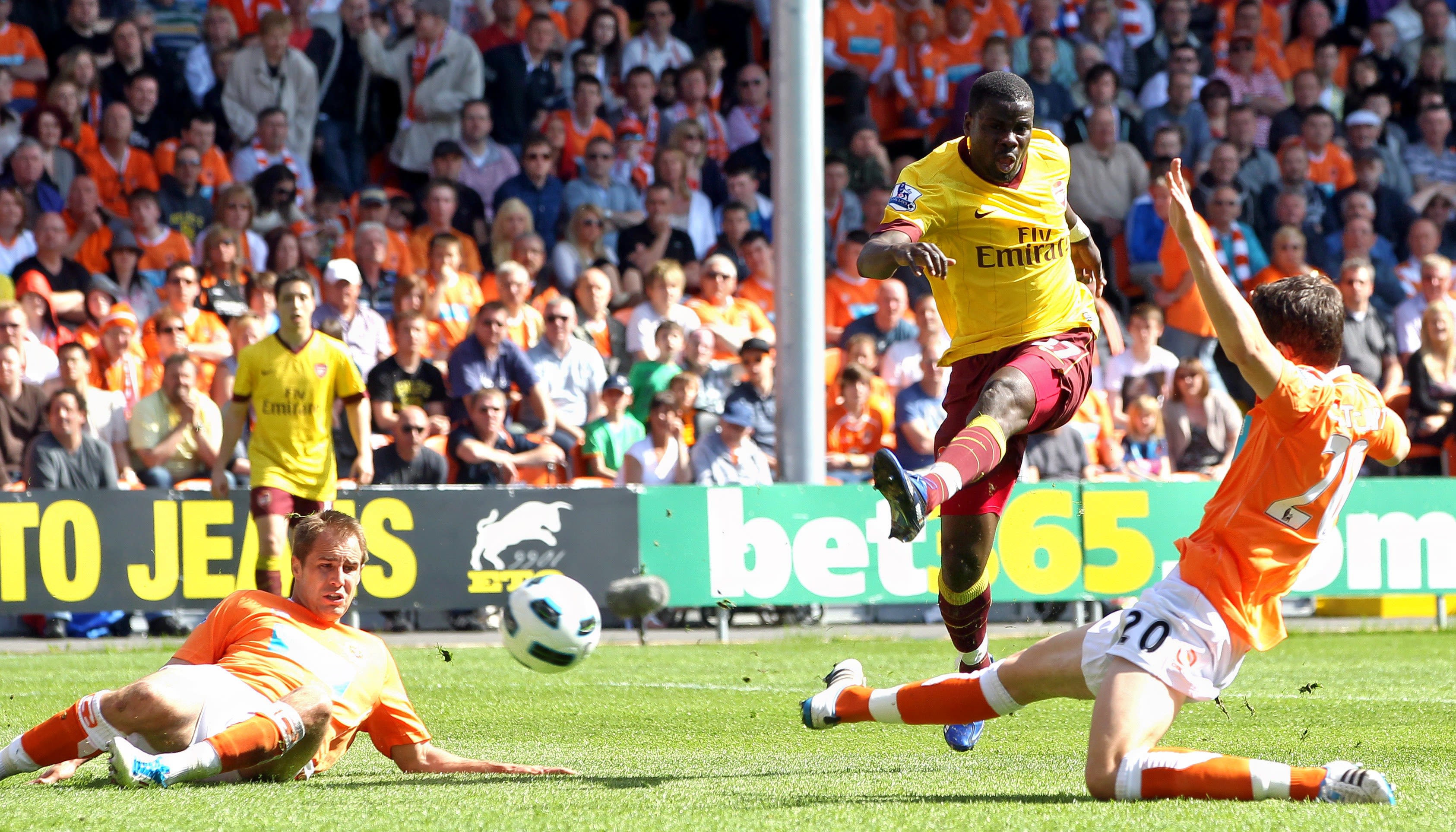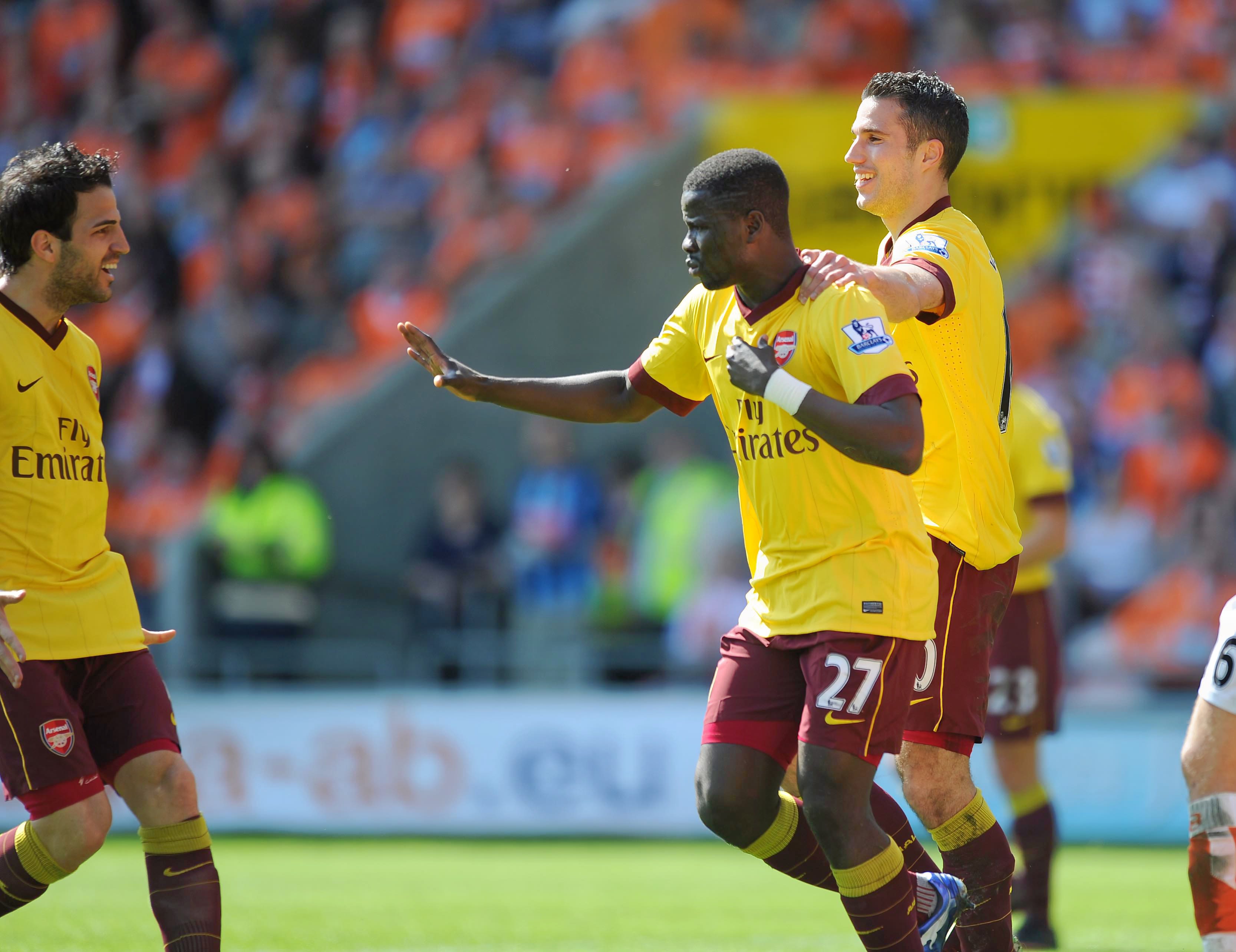 21
Thierry Henry
Derby County 0-2 Arsenal
September 29, 2001
The ball was positioned just on the D outside the area for a free-kick. Thierry Henry standing over it. You know what happens next.
With barely a one-step run up, the striker placed his shot over the wall and into the top right-hand corner with the perfect amount of curl and dip to get the ball up and over, beyond the despairing dive of Andy Oakes.
This was the first of the 12 direct free-kicks Henry netted during his Premier League career (more than twice as many as any other Gunner).
Later in this game he scored from the penalty spot too to wrap up three points early in our 2001/02 double-winning campaign.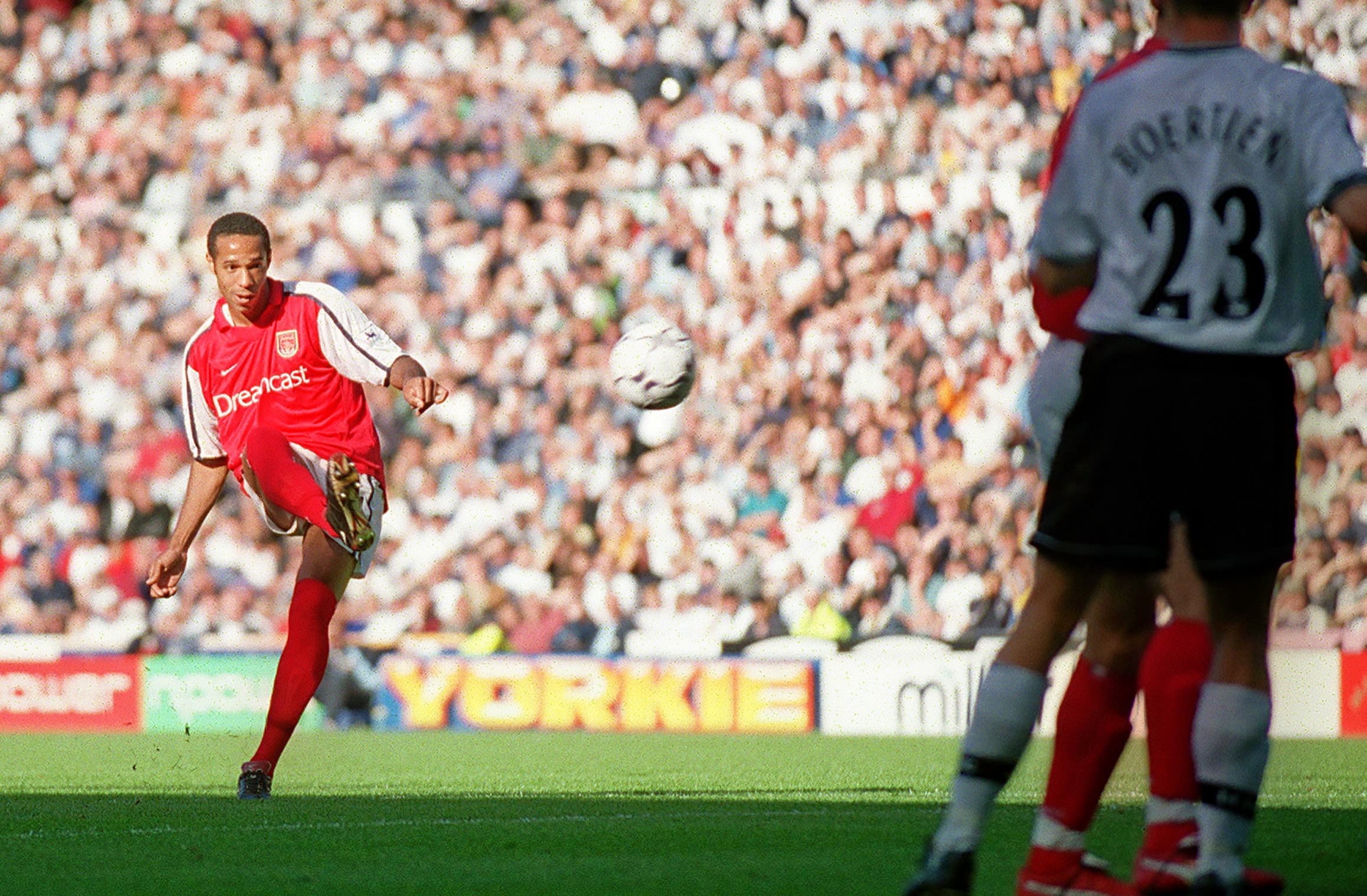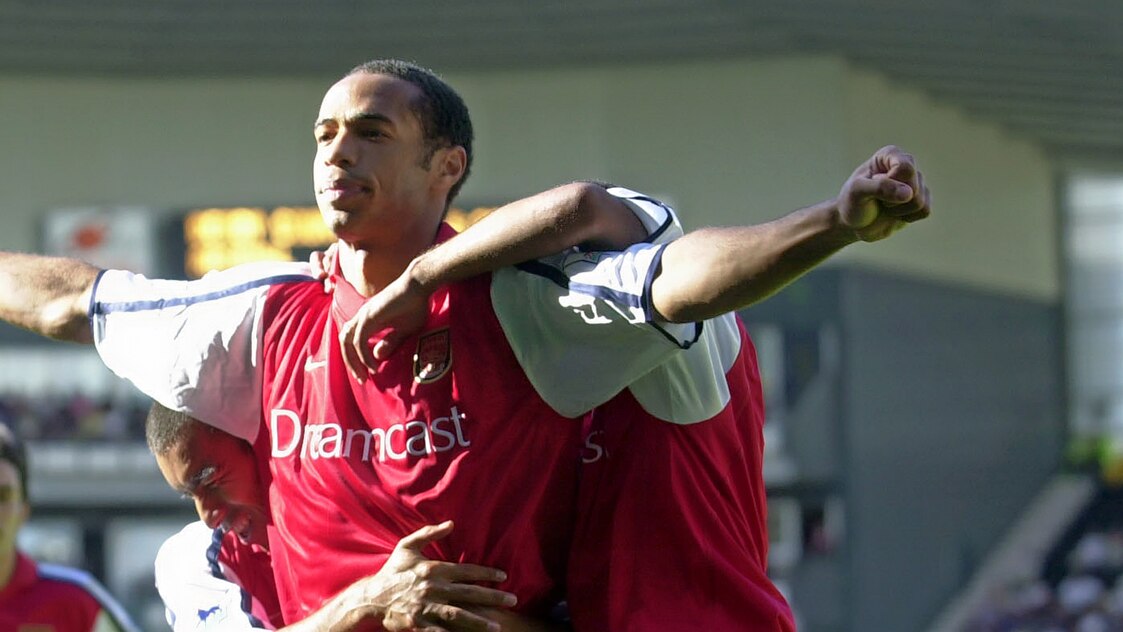 22
Lukas Podolski
Arsenal 5-1 West Ham United
January 23, 2013
On the back of successive league defeats against Manchester City and Chelsea, we came into this game under a fair amount of pressure, which only increased when West Ham took the lead on 18 minutes.
Four minutes later though, this piledriver from Lukas Podolski swung the momentum back our way, and established the platform for a thumping home win.
Jack Wilshere laid the ball off to the German, 10 yards outside the penalty area. It sat up nicely for Poldi, who lashed it with his trusty hammer of a left boot, inside the far post.
The piledriver proved a turning point, and within just over half an hour after this strike, we were 5-1 up and firing on all cylinders.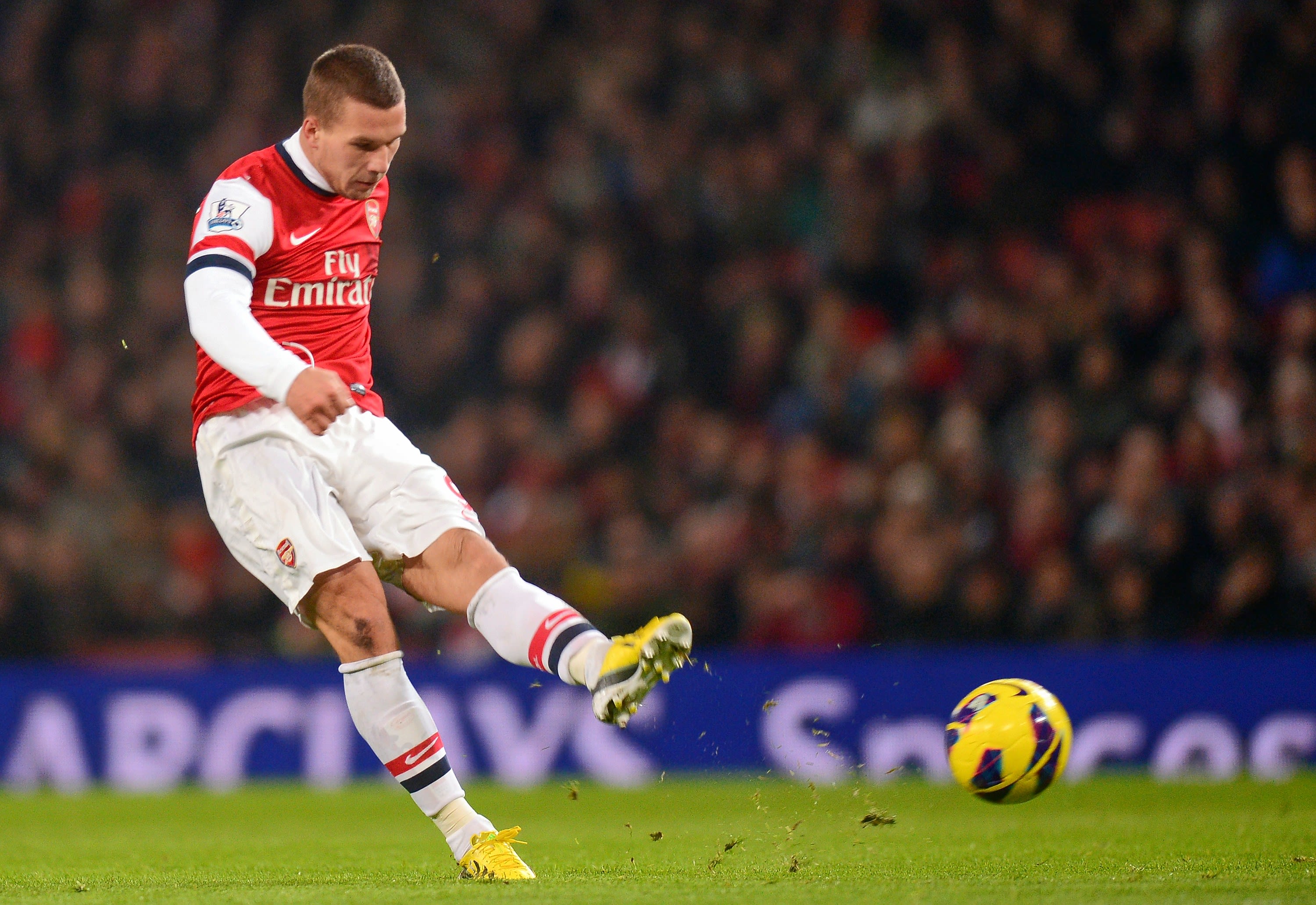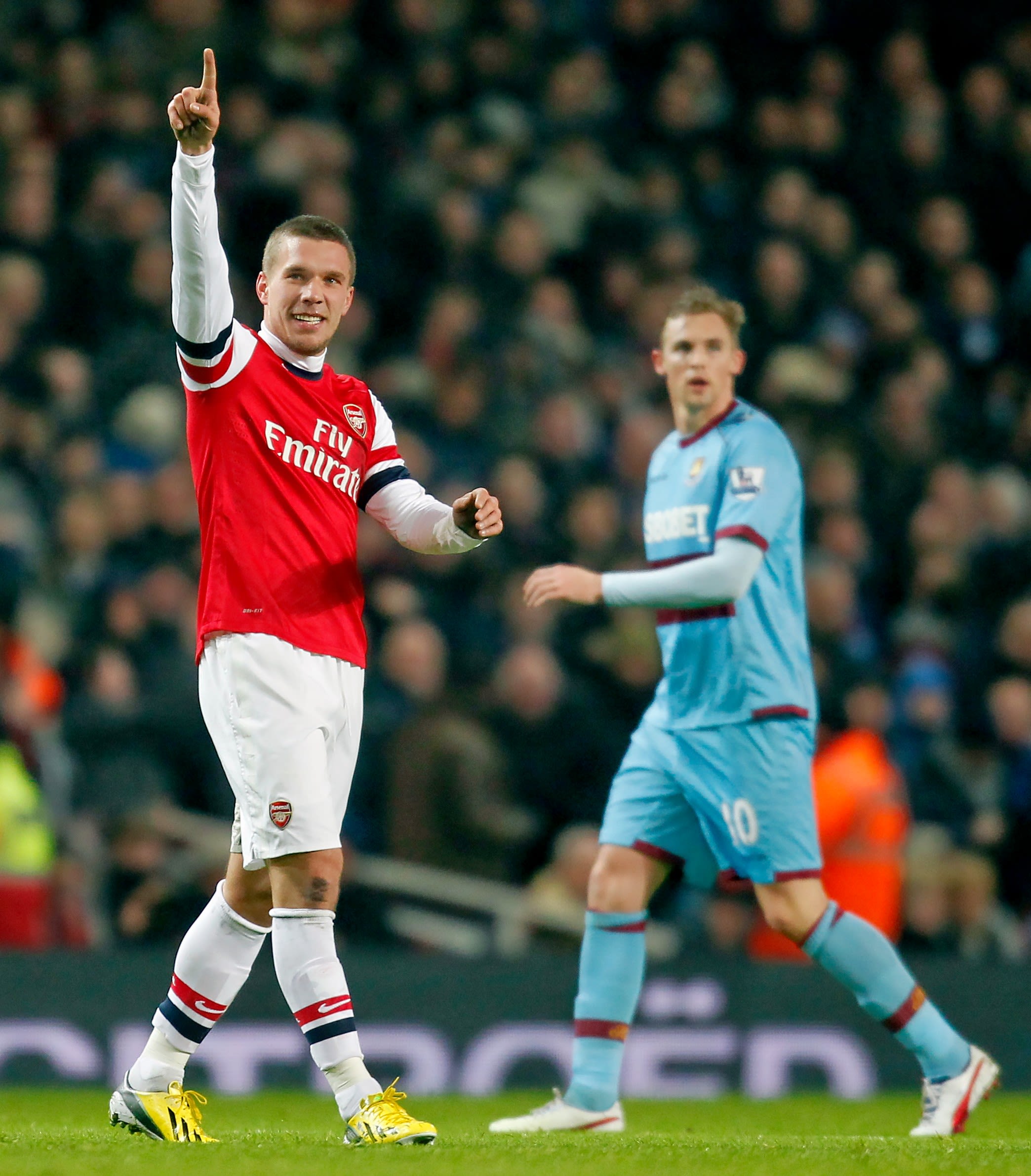 23
Kieran Tierney
West Bromwich Albion 0-4 Arsenal
January 2, 2021
The first goal we scored in 2021 was a cracker - in the snow at West Bromwich Albion's Hawthorns Stadium.
If anybody was going to excel in the arctic conditions in the Midlands, it was our fearless Scottish full-back - proudly in short sleeves as the snow fell.
After a goalless opening quarter of the game, Tierney took the match by the scruff of the neck, picking up possession on the left wing and knocking the ball past Darnell Furlong before beating him for pace on the outside.
Kieran checked back onto his weaker right foot, then broke into the area. After looking up and assessing his options, he decided the best strategy would be to put his laces through the ball, and smash it right-footed into the top corner. It set us on the way to a convincing 4-0 win.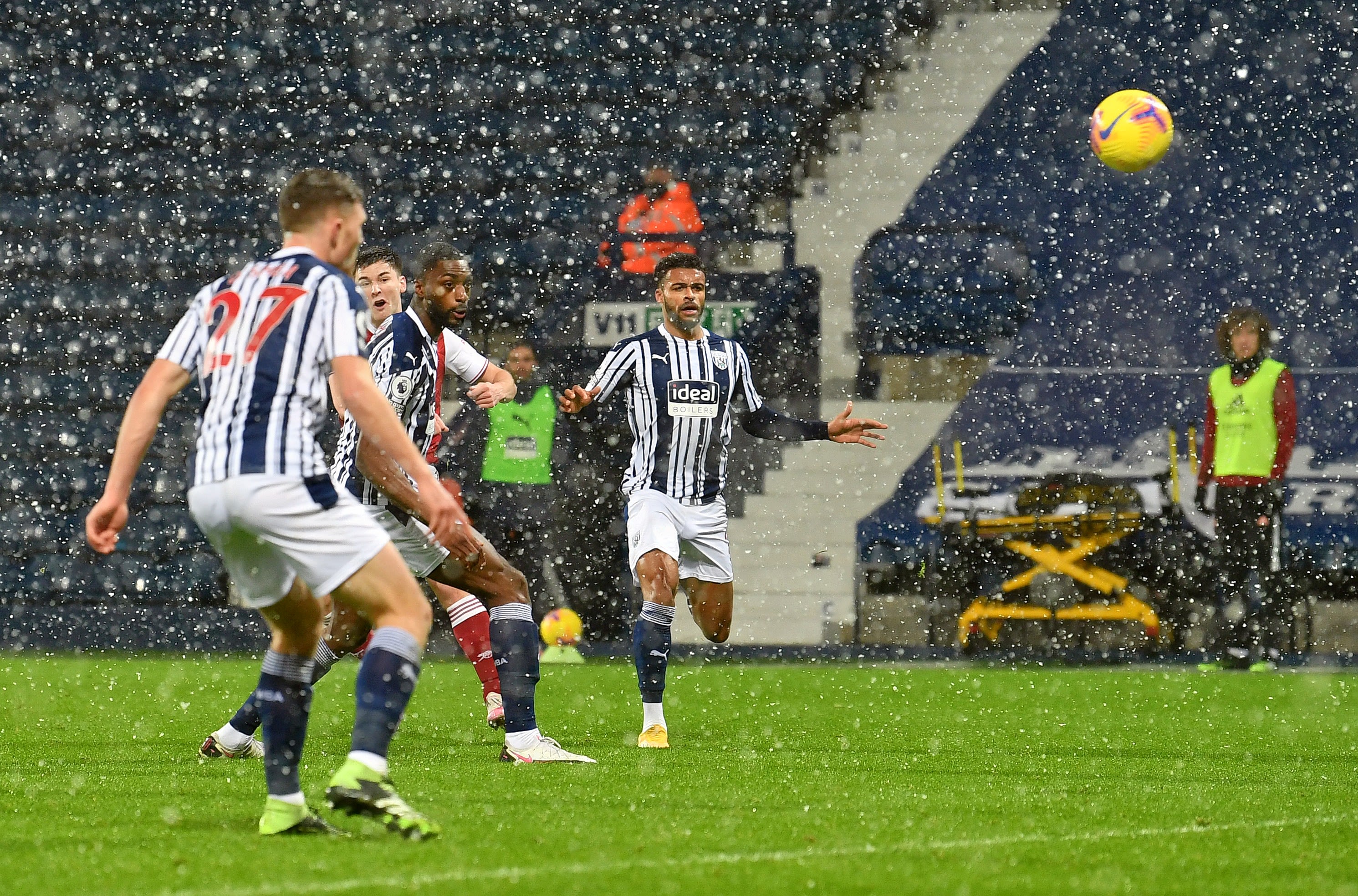 24
Mesut Ozil
Arsenal 1-0 Newcastle United
December 16, 2017
A moment of Mesut Ozil magic decided our home game with Newcastle in December 2017.
Our German playmaker displayed fantastic technique and poise to volley home a looping ball, just inside the area.
With the ball dropping, and the Newcastle defence closing in, he readjusted his body perfectly before smashing home with his left foot, flashing his shot into the top corner beyond the rooted Rob Elliot in the Clock End goal.
It was the undoubted highlight of a superb display from Ozil, who also created eight chances for his team mates, and completed 90 per cent of his 106 passes during the 90 minutes.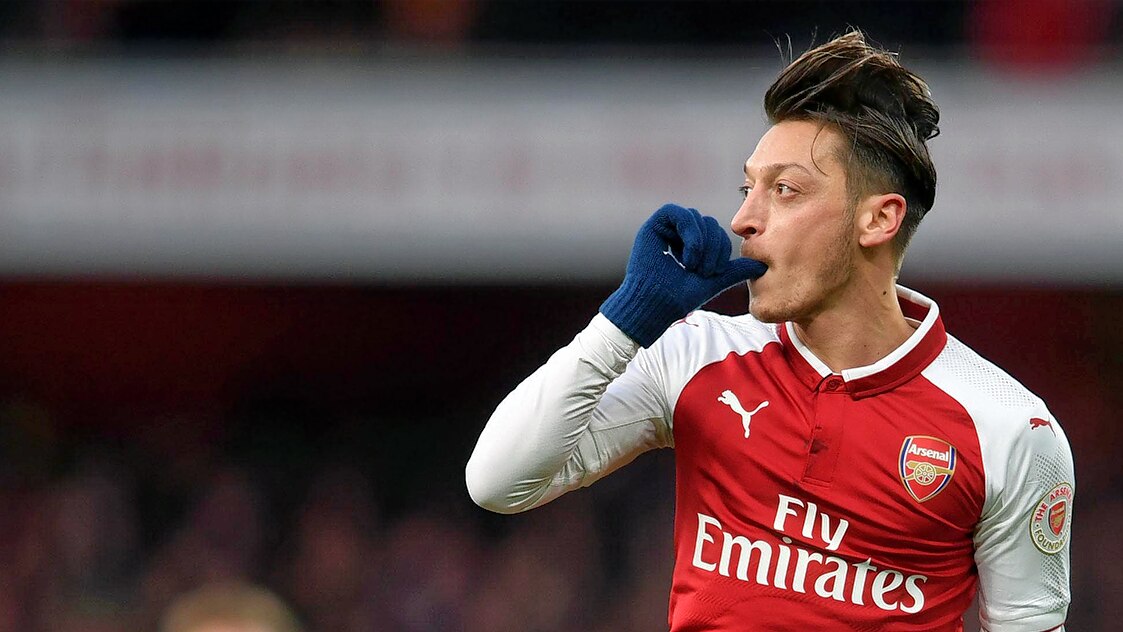 25
Ian Wright
Arsenal 4-2 Bolton Wanderers
September 13, 1997
The goal that made history. Ian Wright had made no secret of the fact that he wanted to break the club goalscoring record at Highbury, and 25 minutes into this home game with Bolton, he got his wish.
The striker had already netted once that afternoon - goal number 178 in an Arsenal shirt - before he moved clear of Cliff Bastin.
Dennis Bergkamp broke through, forcing a save from Keith Branaghan, but the loose ball fell to Patrick Vieira. As he was challenged, it popped up to Wright - right place, right time - to tap home into an open goal from three yards. Cue wild celebrations, and legend status confirmed.
He later went on to complete a hat-trick, ensuring he also claimed the matchball by which to remember this most historic of moments.
"For me to have done that, to have been the greatest goalscorer in Arsenal's history, is still difficult for me to comprehend," he said recently.
26
Eduardo
Manchester City 1-3 Arsenal
February 2, 2008
We had lost just one league game all season as we headed to the City of Manchester Stadium in February 2008.
With the strikeforce of Emmanuel Adebayor and Eduardo really beginning to motor, Arsene Wenger's men were title favourites going into the last few months of the campaign. Adebayor gave us a ninth-minute lead before our Croatian striker doubled the advantage with some excellent quick thinking.
His striking partner headed the ball down to him, and Eduardo, back to goal on the edge of the six-yard box, controlled it on his chest, then swivelled and volleyed home left-footed in one fluent motion.
It proved to be his last goal before suffering a horrendous broken leg just three weeks later; an injury that would rule him out of action for a year, and also prove the downfall in our title race.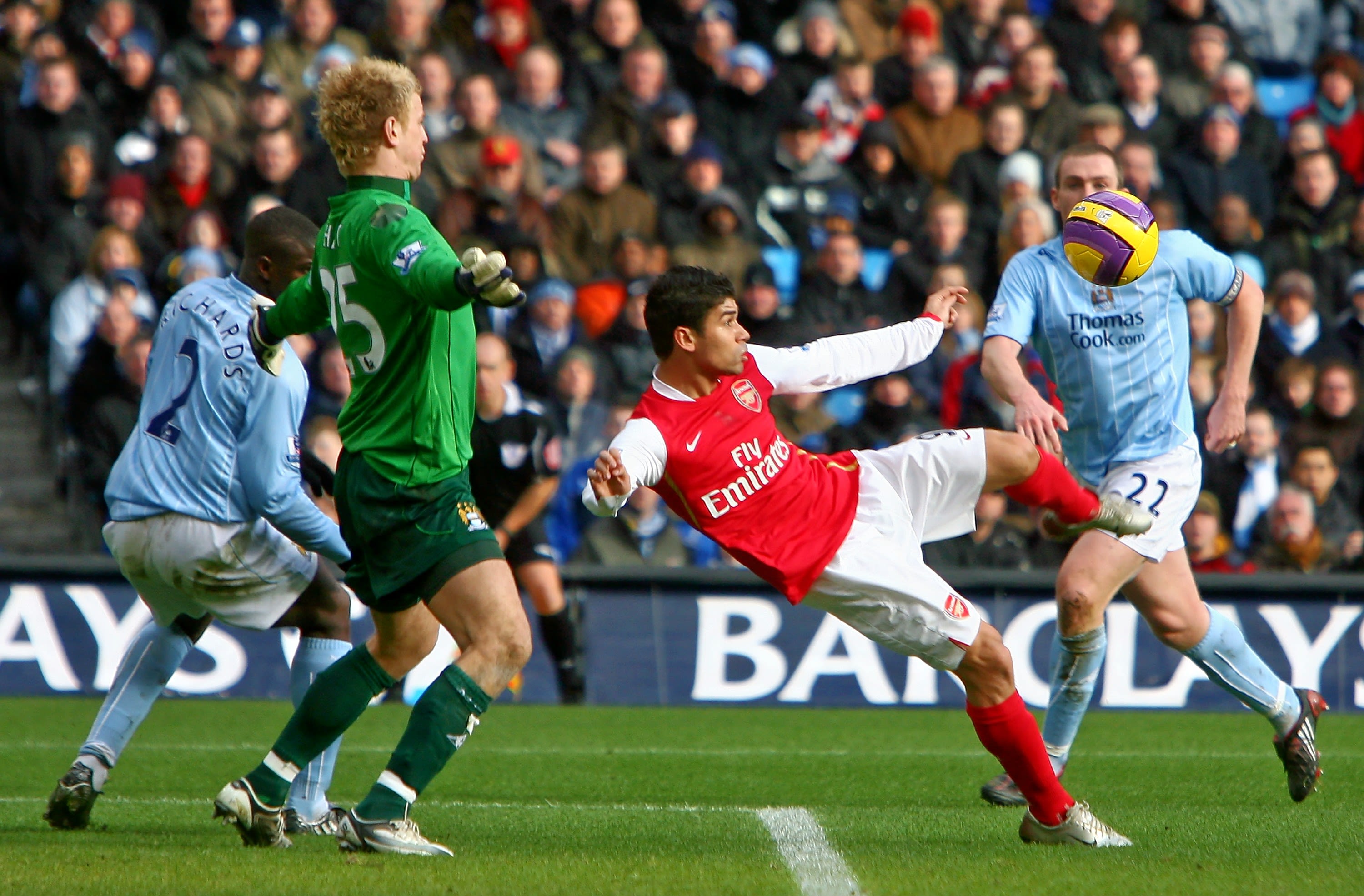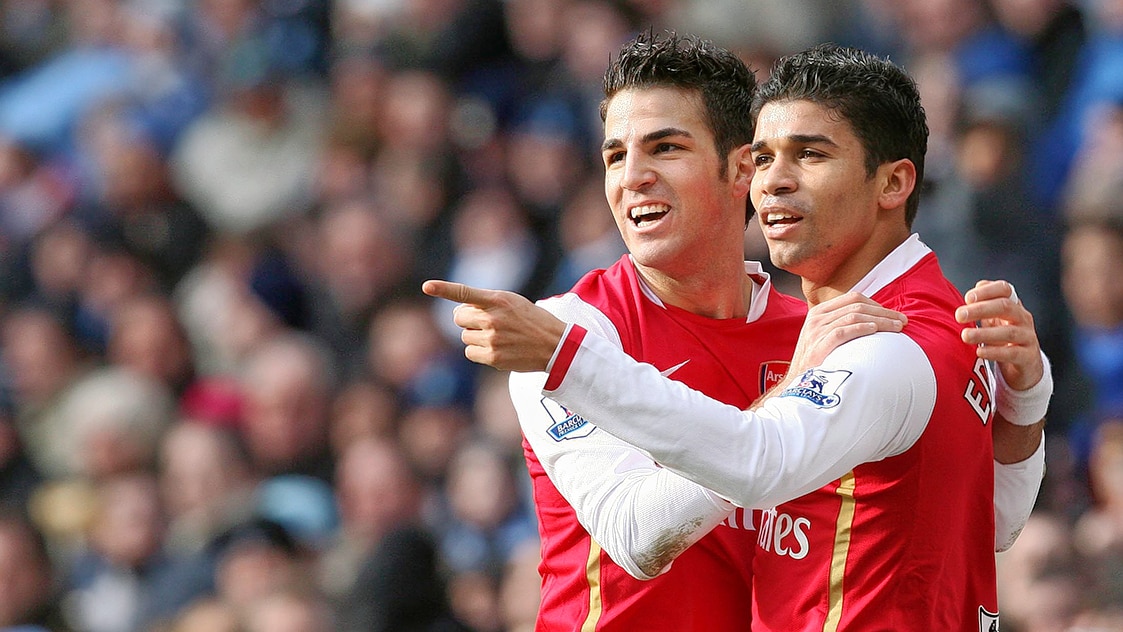 27
Patrick Vieira
Arsenal 3-2 Manchester United
November 9, 1997
The second goal in our list from this crucial win over Manchester United in the 1997/98 double season.
This goal doubled our lead just before the half-hour, and it was another cracker.
Ray Parlour's corner was cleared, rolling all the way to Patrick Vieira outside the area. The Frenchman sized up his first-time shot, not even taking a touch to control, and sent the ball curling at speed away from Peter Schmeichel and in off the crossbar.
There was still more work to be done, as the champions hit back to level later in the first half, but David Platt's late winner ensured that this classic strike from Vieira will always be associated with a seminal win for Arsene Wenger's Arsenal.
28
Steve Bould
Arsenal 2-4 Norwich City
August 15, 1992
This was our first-ever game in the newly formed Premiership as it was then, with the top-flight of English football taking the bold move to move away from the old Football League. And the exciting new age began well for us, with a classic 'George Graham era' goal.
Nigel Winterburn swung in a dangerous free-kick from the right wing, and towering centre half Bould outjumped everybody in the box to glance home his header. Champions of England just 15 months earlier, we were up and running again.
Kevin Campbell made it 2-0 at half-time, but the Canaries produced a stunning second-half turnaround to run out 4-2 winners on the opening day.
Come the end of the season we would be celebrating though, albeit not in the Premiership, but at Wembley, completing the first-ever domestic cup double, with another centre-back, Andy Linighan, scoring the last-gasp winner in the FA Cup final .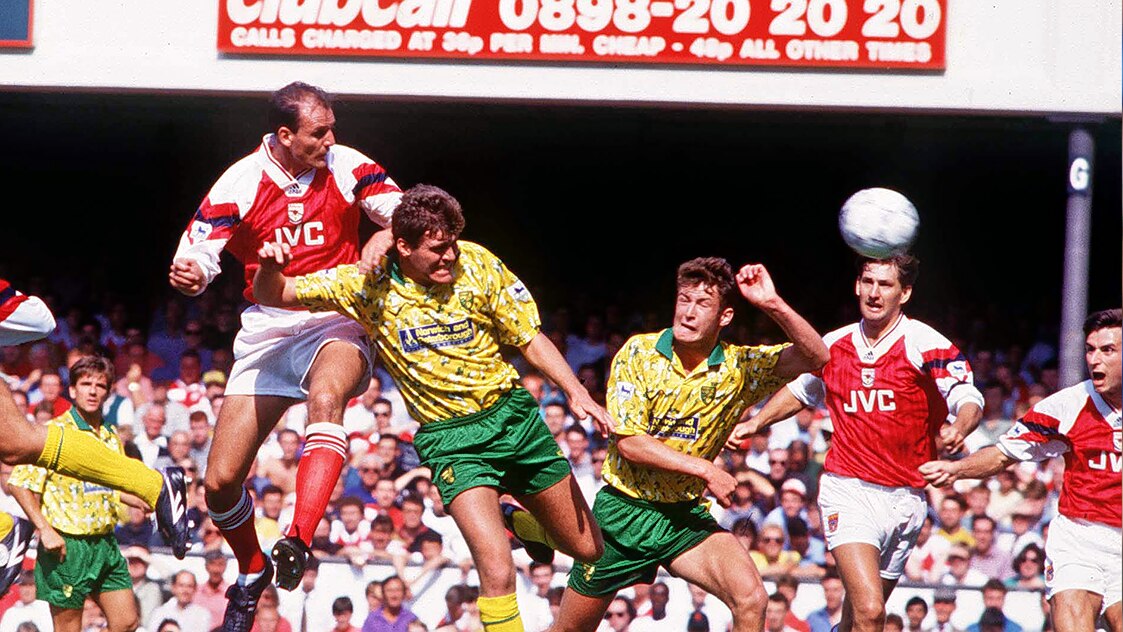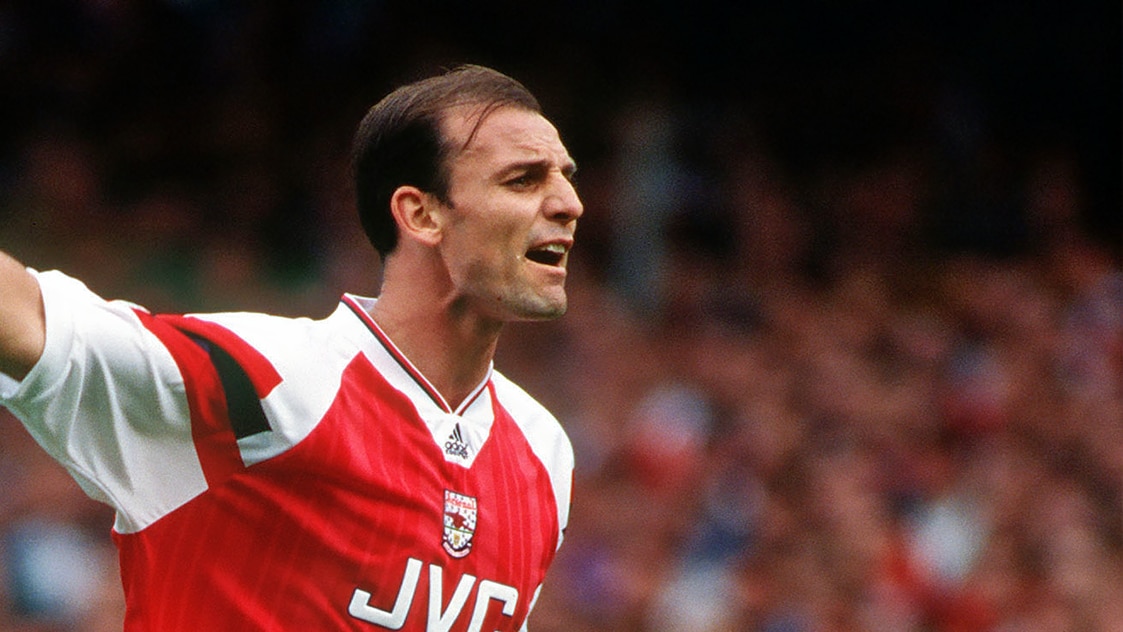 29
Laurent Koscielny
Arsenal 2-1 Southampton
September 10, 2016
What a way to celebrate your birthday - a spectacular overhead kick to equalise in our first home win of the season. And what makes the goal more impressive? It was scored by central defender Laurent Koscielny, who only netted 22 Premier League goals in his whole career.
Southampton had taken the lead early on, thanks to an unfortunate Petr Cech own goal, to pile pressure on the hosts. But just before the half-hour mark Koscielny took matters into his own hands.
Southampton had two attempts at clearing a corner, and as the ball dropped out of the sky near the penalty spot, Koscielny flung himself into the air and connected with an acrobatic overhead kick to stun the Emirates.
For the rest of the game the Frenchman returned to what he does best, keeping out the opposition attack, meaning Santi Cazorla could secure all three points with a last-minute penalty.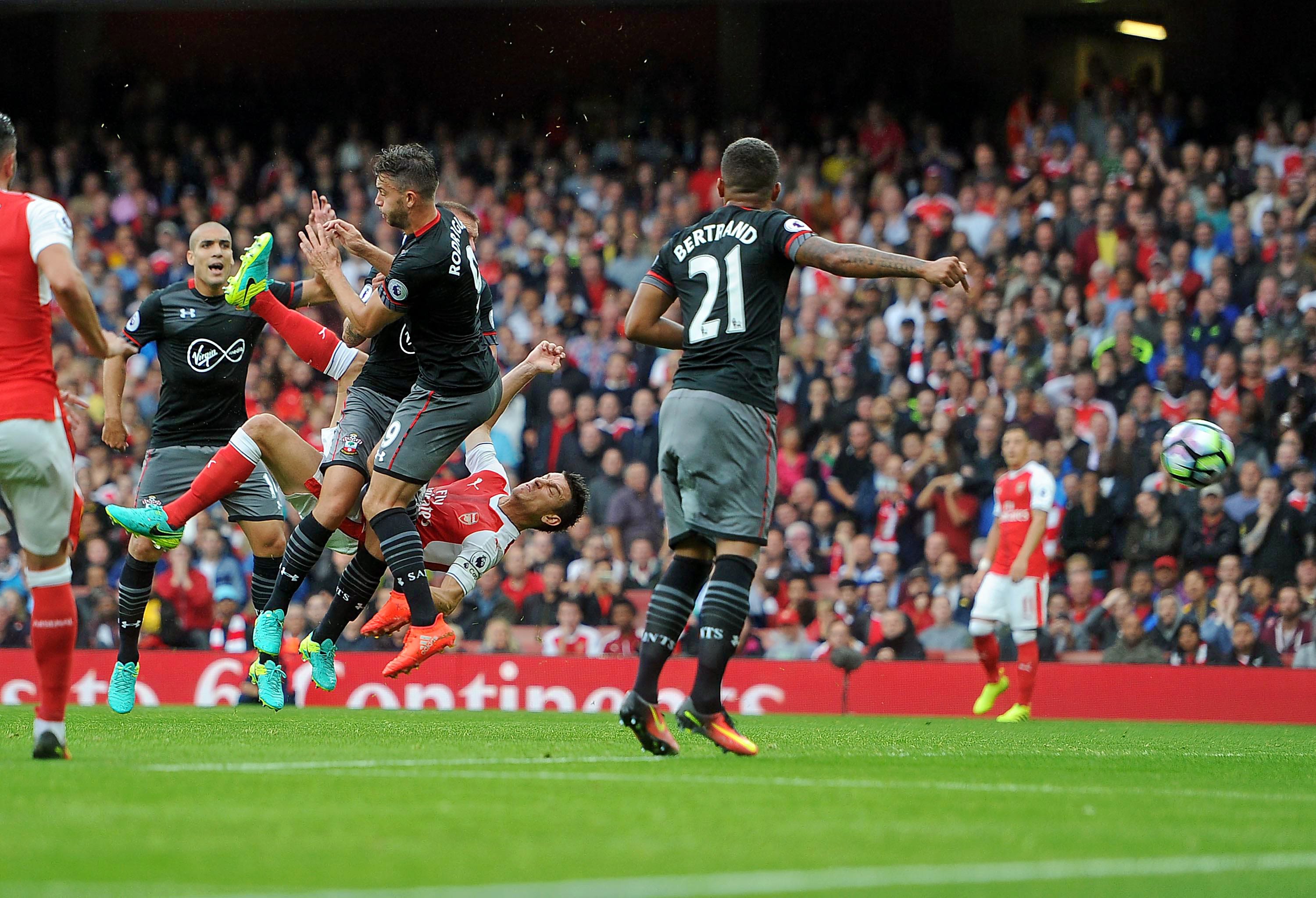 30
Thierry Henry
Arsenal 1-0 Manchester United
October 1, 2000
Another iconic Thierry Henry goal at Highbury, and another goal on our list against Manchester United. Henry had scored 26 times in his debut season, but this strike early in his second campaign really began to underline just how talented our young forward was.
The ball was rolled into Henry, while he was being closely marked by Denis Irwin with his back to goal, just outside the area. The Frenchman instantly flicked the ball up, and pirouetted on the spot, while volleying right-footed over a shell-shocked Fabien Barthez and into the top corner.
It seemed to take the Clock End crowd a split second to comprehend what they had just witnessed. A moment of pure genius. Henry had well and truly arrived in English football.
"You can't do anything about a goal like that," United boss Sir Alex Ferguson said afterwards. "I couldn't believe it."