THE FIVE GAMES THAT MADE DECLAN RICE
A decade ago, Declan Rice found himself questioning what his footballing future would look like after being released by Chelsea as a 14-year-old, shattering his dreams.
Today, many of them have come true. He's found a way to eternally write himself into West Ham United folklore after captaining them to European glory, and is widely regarded as one of the world's premier defensive midfielders aged just 24 thanks to his exploits for England at Euro 2020 and the 2022 World Cup.
It's been quite a journey for our latest recruit, and we've pinpointed five key matches in his career to date to show how his star kept rising, as he plots fresh ambitions now he's at The Arsenal.
By Jonathon Rogers
May 21, 2017
Burnley 1-2 West Ham United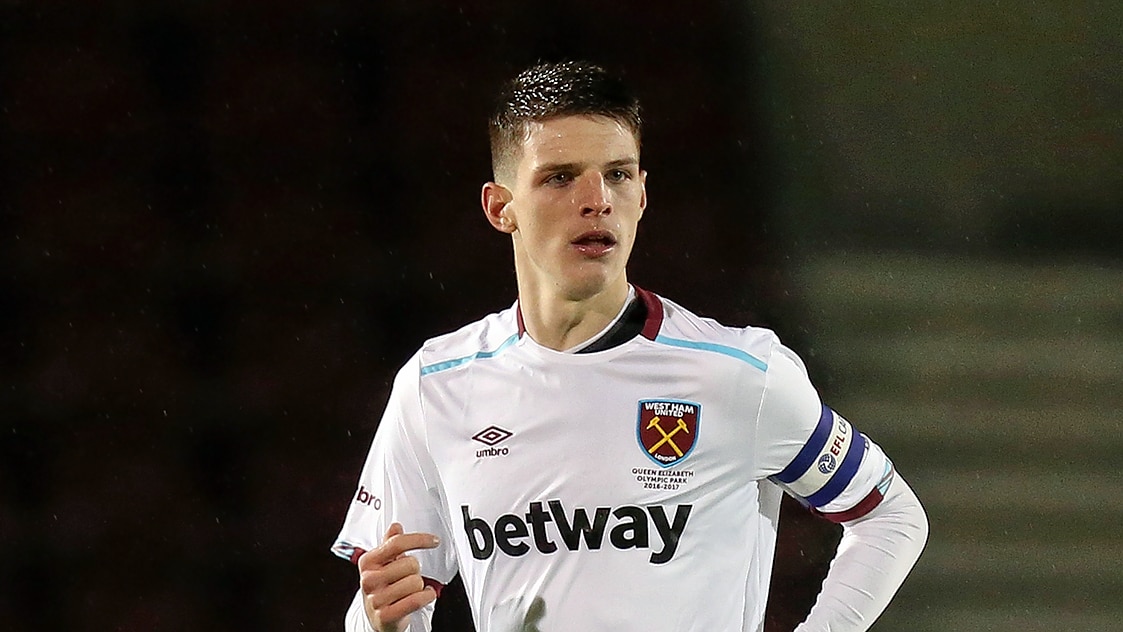 "Ever since I started kicking a ball, it has always been my ambition [to play in the Premier League], so my dream has come true and I'm delighted."
It may have been fleeting. It may have taken place in the unfamiliar surroundings of Turf Moor. But it was the moment Declan had been working for his whole life.
In the 91st minute of the final game of the 2016/17 season, the fourth official's board lit up the Turf Moor touchline with a fluorescent 41. Little did West Ham supporters know how revered that number would become in the following years.
The 18-year-old enthusiastically bounded onto the field and tried to make an impression despite his limited time. Six touches - and six completed passes for that matter - later, the final whistle curtailed his brief first taste of professional football, but those few minutes would have meant the world to someone who had to battle the lows of life as a footballer much earlier than enjoying the highs.
A native of Kingston-upon-Thames, Declan had been on the books of Chelsea for seven years before being released in 2013 aged 14. Heartbroken, he was handed another chance with the Hammers, where he battled homesickness, competition for places and being the last player to be offered a scholarship. However, once that day arrived in December 2015 and his future a little more secure, there was no holding him back.
After progressing to the under-23s, he would lift the U21 Premier League Cup, captain his side to promotion to Premier League 2 Division 1 and be named the academy's Player of the Season. Then came the ultimate award - his professional debut. Those seconds against Burnley meant he would always be a Premier League player - it was now just a matter of how big of one he could become.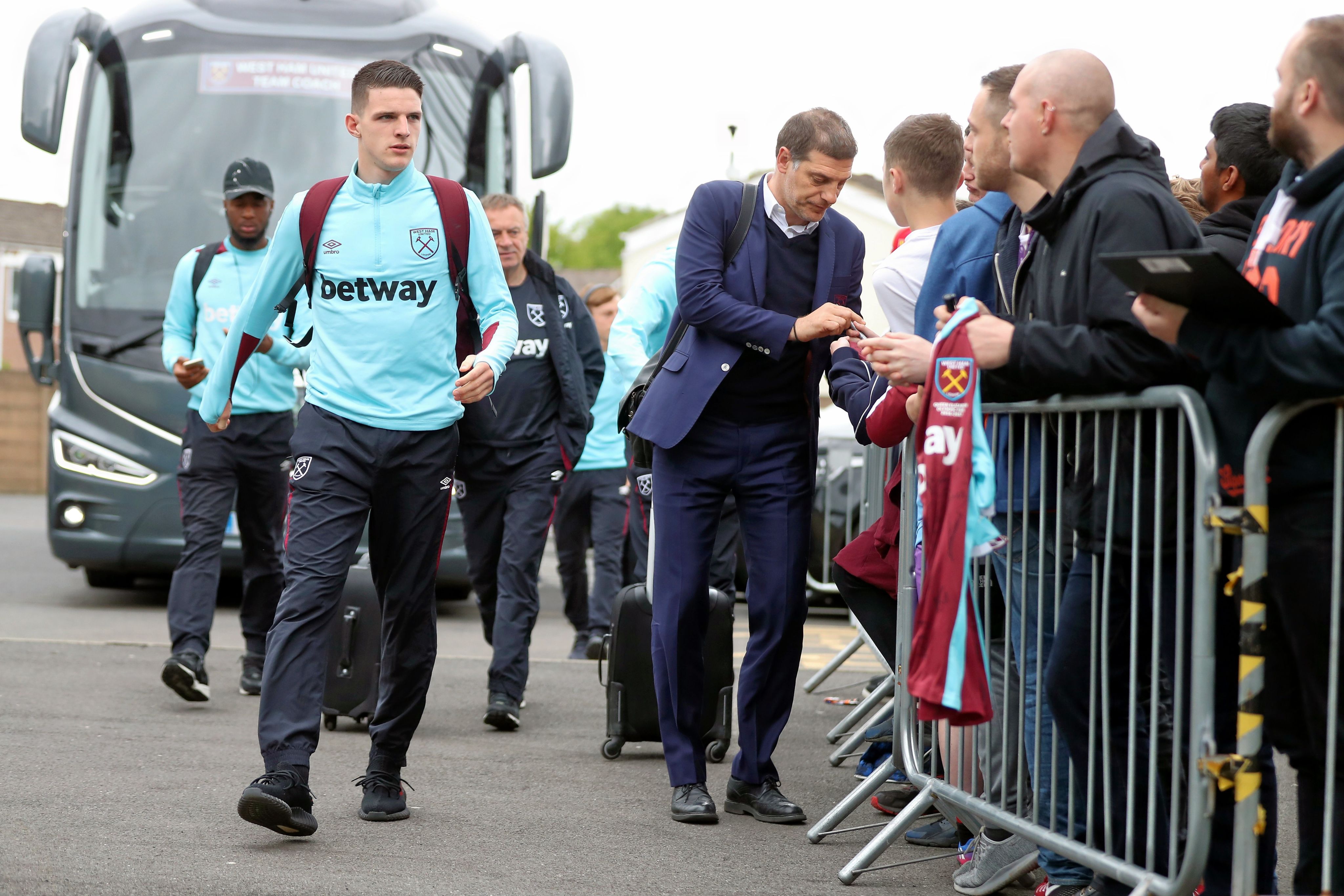 January 12, 2019
West Ham United 1-0 Arsenal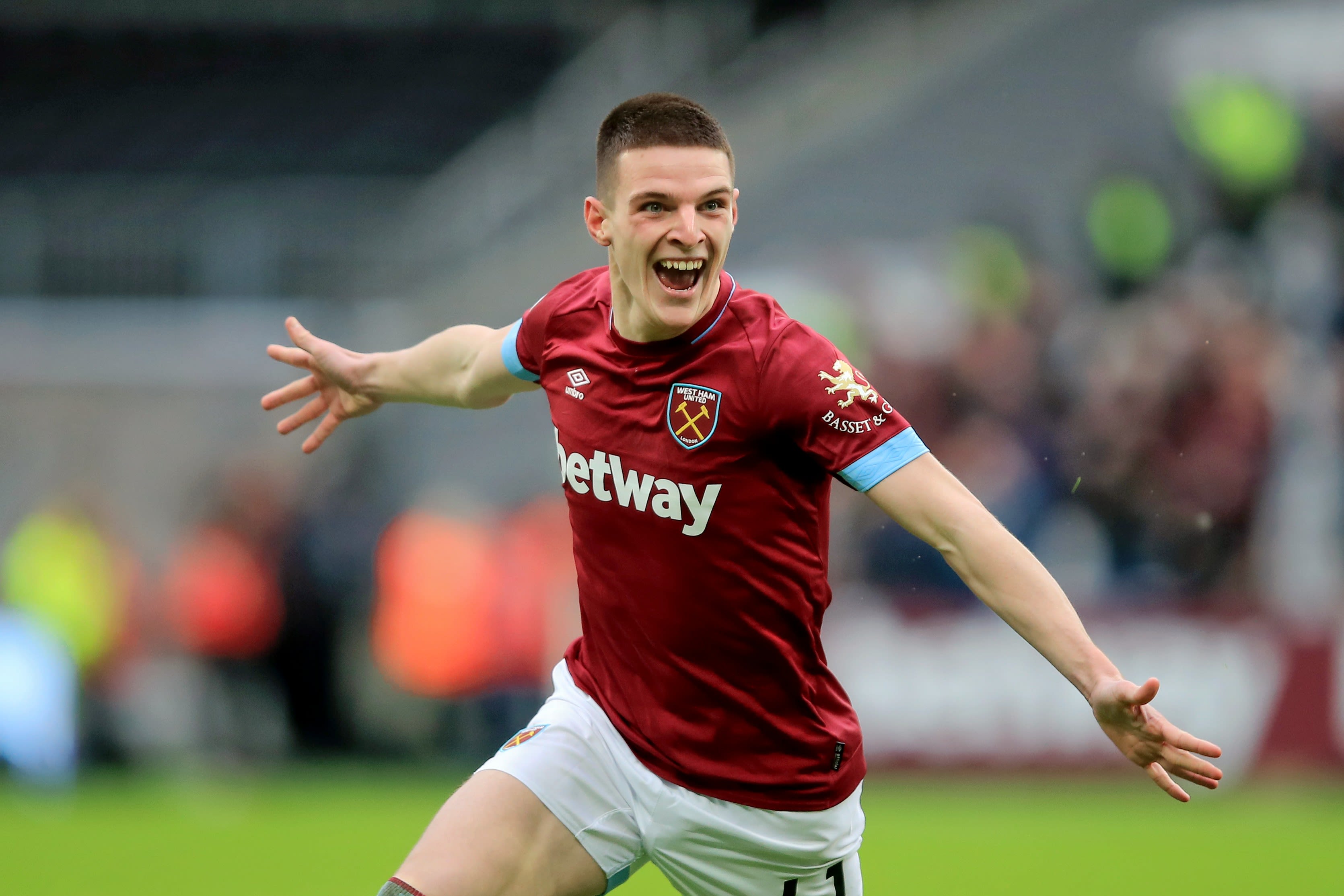 "You can see in the celebration how much it meant to me! It was a special moment."
This was the performance that brought Declan to the attention of Gooners everywhere. Just two days before his 20th birthday, he put in a man-of-the-match display to secure victory for his side - and also register his first professional goal.
In just 18 months, he had quickly become the talk of the London Stadium. Only Michael Carrick had reached 50 appearances earlier than the teenager, but once again Declan had to do it the hard way.
After replacing Slaven Bilic as Irons boss, David Moyes initially sought experience before Declan's talent couldn't be ignored any longer. Finding different ways to utilise his youngster's versatility, Moyes played him predominantly as a centre-back, but also at right-back, left-back, and as a deep-lying midfielder.
The latter was where the next Hammers boss Manuel Pellegrini decided Declan's future should lie, and it proved to be a wise decision - perfectly exemplified by this display at our expense where he showcased his wide range of abilities in the middle of the park.
That afternoon, his big moment arrived when another man with Arsenal connections in Samir Nasri laid the ball off to him in a congested penalty area. Declan was coolness personified as he effortlessly swept a shot past Bernd Leno to ultimately win the game.
He was a presence throughout, gaining possession 10 times - comfortably more than anyone else on the pitch - and racked up a decent 85 per cent passing accuracy. Declan's display was later voted the club's Individual Performance of the Season to further highlight his importance to his team, and encouraged others outside of east London to track his progress.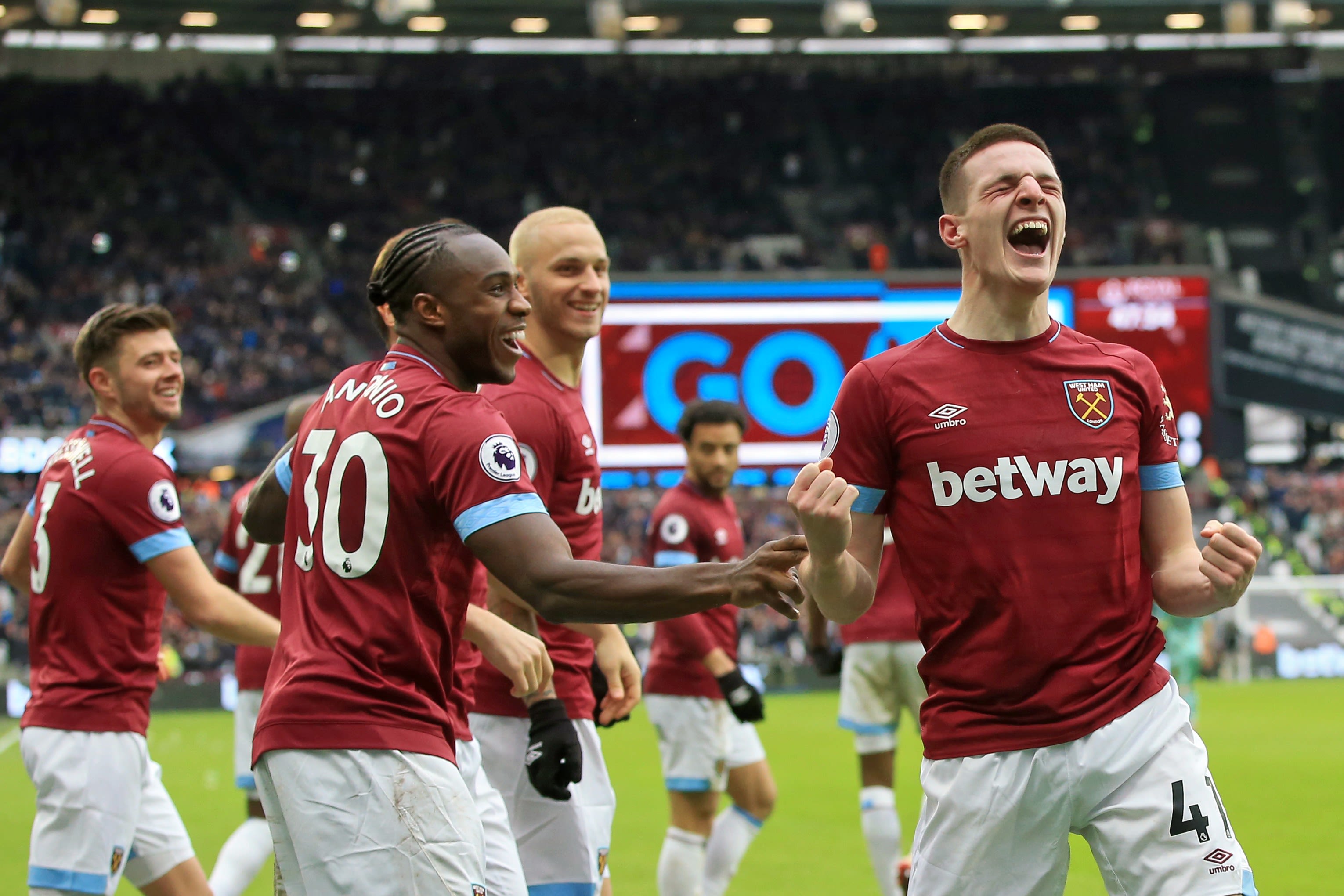 March 22, 2019
England 5-0 Czech Republic
"To make my debut in front of 80,000 fans, and to have my family here; my girlfriend, my brothers, it's special."
Declan's blossoming potential did not just draw the attention of many supporters, it also prompted Gareth Southgate to put the young midfielder at the first big crossroads of his career.
Since the age of 16, Declan had represented the Republic of Ireland at international level; a nation he qualified for due to his Cork-based grandparents. Having won 23 caps at various youth levels, senior recognition soon arrived in March 2018 when Martin O'Neill handed him the first of three caps for the Emerald Isle.
However, none of those came in competitive matches, leaving the door open for the Three Lions to tempt him back to the nation of his birth. Believing he had the potential to be a key cog in their midfield for the next decade, a month after Declan opted to switch allegiances, he pulled on the famous white shirt for the first time in a Euro 2020 qualifier at Wembley.
With England 3-0 up and coasting against the Czech Republic, Southgate opted to hand his young gun a 30-minute opportunity. By full-time, he'd helped his side score twice more, and impressed his new boss sufficiently that he was installed into the starting XI for a match in Montenegro the following week, which resulted in an emphatic 5-1 success.
The die had been cast, and England had found the future of their midfield. Declan has been selected for all-but one Three Lions squads since, and has played his part in one of the most successful periods in their history.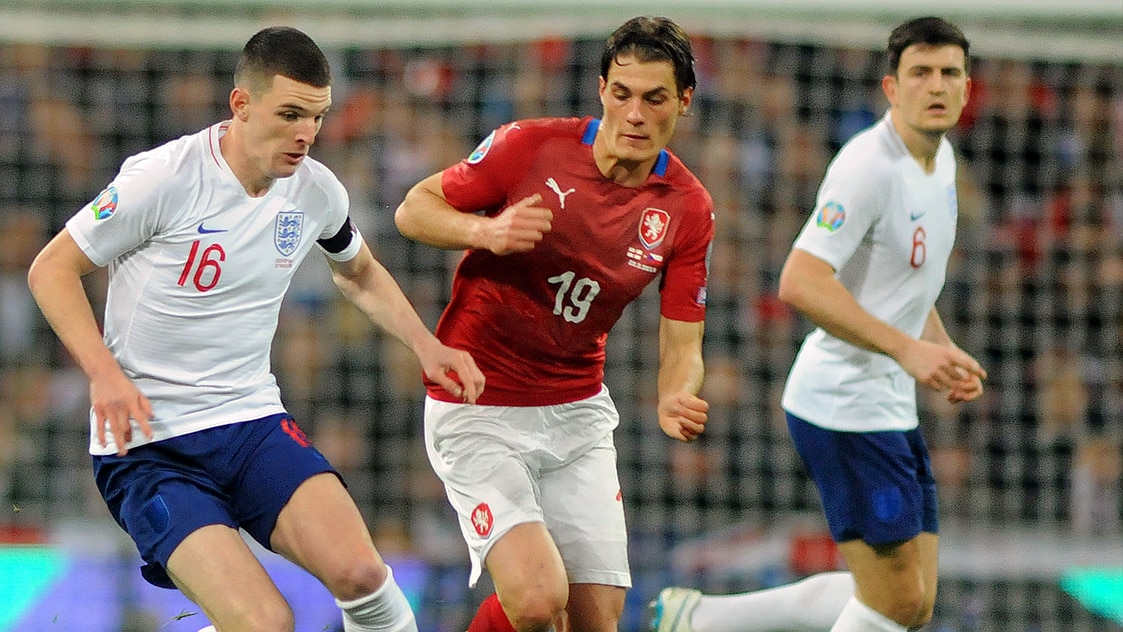 July 11, 2021
England 1-1 ITALY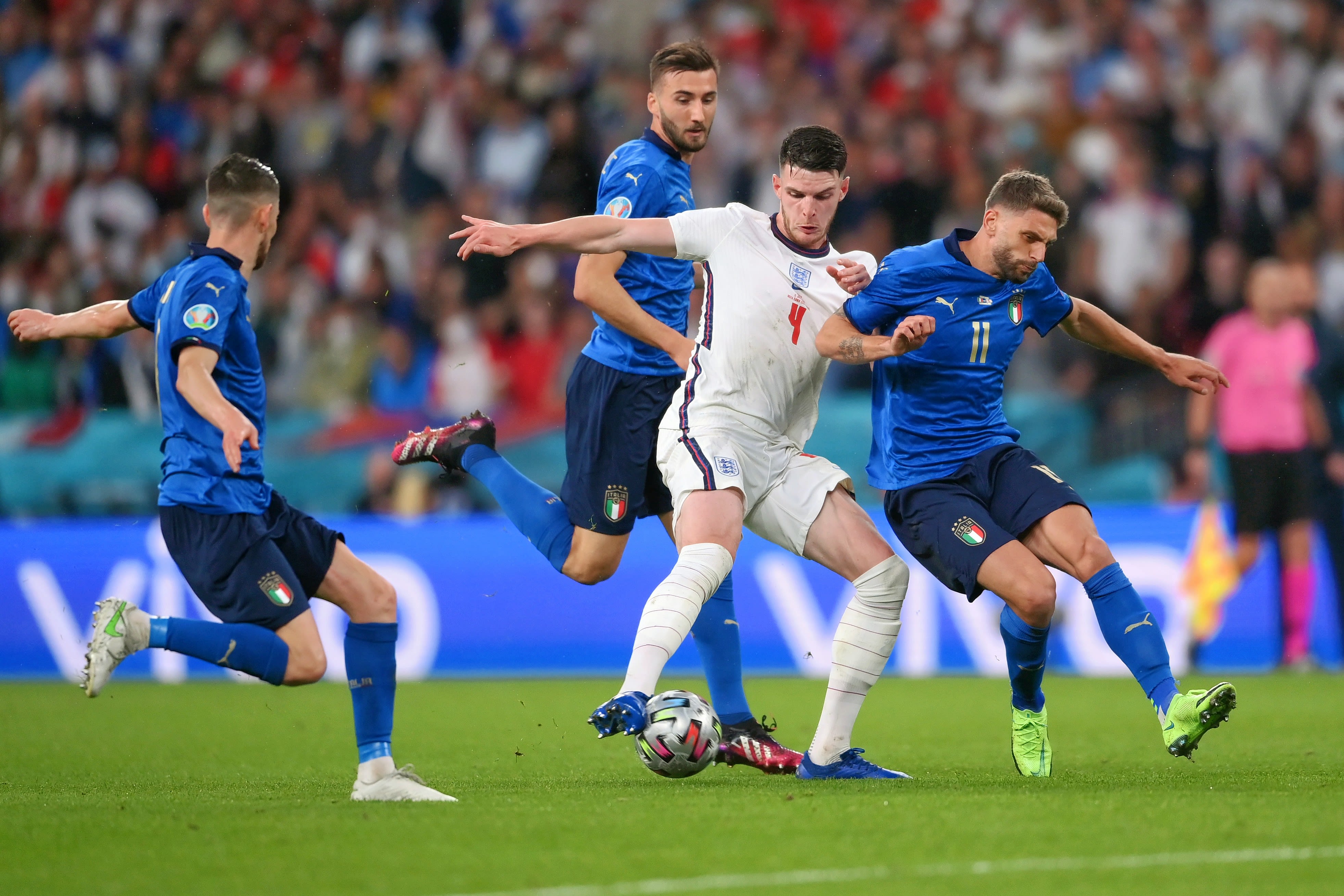 "I just felt in my mind 'I'm gonna go out there and have it. This is the final, what have you got to lose?' And I was probably doing things with a football that I've never done."
Simply put, the biggest game of Declan's career to date. Those first two caps paved the way for him to become a regular in Southgate's side at the perfect time as the delayed Euro 2020 tournament rolled around.
A glorious summer for England would see the West Ham man strike up a fruitful central midfield partnership with Kalvin Phillips, which provided the engine room for England's route to the final at Wembley, with Declan starting all seven matches along the way as the country got swept up in the frenzy of reaching a first major final since 1966.
For someone aged just 22 with the weight of the nation on his shoulders who hopes he could play his part in ending 55 years of hurt, he could have frozen. Instead, he thrived.
He won a team-high six tackles and completed a team-high four dribbles during his time on the pitch, prompting UEFA's post-match technical report to suggest he "caught the eye with interceptions, tackling and, after ball-winning, the ability to twist and turn his way out of Italy's aggressive press."
All that meant that eyebrows were raised when Southgate opted to take him off with 15 minutes of normal time remaining, preferring the fresher legs of Jordan Henderson. With hindsight, many have pinpointed that as a key reason for England's inability to find the elusive second goal that could have brought football home again.
One thing is certain - the sight of Declan pulling on a tracksuit top and watching the outcome from the bench gave the Italians a boost. Gianfranco Zola recently told BT Sport: "I was talking to Salvatore Sirigu who was Italy's second goalkeeper. He said they couldn't believe when he [Rice] came off because we thought he was the best player they had."
England hadn't quite clinched the continental silverware they craved, but that summer certainly solidified Declan's reputation on the world stage.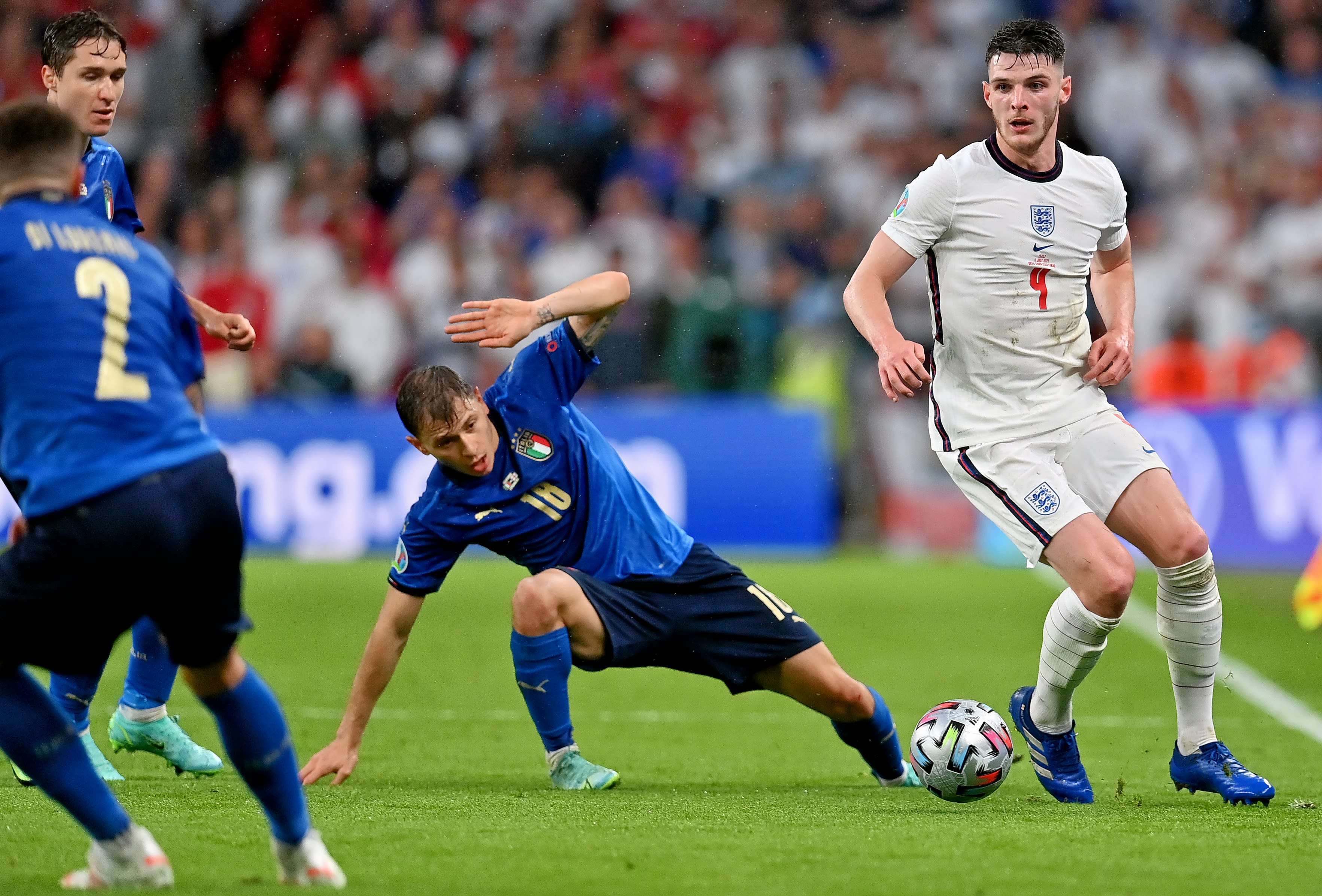 June 7, 2023
Fiorentina 1-2 West Ham United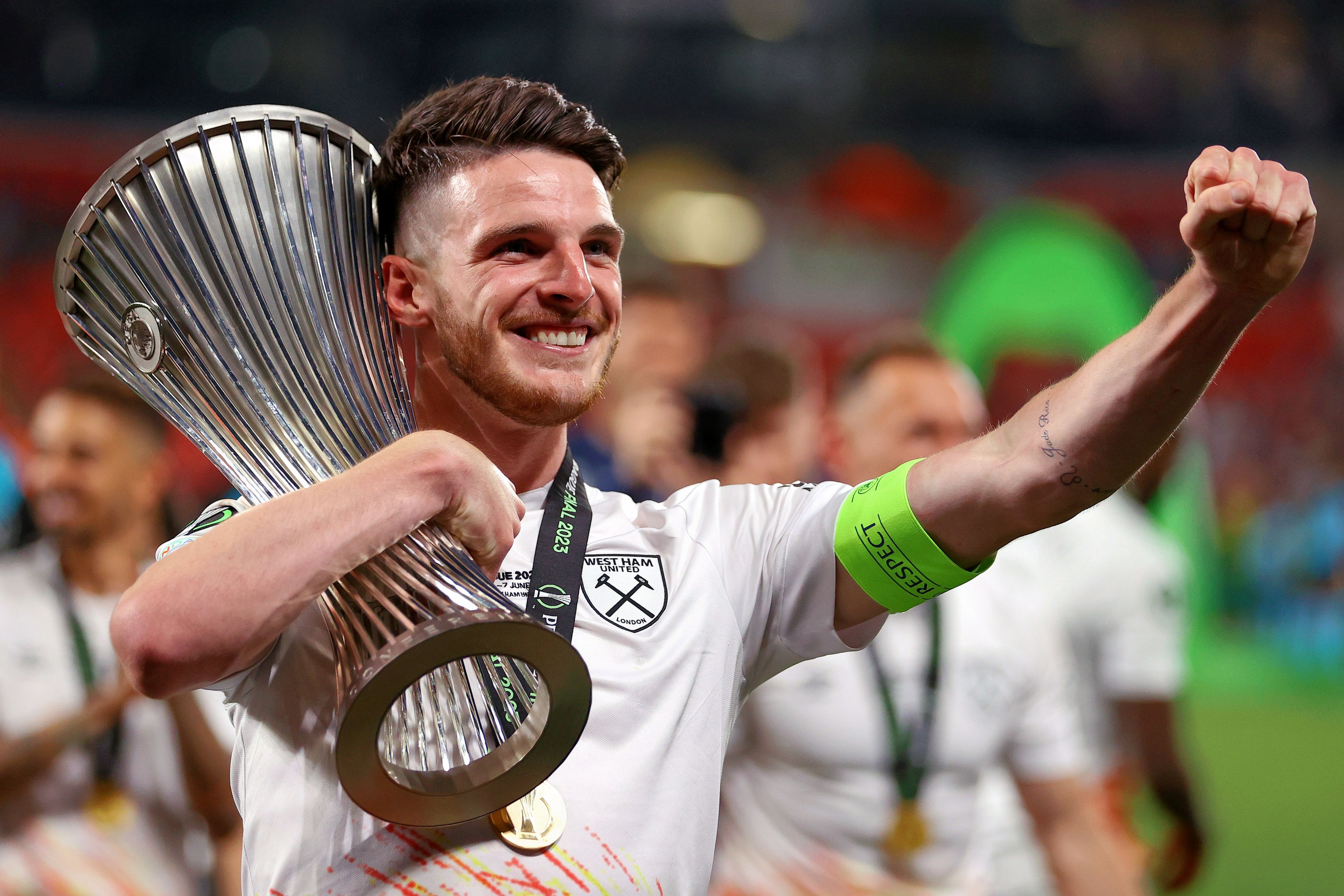 "When I started at West Ham 10 years ago I never thought I'd be captain of the club. Then tonight, to go on and lift the trophy, it's another level."
Only Bobby Moore had done it before. Now Declan had the chance to join the Hammers' most iconic player by also captaining them to European glory.
Having come so close to claiming the Europa League title 12 months earlier but falling in the semi-final, Moyes' side had gone one step closer in the Conference League, driven by their inspirational leader who had replaced Mark Noble as captain the previous summer.
Declan played a bit-part role in the group stages as his manager saved him for bigger things post-Christmas, and that provided the right call as during the knockout stages his skipper came to the fore. An assist arrived in a 2-0 win against AEK Larnaka, and in the quarter-final he netted an incredible solo goal that began in his own half to help eliminate Gent.
Typical all-action displays in both legs against AZ Alkmaar set up a final against Fiorentina, and despite question marks swirling around his Hammers future in the build-up, Declan was laser-focused on achieving something special for a side he had proudly represented nearly 250 times since that day at Turf Moor in 2017.
He was a man on a mission in his quest to get his hands on the trophy. No Hammer attempted or completed more passes. None of his teammates won more tackles. He patrolled the midfield, snuffing out Italian attacks and trying to set his team on their own, with the last one seeing Jarrod Bowen net a dramatic winner.
The fairytale ending to Declan's time in east London was complete. Cradling the silverware post-match, he knew that he was departing the way he wanted to - an adored champion, who'd repaid the faith shown in him 10 years earlier.
His exploits mean he'll be forever welcome in east London, but now he has a new set of supporters ready to welcome him with open arms, hoping that there are many more magical match-winning performances to come in the prime years of his career.