Tales from the Invincibles
EDU
The Brazilian midfielder featured in all but eight of our games in the unbeaten season, scoring home and away against Chelsea, and playing some of the best football of his career during the campaign
Bringing a combination of aggression, commitment and silky passing with his trusty left foot to the midfield, Edu was named Premier League Player of the Month in February 2004, and also became a full international for Brazil during the season. He had joined the club in January 2000, from Brazilian giants Corinthians, where he had started his career.
Edu would go on to spend one more season with us after the Invincible year, before winning the Copa Del Rey during four seasons with Valencia. He ended his playing career back at Corinthians in Sao Paulo.
After retirement, he came back to north London as our technical director in July 2019, and since November 2022, he has been the club's sporting director.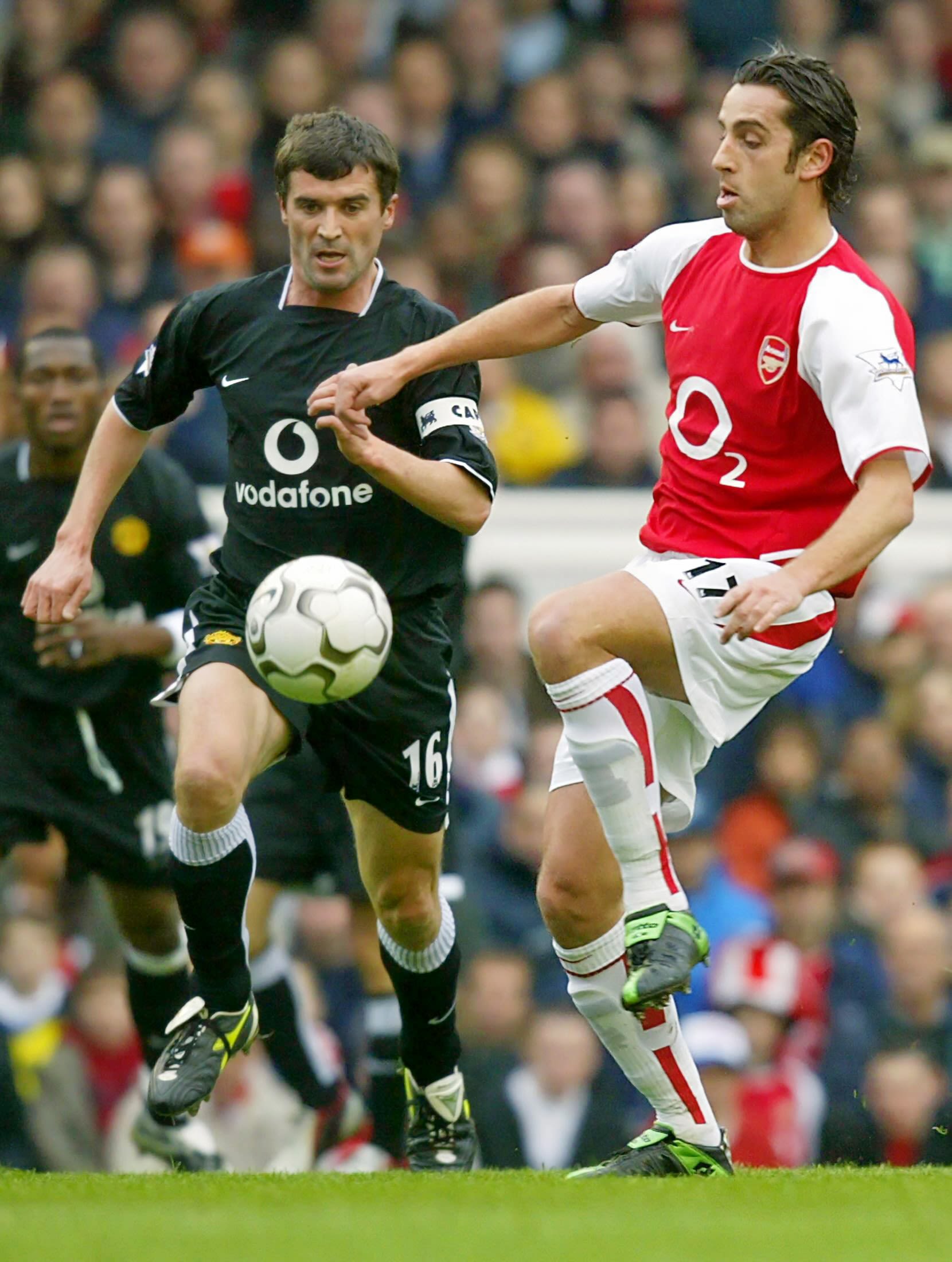 You arrived at Arsenal in January 2001, so did you feel much more settled at the club by the time the 2003/04 season started?
Yes, definitely. In fact, I got married in June 2003, and Luigi was born in March 2004, so I had a lot going on that season, can you imagine!?
It's normal that after a couple of seasons in a new country, you feel more comfortable. I started to understand the language, I started to understand the club, the culture and everything else much more.
did that help you on the pitch? Did you notice an improvement in your performance at that time?
Yes, 100 per cent, absolutely. When you come from Brazil to England, the change is quite brutal, in every single aspect. People sometimes don't realise how challenging it can be to move to a country with a different culture, a different dynamic and different way of life.
In order to settle properly, you need a bit of time, and as soon as I started to understand everything, it all came together easier. Even on the pitch, you know your teammates better, you know the league better, you are aware of the opponents, it all helps make you a better player.
Gilberto arrived in 2002, how much did that help you as well to have your compatriot at the club?
Yes, it was easy for us to connect quickly, even though we didn't know each other before he joined. We had played against each other, and said hello a couple of times, but nothing more than that.
When he joined though we had a great connection straight away and it was helpful for both of us, and the whole squad as well, so it worked well.
How important was Arsene Wenger in those early years as well, to develop you as a player?
A lot, especially at the beginning. Not so much in the Invincible season, but when I arrived he was the one who understood very well how much my life had changed. He was very patient with me, and that gave me the confidence to develop in 2002/03 and then again in 2003/04.
That gave me a better level of everything, and my better level of confidence led to a better level on the pitch, and Arseene for sure played a big part in that.
Looking back at that season, the game at Old Trafford early on was very significant. You came on just when Patrick Vieira was sent off, so what was it like entering the pitch in that atmosphere?
I can't remember exactly what Arseene's instructions for me were, but you are right, it was an interesting time to come on! But when it's a game like that, even if you are sitting on the bench, you are involved in the game, and the emotion of it.
It was so hot, a big atmosphere, so I was preparing for anything. But of course, when I came into the game it was one of the most challenging periods. Patrick was sent off, they put us under a lot of pressure, things went on, they won the penalty, but in the end, I think we got the right result.
Did that result, and the circumstances around it, help bring the team closer together?
Well it helped, but I don't think that was the point that brought us together. For me, right from the start of the season, our squad was united and together. We had a fantastic spirit, and a fantastic mentality even before that game at Old Trafford.
"we worked together every single day to get better and beat our opponents. That's the most beautiful memory I have"
What are your highlights from the season? You scored some important goals, against Chelsea for example...
I remember that well, I scored in both games against Chelsea, from a corner at Stamford Bridge which was an important goal. But if you are asking me about my big memories from that season, it's not a goal, or a game, or a specific moment – it's the way we were together, and the spirit we had in the team all season.
There were some great games to remember of course; the United game, winning the league at Tottenham, the Leicester match, the games against Chelsea – all big games.
But what I will always remember was the mentality of the squad, and how strong we were, how we worked together every single day to get better and beat our opponents. That's the most beautiful memory I have when we talk about the Invincibles.
What are your memories of winning the league at White Hart Lane?
What a beautiful day! The way we won it, the way we played on their pitch – everything was special. I remember our preparation for the game really well.
We knew we could win the league there, but funnily enough, we were only concentrated on performing well. We never said 'let's win the league there'. No, it was just about performing well, and playing the way we want to play.
The preparation was fantastic, because sometimes when you go into a derby, there is a lot of emotion, people tell you how important it is to fight. But we were really, really focused on performing well, and it worked.
It was funny after the game, because I remember we went straight into the dressing room, and we celebrated there for a few minutes then we decided to go back out to the pitch. I ran out and said 'where is everybody!?'
Apart from our fans in the corner, the stadium was completely empty. They must have run out of that place because it emptied in seconds! We enjoyed that day with our supporters, if you see the pictures we are the only ones there.
How much did you enjoy the final game against Leicester and the bus parade the next day?
It was special, but we knew had a big, big responsibility that day not to lose the record. We had already won the league, but after that we had a huge challenge, to keep our minds strong and not lose that run.
We managed it, we did it against Leicester, but I remember it being really difficult to keep going. It was at Highbury though, with our fans there to get us through, and then the celebrations were unforgettable.
I get embarrassed a bit when I see the photos of myself on the bus parade dancing and doing everything! But that's the Brazilian way, we like to dance and celebrate! Anyway, I enjoyed myself!
I get embarrassed a bit when I see the photos of myself on the bus parade dancing and doing everything! But that's the Brazilian way!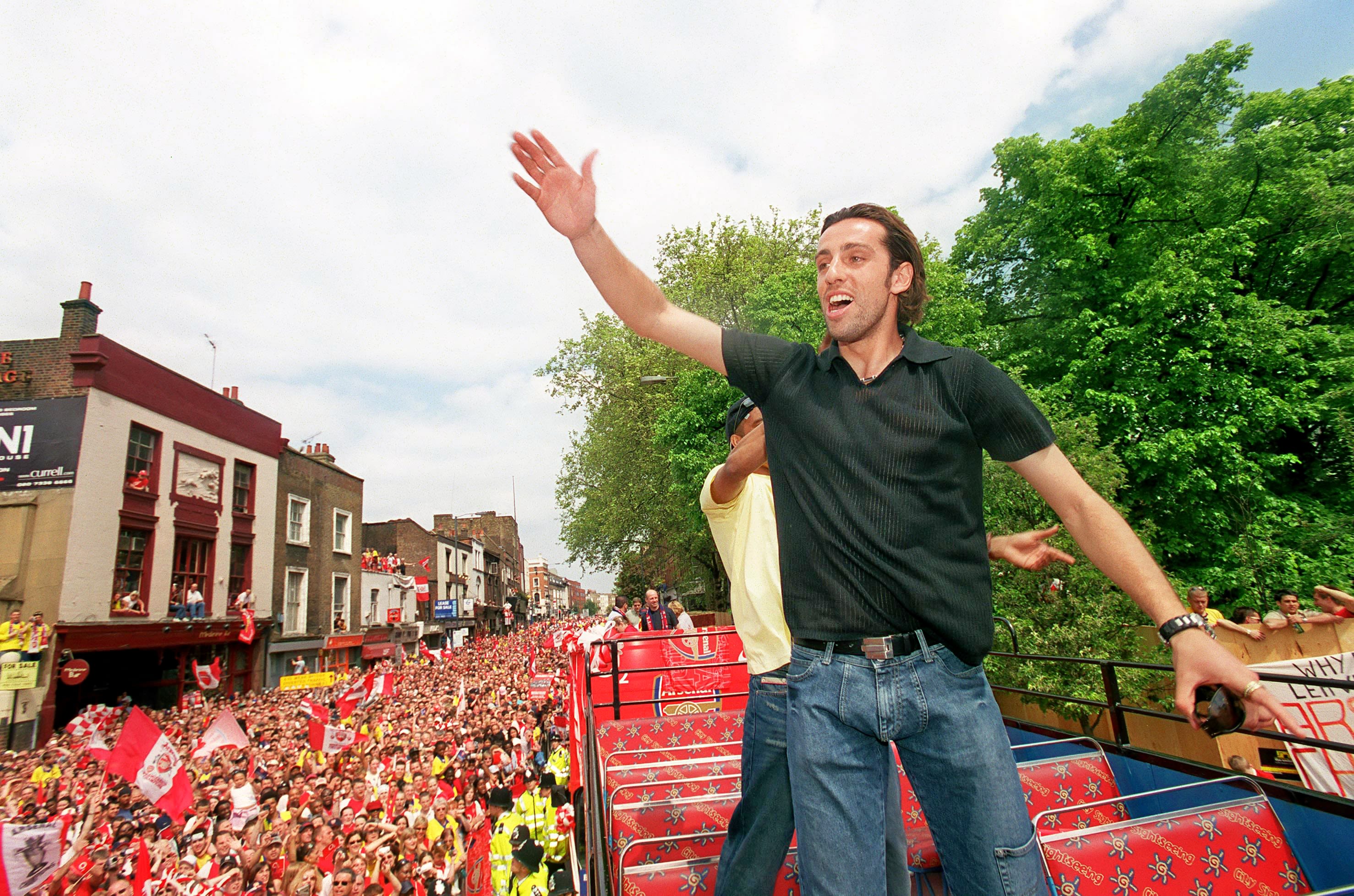 Finally, in your role as sporting director now, you must still be in touch with your teammates from that season?
Yes of course, we have a WhatsApp group we are all in. I'm very, very proud of being part of it, and of what we did. It's a huge achievement to go the season unbeaten like that.
In my role now I think it's important that I make sure these players are still invited back and involved in what the club is doing today. We don't want to lose that connection, so we invite them to the games, to the training ground, to events.
It's not only with the Invincibles, but I believe I have a big responsibility to make sure the club respects our ex-players, our legends, the people who achieved so much for this club, and to make sure they are still involved. It's important those relationships continue.
Item 1 of 5