Leandro Trossard's goal on Saturday was particularly significant – it was the 1,000th we have scored in men's first team matches at Emirates Stadium.
The landmark came up in our 474th fixture at the stadium, meaning the goals have come at a rate of 2.1 per game. But who scored the first? Which player has scored the most? Which team has been on the receiving end most often? Which competitions have the goals come in? At which end do we score more frequently? We answer all these questions, and more, in an in-depth look at the 1,000 Emirates goals so far…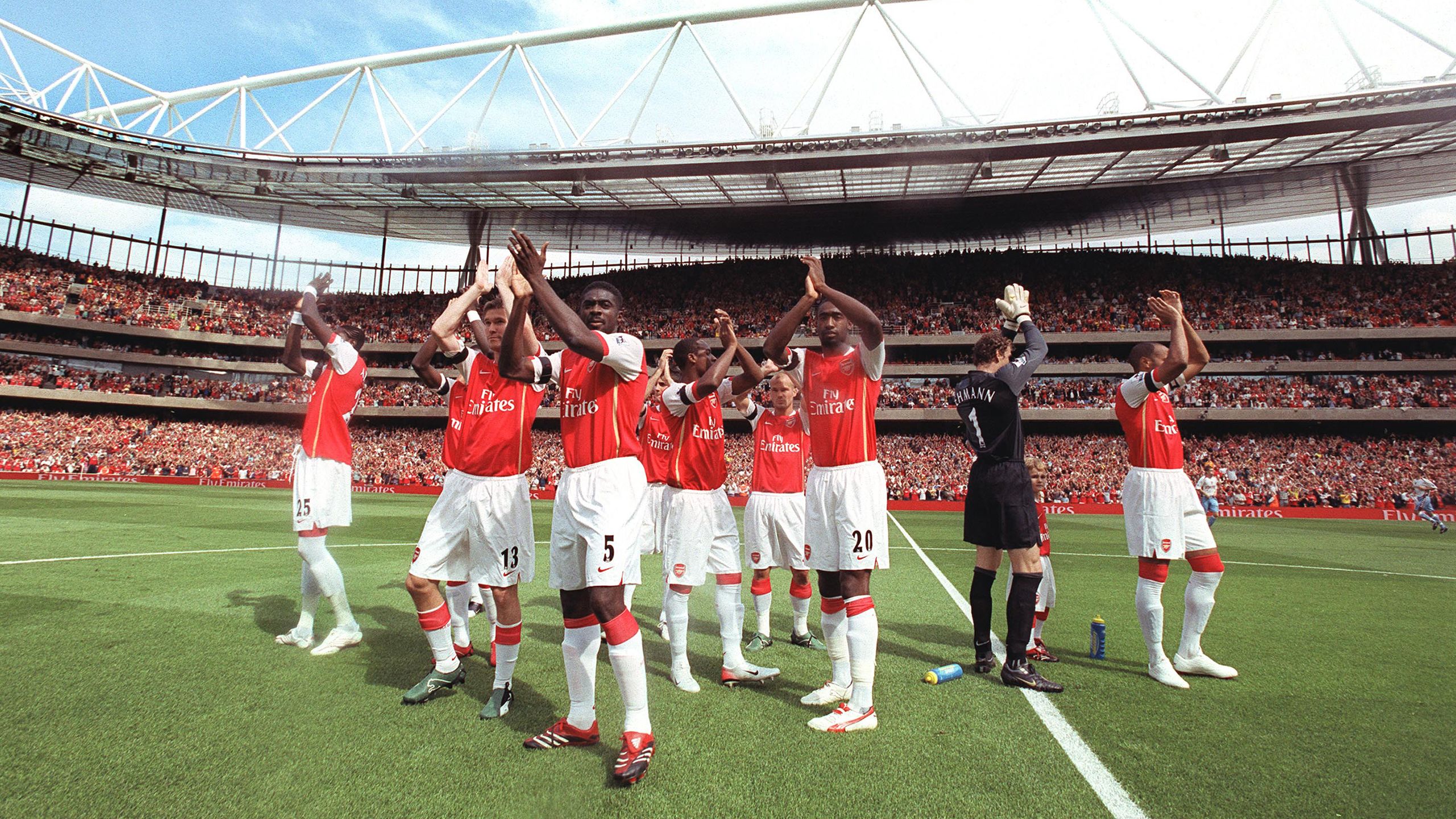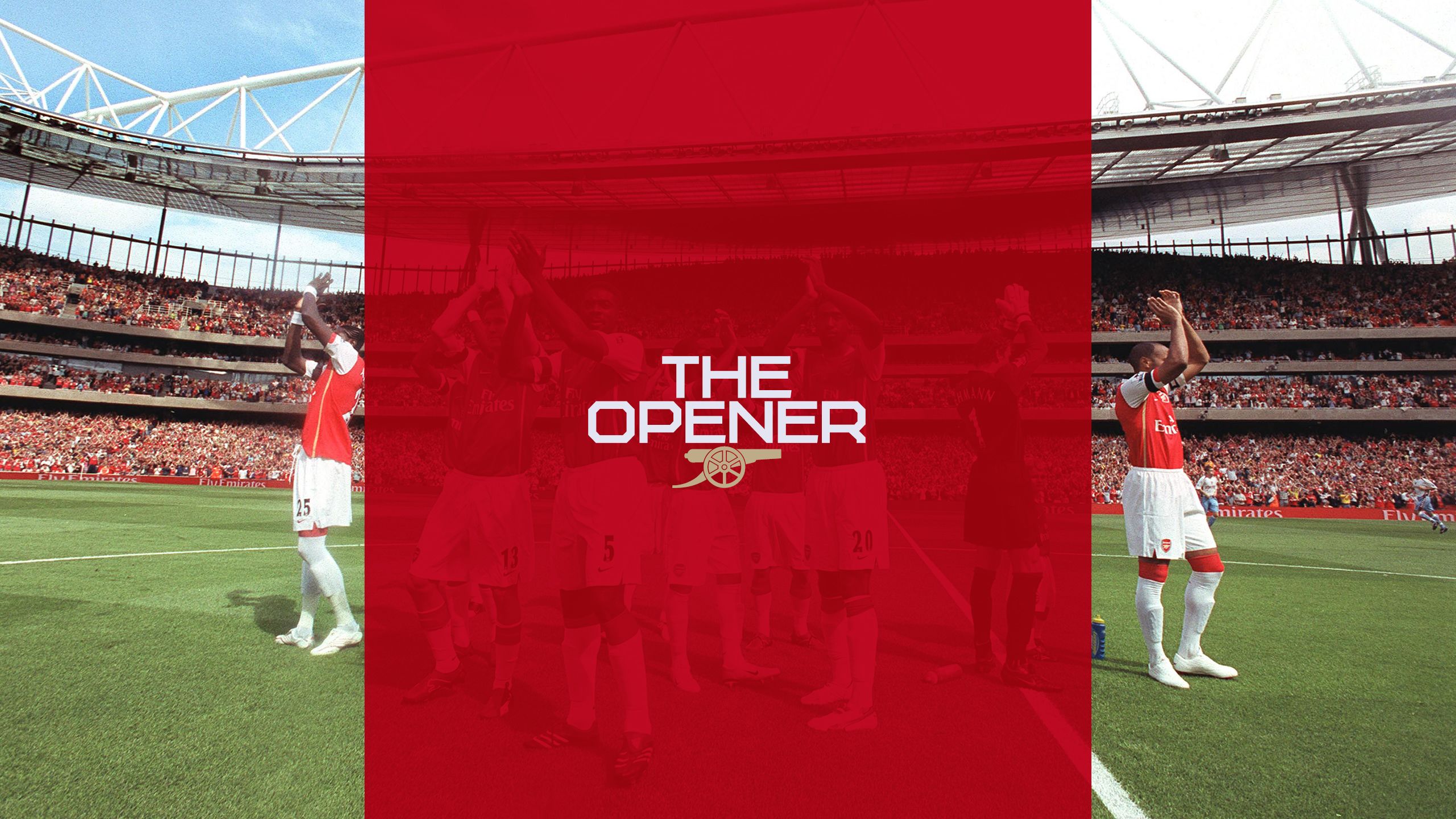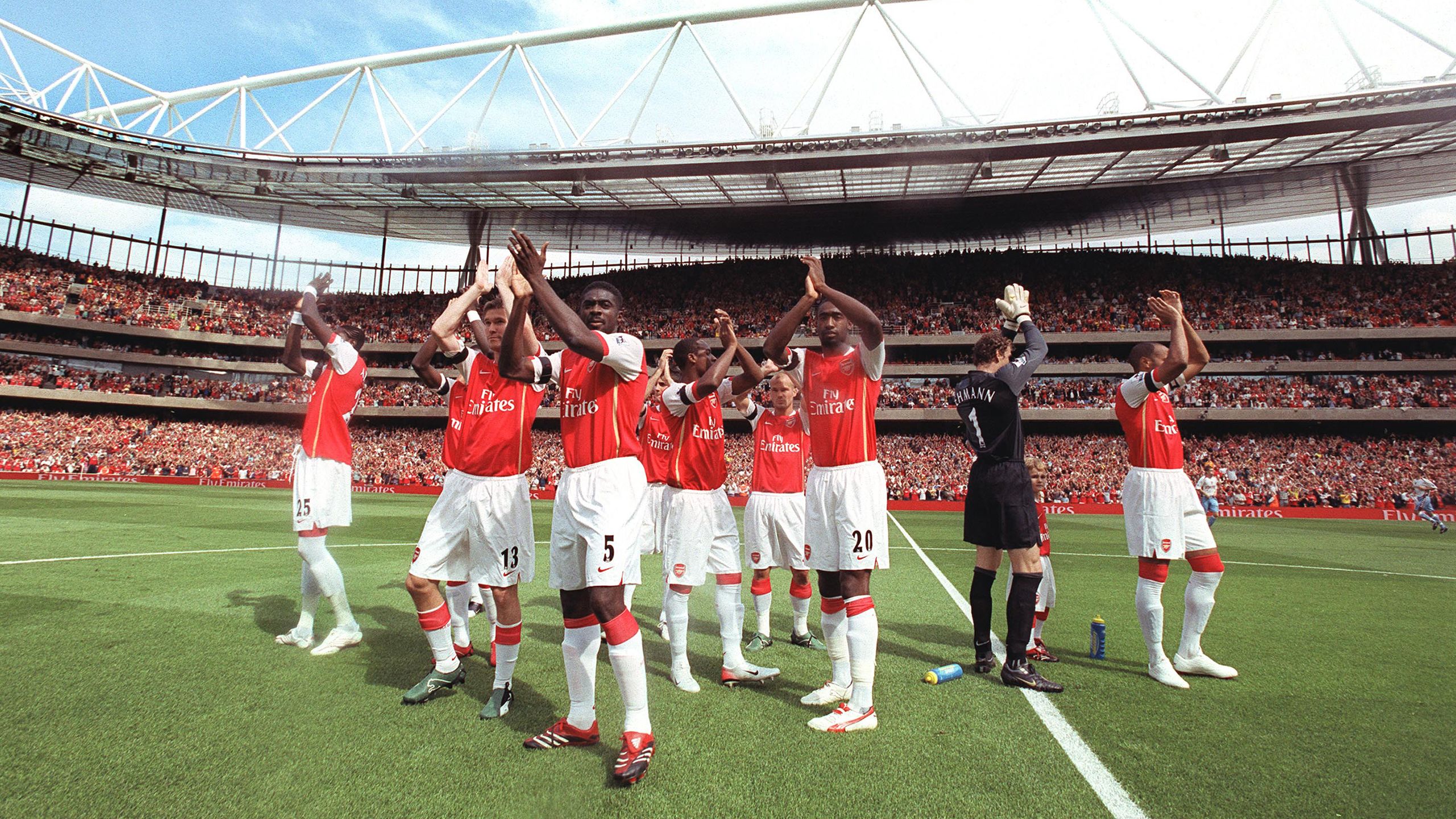 Our first Emirates Stadium goal came in our very first game, against Aston Villa on August 19, 2006 – the opening day of the 2006/07 season. It was scored by Brazilian midfielder Gilberto, a right-footed drive at the far post from Theo Walcott's deep cross.
We were 1-0 down at the time, Villa defender Olaf Mellberg has the distinction of scoring the first goal, heading past Jens Lehmann on 53 minutes.
So Gilberto's strike turned out to be a vital goal, his equaliser six minutes from time ensured we didn't get life off to a losing start at our new home. In fact we remained unbeaten from our first 22 matches at the Emirates (and didn't lose again after that until our 60th game).
It was one of 24 goals Gilberto netted for us, from 244 appearances, and it's one he remains fiercely proud of. "It's an amazing feeling to know I am in history as the first Arsenal player ever to score at that beautiful stadium," he said. "I still get messages about it all the time from our supporters around the world, especially now with social media.
"It's great, I feel proud and happy that people still remember that 17 years later. Wow, it's a long time! People still remember it so I'm proud of that. I actually have the video of the goal saved on my phone. I see it whenever Arsenal post it on social media too, on the anniversary maybe, and it always makes me feel good to watch it again. It's so special"
We scored in each of our first seven games at the Emirates, before CSKA Moscow held us to a goalless draw in the Champions League group stage.
Generally speaking we found our feet very quickly at our new home. In the league that season we only failed to score at home once – a 1-0 reverse to West Ham on April 7, 2007 which was our only Emirates defeat that season. Curiously, each of our opening eight league games at the stadium ended either 1-1 or 3-0 to us.
Gilberto also scored our last goal at home in 2006/07, in a 1-1 draw with Chelsea, our 55th goal from 27 home matches.
We surpassed that tally each year for the next three seasons, racking up 70 in 2009/10. That was our highest scoring Emirates campaign until Arsène Wenger's final season in charge, when we plundered 78 goals from 30 games in 2017/18.
Our goals at the Emirates have come at a rate of 2.114 per game, compared to 2.009 at Highbury. We still have a long way to go to match our total at our previous home however – we netted 4,038 times from 2,010 Highbury games between 1913 and 2006.
"I feel proud and happy that people still remember that 17 years later. Wow, it's a long time! I actually have the video of the goal saved on my phone."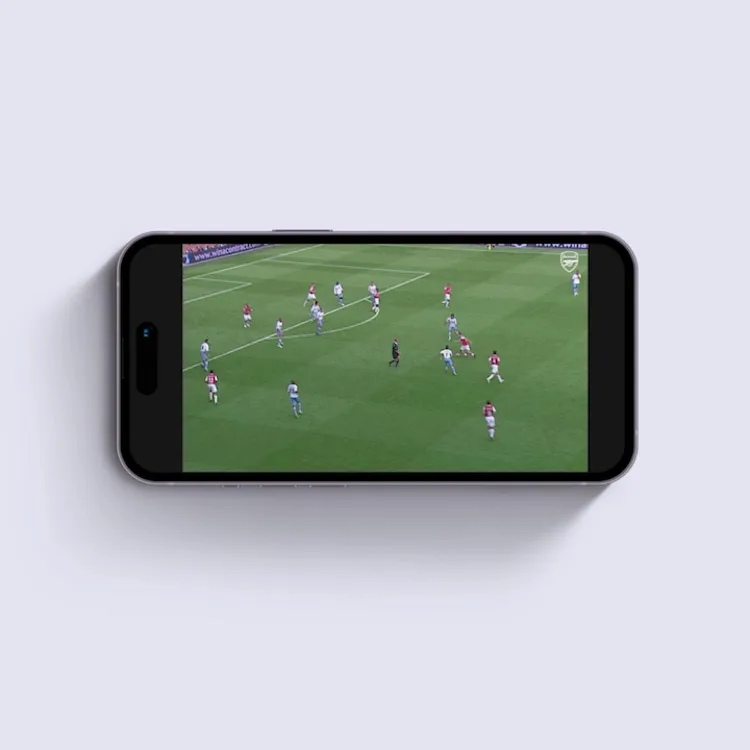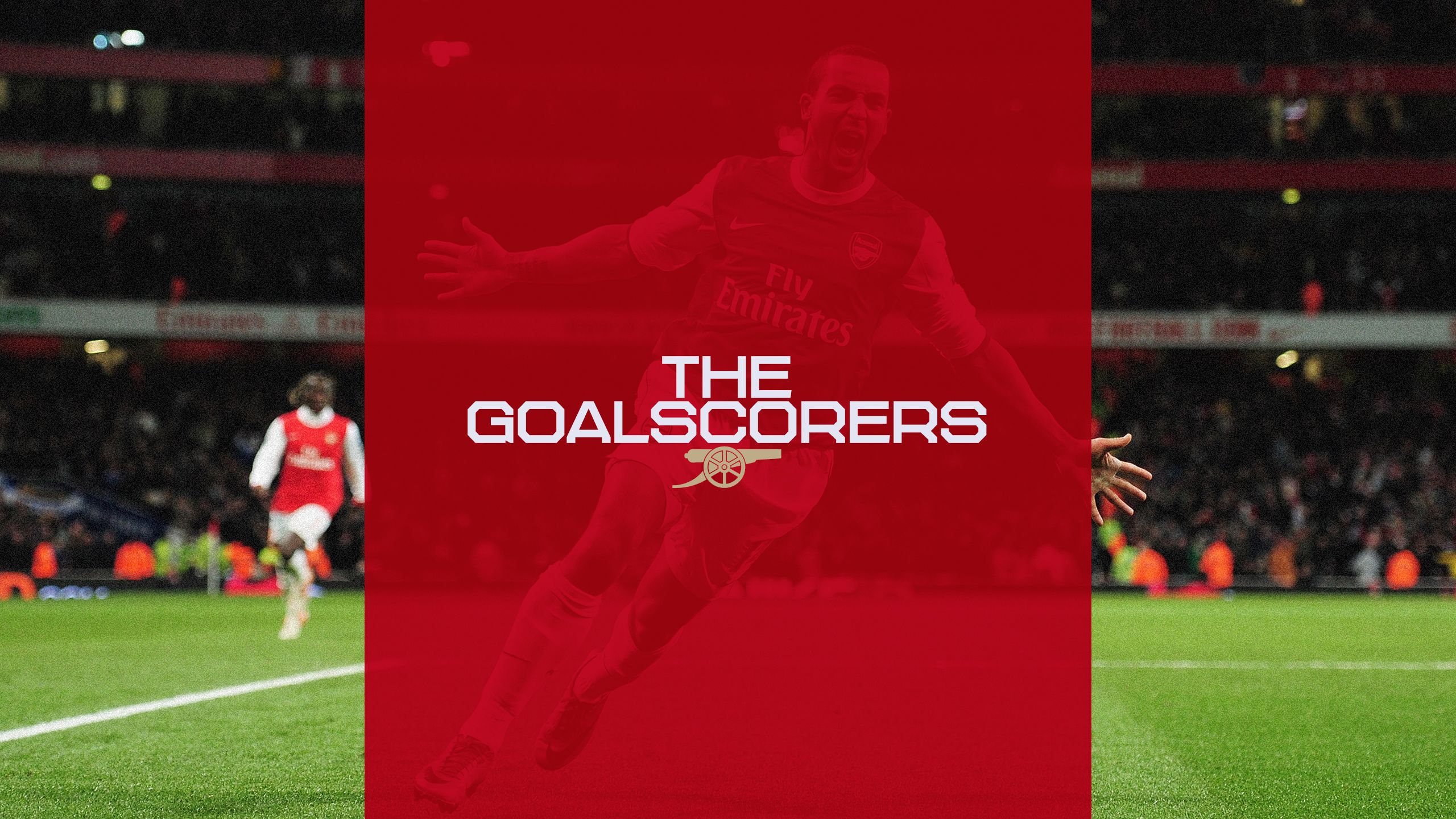 There have been 16 hat-tricks among the 1,000 goals, scored by 11 different players."
Those 1,000 goals have been scored by 99 different players (excluding the 31 own goals). Oleksandr Zinchenko became the 99th when he netted our third against Burnley, shortly after William Saliba had become unique goalscorer number 98. The two outfield players in the first-team squad yet to register at home for us are Kai Havertz and Jorginho – who will become our 100th scorer?
Trossard, who scored the 1,000th goal, has now contributed four to the total. Among current players, Eddie Nketiah is our leading scorer with 25, followed by Bukayo Saka (23), Gabriel Martinelli (19), Martin Odegaard (12) then Gabriel Jesus and Emile Smith Rowe (10 each).
The overall top scorer for us at the venue is Robin van Persie, who netted 45 in the Premier League, and 64 in all competitions (not including the penalty he scored against us in 2013).
He's one of four players to reach a half-century, Walcott (56) and Olivier Giroud (53) and Pierre-Emerick Aubameyang (52) make up the top four.
Mikel Arteta scored 11 of his 16 Gunners goals at the Emirates, the last six of which were all penalties. There have been 16 hat-tricks among the 1,000 goals, scored by 11 different players. Walcott scored three of them (against Blackpool, Newcastle United and West Brom – all in the Premier League). Eddie Nketiah has scored each of the last two, while the others came from Nicklas Bendtner and Robin van Persie (two each), Emmanuel Adebayor, Aubameyang, Giroud, Mesut Ozil, Aaron Ramsey, Carlos Vela and Danny Welbeck. No visiting player has ever scored a hat-trick at the Emirates.
Coincidentally, the three goalscorers in our first-ever league win at the Emirates, against Sheffield United in September 2006, all share a birthday – William Gallas, Thierry Henry and Phil Jagieka (own goal).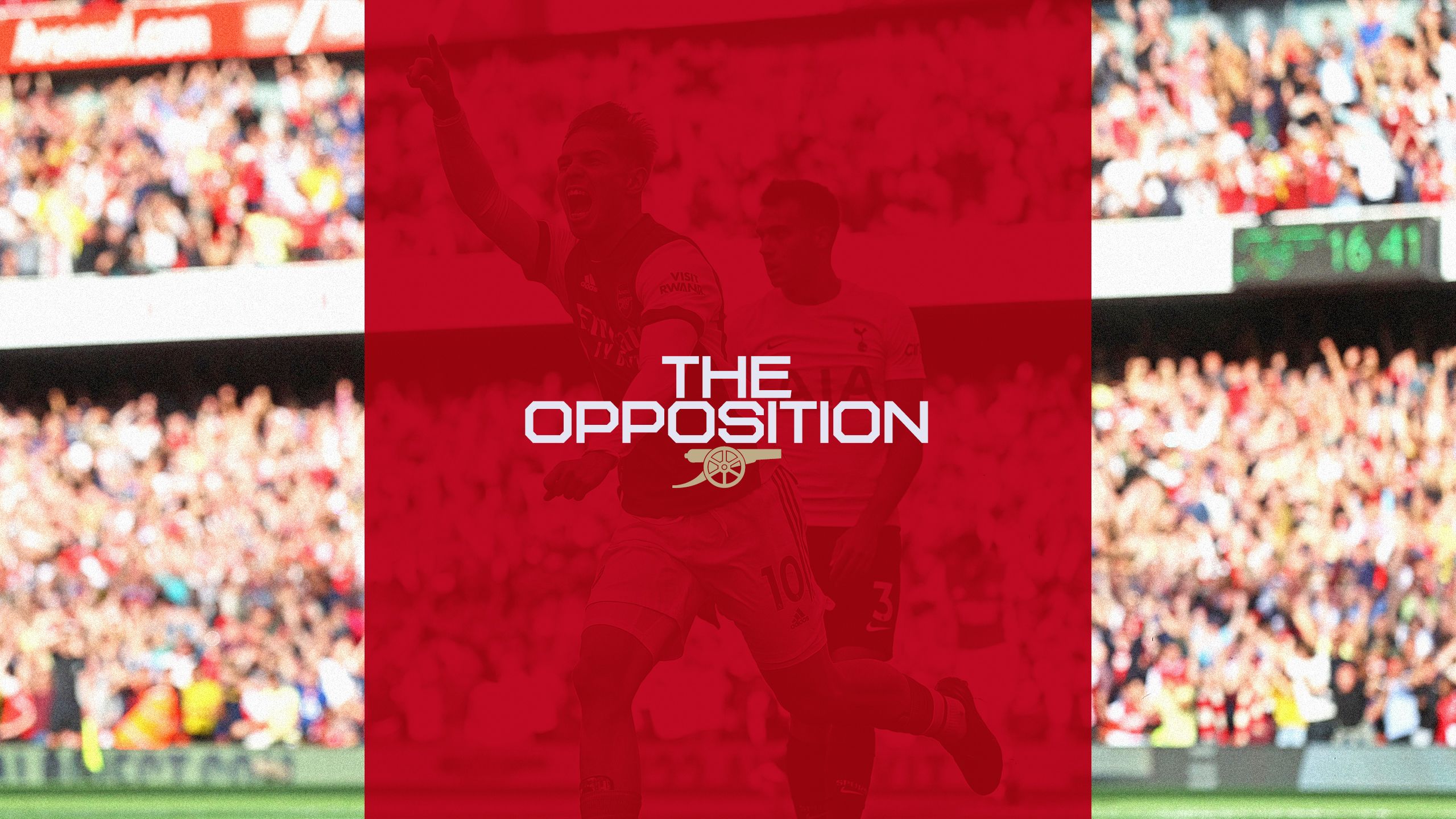 Our 1,000 goals have been scored against 103 different teams. We've scored at least once against every team we've faced, except for Schalke and Red Star. The visiting team to concede the most goals at the Emirates is Tottenham Hotspur. We've netted 52 times against them from 22 north London derbies in all competitions.
Next come Newcastle United (43) and Everton (41). Blackburn Rovers conceded 25 from just eight visits, an average of more than three a game. We have won 6-2 twice at the Emirates – both times Blackburn were on the receiving end. Similarly we have recorded two 5-2 victories, and both of those were against Tottenham. Both of our 6-1 wins came in back-to-back matches during a 12-day period in September 2012.
The most common scoreline is 2-0, recorded 61 times, and we've scored at least twice in 63 per cent of our games. There have been 33 unique scorelines so far.
Overall we've registered in 412 of the 474 games, scoring seven on three occasions, and six in a further nine matches. However we haven't scored half a dozen in a single game for nearly six years, since beating BATE Borisov 6-0 in the Europa League in December 2017.
The longest sequence of scoring games at the Emirates is 30 matches – between February 22, 2014 and April 4, 2015. This was followed immediately by our longest scoreless run (three matches). We are currently on a run of ten consecutive scoring games.
Throughout the 474 games, we've conceded 407 times, meaning our overall goal difference is +595, and there has been just one penalty shootout so far. That was last season against Sporting, which the Portuguese side won 5-3 after a 1-1 draw in the Europa League Round of 16. The goals in that shootout are not counted in the 1,000.
"The most common scoreline is 2-0, recorded 61 times, and we've scored at least twice in 63 per cent of our games."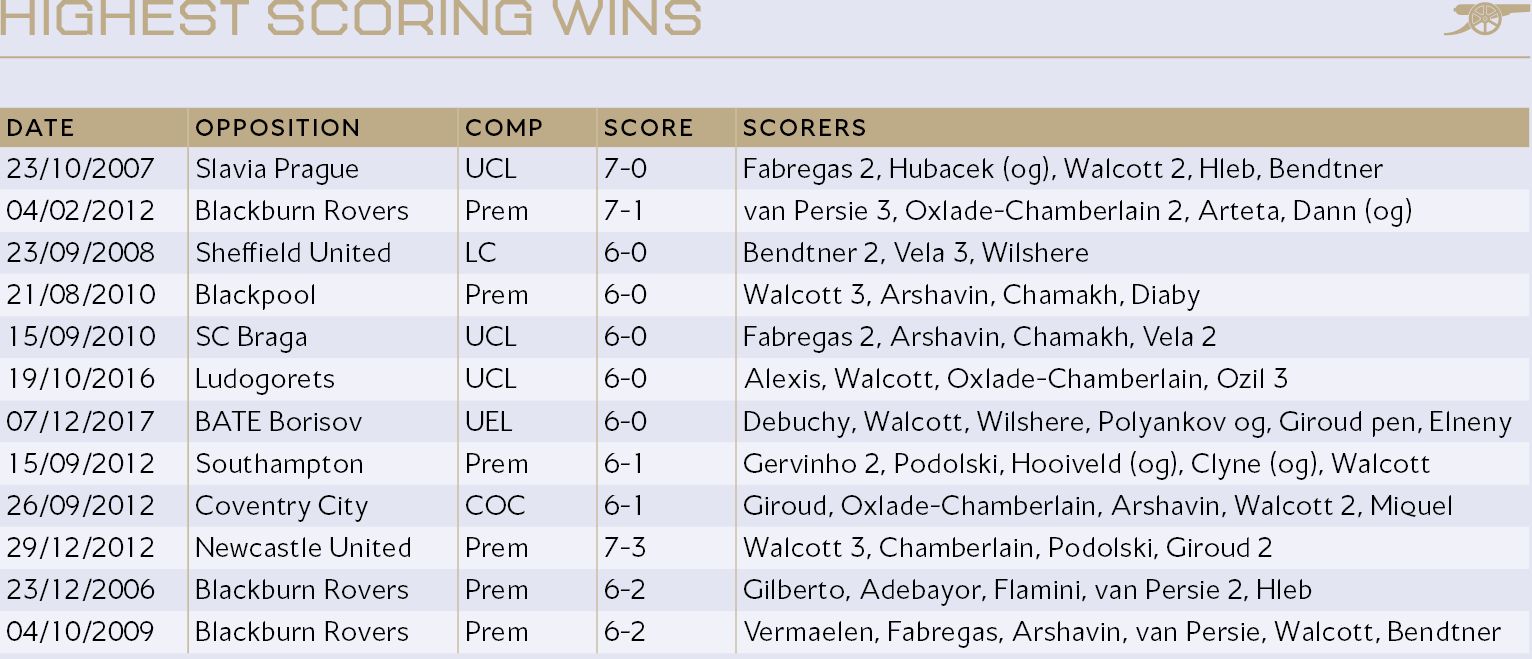 The visiting team to concede the most goals at the Emirates is Tottenham Hotspur, followed by Newcastle United and Everton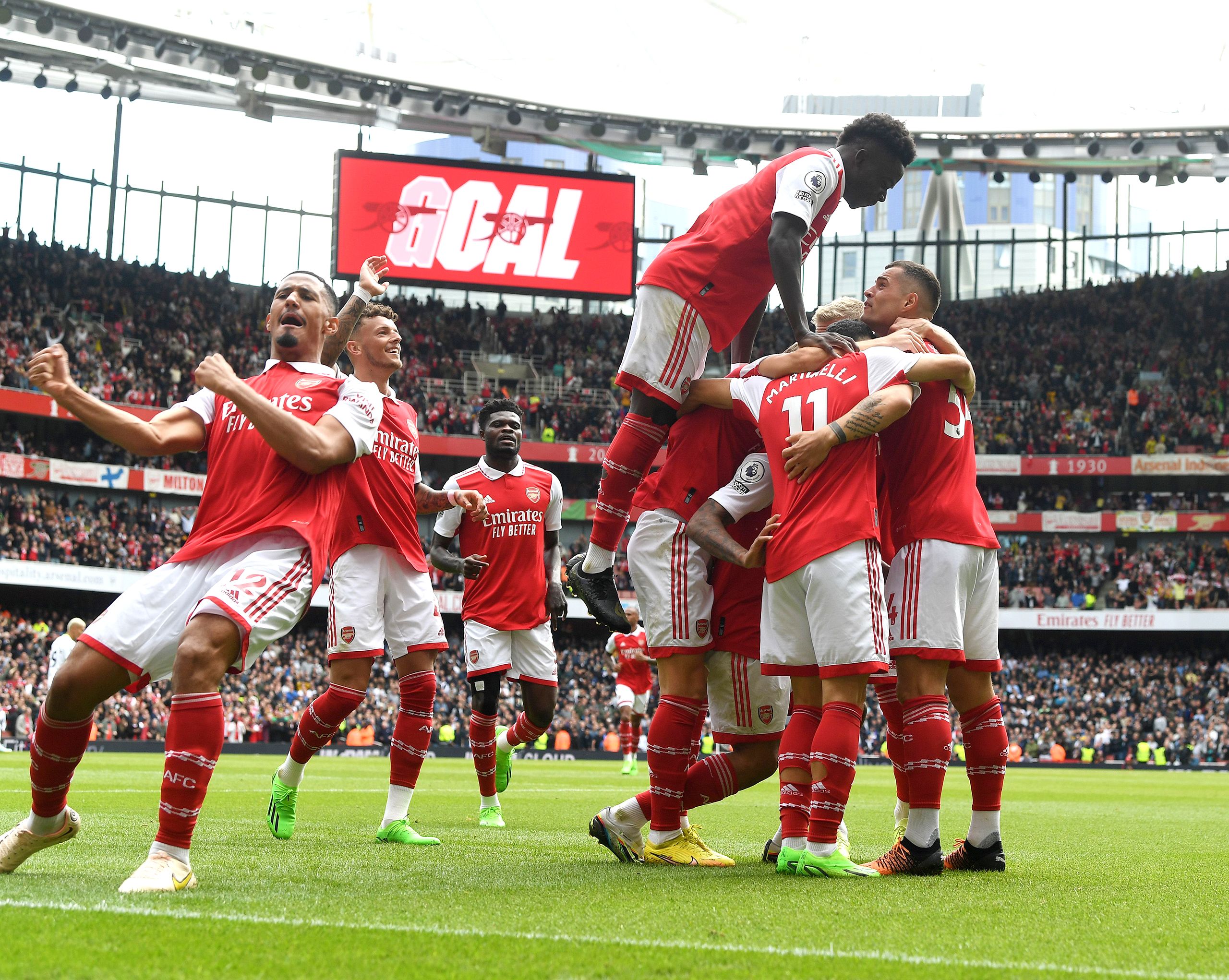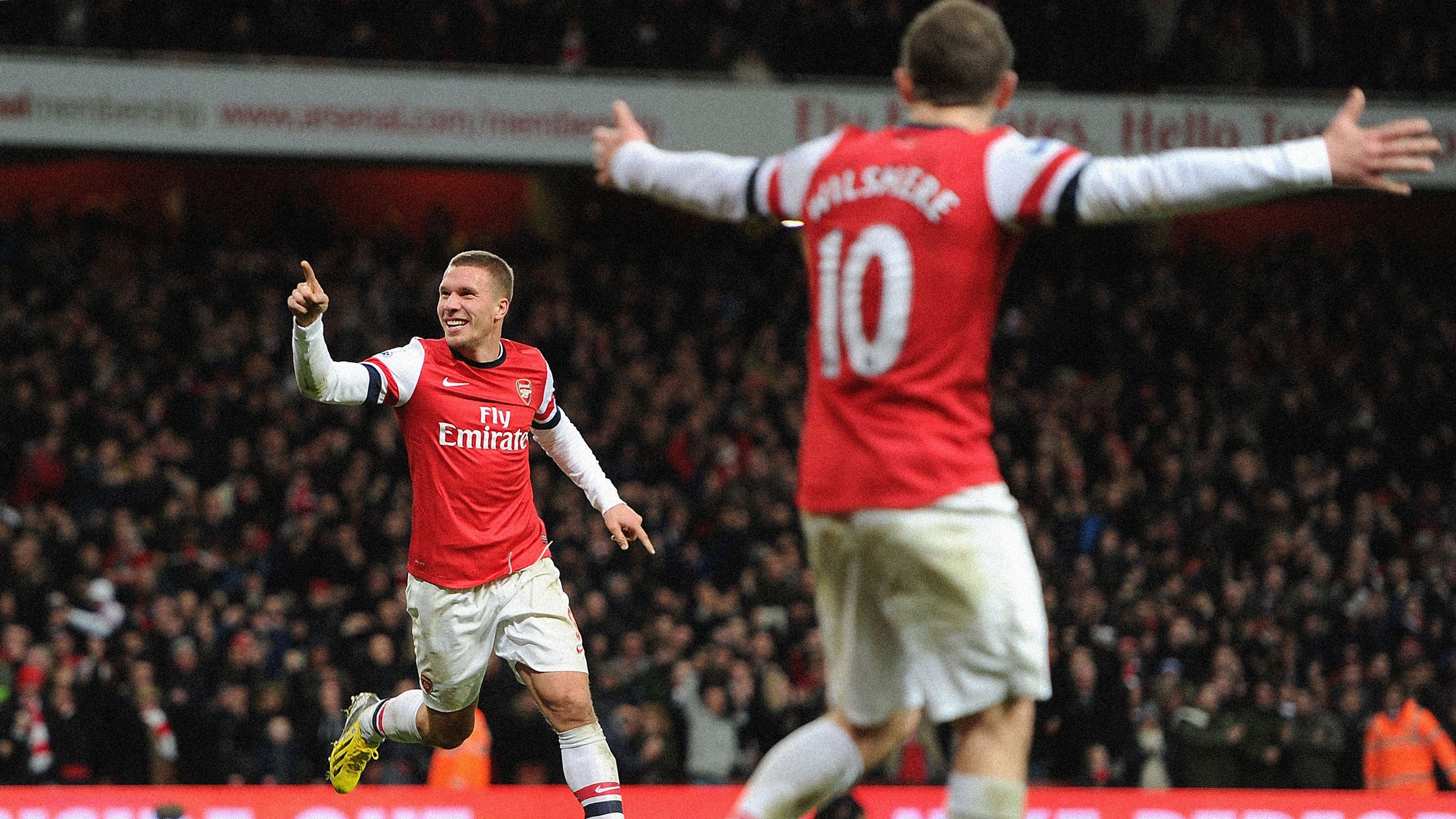 Mikel Arteta's first match in charge at the Emirates was on December 29, 2019 against Chelsea, the game against Burnley at the weekend was his 95th as manager at the stadium. During that time we've netted 192 times, at a rate of 2.02 per game. We scored 719 goals under Arsène Wenger at the Emirates, 90 under Unai Emery, and one when Freddie Ljungberg was in temporary charge.
The manager in charge when we scored our 1,000th Emirates goal is also the man who scored our 500th. Arteta struck a penalty to put us ahead in our Champions League group stage game at home to Anderlecht some nine years ago – on November 4, 2014. It was his ninth successful spot kick in a row for us, his 16th goal overall for the club, and would turn out to be his last as well. He did score a deflected effort on his final appearance, but that was later credited as a Mark Bunn own goal. That strike against Anderlecht set us on the way to a three-goal lead, only for the Belgians to hit back to claim an improbable draw. That's the only time we have not won when scoring one of the milestone goals en route to the thousand.
Goal 100 came midway through the second season, scored by Emmanuel Adebayor in a 3-0 FA Cup win over Newcastle. That was 46 matches into life at the stadium. Our last 100 goals took just 44 games to arrive, following Charlie Patino netting goal number 900 back in December 2021.
That night the Hale End product, sporting squad number 87, came off the bench in our Carabao Cup quarter-final against Sunderland. He was introduced into the action with ten minutes remaining for his first-team debut, and in the last minute he stabbed home Nicolas Pepe's low cross to bring up a significant goal for him and the stadium.
Goals number 800 (scored by David Luiz) and 900 came either side of the Covid lockdown period. In total we scored 42 of the 1,000 goals behind closed doors, and a further seven when attendance restrictions were still in place.
Trossard's historic goal – like each of his previous six for the club – was assisted by Bukayo Saka. Our young winger has assisted 20 of the 1,002 goals so far.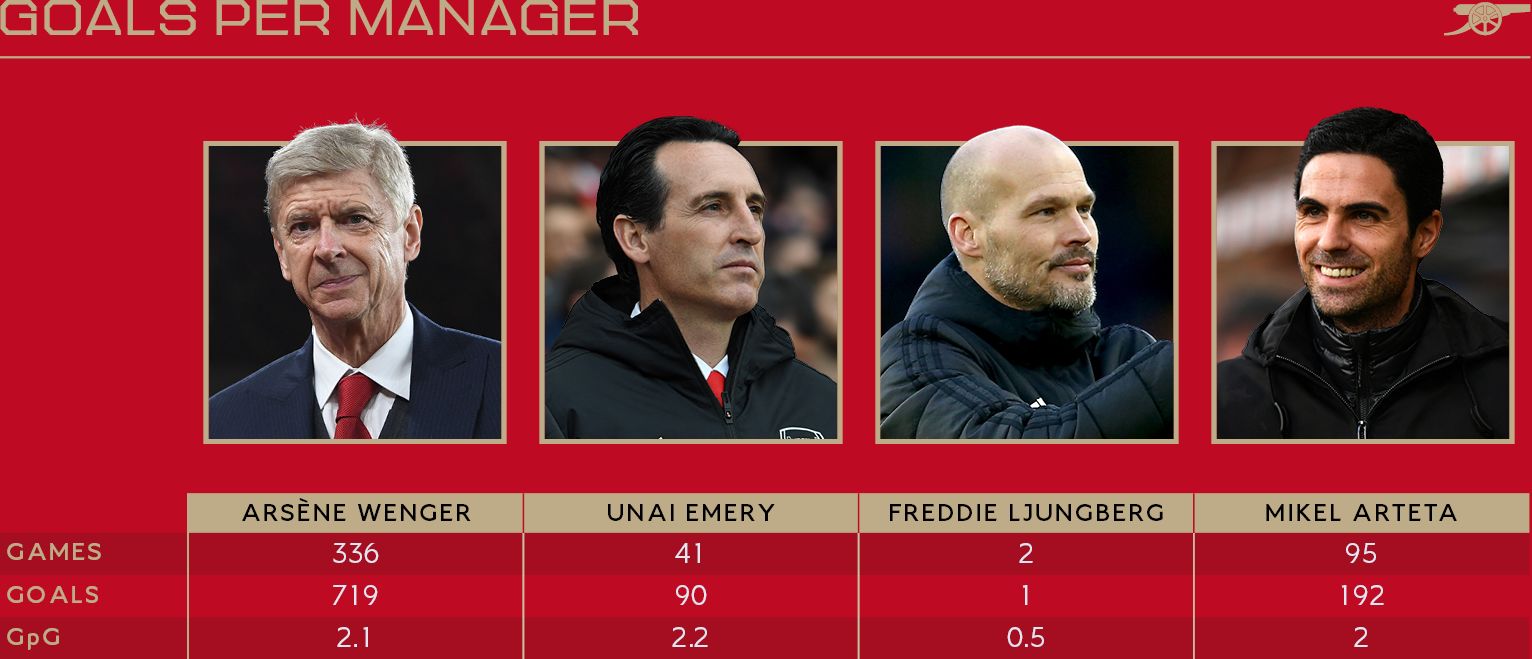 "We scored 42 of the 1,000 goals behind closed doors."