Jorginho: my successes make me hungrier for more
Our midfielder tells us about how his upbringing in Brazil and Italy fuelled his desire to make it to the top level, and how his subsequent success continues to fuel his quest to stay there.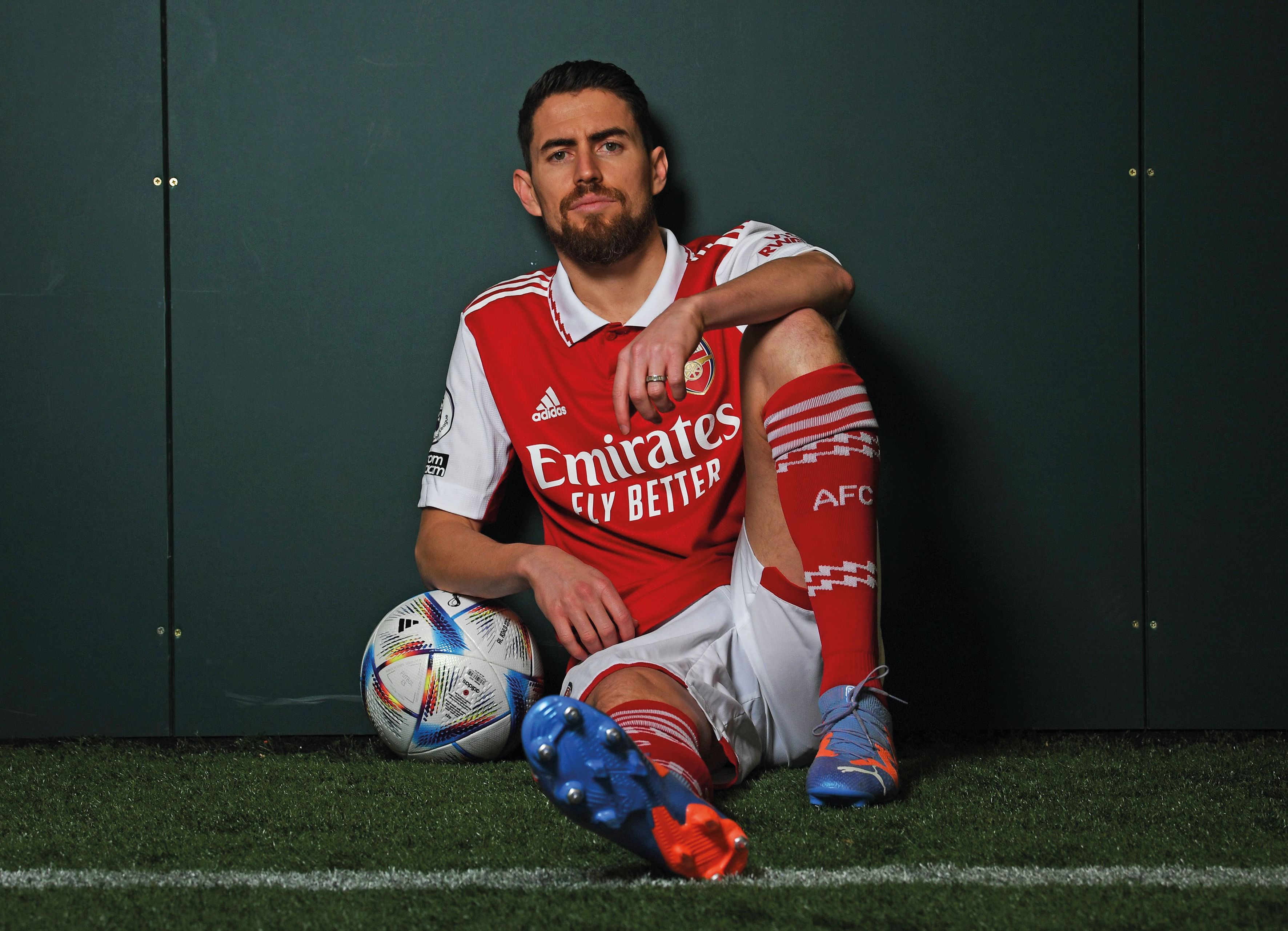 They might be separated by more than 6,000 miles, but the link between Jorginho and his mother is as strong as ever.
Throughout his life, Jorginho says his mum has been his main inspiration, guiding light, role model, mentor, critic and even coach.
The 31-year-old midfielder, who signed for us on transfer deadline day at the end of last month, has had an eventful journey in football so far. From starting out as a youth player in his native Brazil, before moving to Italy as a teenager and then becoming a full international for his adopted country, then moving to London to spend four-and-a-half years at Chelsea before making the move to north London this winter, Jorginho's mother has played a huge part in it all.
And as he starts the newest chapter of his story, he says the values his mum instilled him in as a youngster still play a huge part in his character today.
"My mum is my big inspiration," he says without hesitation. "She did everything to ensure that I would become the best I could be. She always tried to do the best she could to educate me and my sister, teaching us to be really good people in the future and not just look out for yourself.
"She did from an early age," he continues, "from whenever I can remember. "She has a background in football too, she still plays. In fact, she plays three times a week. She absolutely loves football and we always talk about it.
"She is always on the phone to me talking about the game, commenting on the games, on everything I've done. Whenever we speak she tells me about what she thought of my performances!
"She normally tells me off when she thinks of something that I didn't do very well. I don't get many compliments from her to be honest! She is a tough coach for me!
"She lives in Brazil, but we are still very, very close. We are in contact all the time and she visits whenever she can to see me and the kids. She's really looking forward to coming to watch me at the Emirates, she can't wait actually. I don't know what game it will be yet but it will be very soon for sure."
In fact, Jorginho explains, if it wasn't for his parents' support at a critical time in his development, he might never have made it as a professional footballer at all.
"When you see your family proud of you, their adrenaline, the passion you have for what you do is what you dream of. It's what I dreamed of when I was a child."
Born in the coastal town of Imbituba in southern Brazil in December 1991, his first memories of playing football are kickabouts with his mother on the beach. But perhaps 'kickabout' is not an accurate description. Even as a child, his mum would look to develop his skills and run him through training drills.
"Yeah, really early in my life, when I was a very young age, she would take me to the beach and she'd take me to do some technical work," he reveals.
"We worked on ball control and things like that. She would always talk about looking for the next player, look at positioning on the pitch, be aware of who to pass to this kind of stuff."
It wasn't long before young Jorginho was attracting the attention of his local teams, and he was being coached at club level too.
This led to interest from further afield, and he made his first move in the sport.
"The first time I moved away from home was when I was 13," he recalls. "I moved to another city in Brazil, and that was very hard, because the situation in the place I was living, well you can say it wasn't easy.
"So at some point my mum even said to me: 'look, it's time to go back home. We don't have much money, but you don't have to live in these conditions.'
"I was 14 by now and I said to her: 'no, this is my opportunity, I want to follow my dream and I can feel the opportunity is coming for me to go to Europe soon to try there.'
"But she repeated again, 'you need to go home, we can try something else in Brazil, but you're not staying here in these conditions.'
"I said to her that I'm staying to see it out. I told her that I'm staying and said that if she made me go home and then I don't make it as a footballer, then I might blame her for the rest of my life.
"She was crying and she said: 'please don't do this to me because I just want the best for you.'
"But I was fine, I said I was fine there. Even in those conditions, I'm not leaving. So in that moment it was really, really hard for her.
"Anyway, I soon moved to Europe and then when I was 17 and I was in Italy, I wanted to give up because of the situation I was in at my club.
"Now it was her turn to save me. She didn't let me give up. Her and my dad told me I was so close to becoming a professional footballer. They said that now it's time to stay strong for a few more months, and then you're going to sign your first professional contract.
"They were tough on me an that moment so I'm always grateful for that, because they were right.
"She knew it was my dream. She was happy when I went to Europe, even though it was far away from home. She was very happy for me because I was not just following my own dream, but her dream as well."
"To be fair, I don't get tired of winning! I know what it takes to win and I want to do it more."
The sacrifices, tough times and tears soon began to pay off. After four seasons with Verona – the last of them in Serie A – he earned a big move to giants Napoli.
He was part of their Coppa Italia-winning side in 2014 and then became a full international for Italy after emerging as one of the country's stand-out deep-lying midfielders.
In 2018 he arrived in London at Chelsea alongside his boss at Napoli, Maurizio Sarr.
He won the Europa League at the end of his first season, but he says it's the Champions League success of 2021 that made him and his parents most proud.
"Definitely when I won that final," he recalls, "because my family were at the stadium. I could enjoy my sister's joy, my family's joy – that made me so happy. That's one of the biggest reasons why I give all of myself to what I do – to see how happy it makes them too."
The whole family are invested in his success, because they are so closely linked to his career and the major decisions he's made along the way. Whether that be which national team he chooses to represent, or what club he signs for: "Yes I speak with them about everything, we discuss everything," he confirms. "I ask them what they think, when there's a new opportunity maybe. I always listen to them and I always listen to their advice. In the end I take my decision, but I like to hear what they have to say.
"When I told them about the move to Arsenal they were really excited. Arsenal is a big, big club and the moment the club is living now is really good.
"It's a good opportunity for me to have a new challenge at this age. They said they were very excited for me, and I'm very excited personally too!
"I really like the way the team is playing, the work that is being done, and what we are doing here is very exciting. I've looked for a long time to be honest and thought what they were doing is just amazing.
"Now I am part of it, so it's what we are building and what we are beginning now. I'm really happy being part of it because we have got young players, hungry players, and a really good coach with an amazing mentality, teaching his football to young players. So I think the future at this club is going to be very good and we can aim very high."
I really like the way the team is playing, the work that is being done, and what we are doing here is very exciting.
This coming from a player who's won domestic, European and of course international honours. Just a few weeks after that Champions League success he was a key part of the Italy side that beat England in the Euro 2020 final at Wembley. He was included in the official Team of the Tournament, and was named UEFA Men's Player of the Year for 2020/21.
At the end of 2021 he finished third in the Ballon d'Or voting, behind Lionel Messi and Robert Lewandowski.
So how does a player who's reached so high in the game maintain his motivation for fresh challenges?
"I think about the feeling when you win," he grins, "and I think about when I have won before, because that feeling is just amazing.
"When you see your family proud of you, their adrenaline, the passion you have for what you do is what you dream of. It's what I dreamed of when I child.
"So I think of those things to keep working hard, to keep improving myself every day, to try and achieve more. To be fair, I don't get tired of winning! I know what it takes to win and I want to do it more."
This burning ambition and fierce determination was clearly built into Jorginho from a young age, but for someone who is at home right at the epicentre of the midfield engine room, our new No. 20 always looks so calm and unflustered in possession. So just how does he manage to keep a cool and relaxed exterior when he's in the heated environment of Premier League battle?
"How do I really feel inside me while I'm on the pitch? It's how you see me, to be honest," he smiles. "That's how I am. The adrenaline is high, because that's normal, but I try to focus on what I can control.
"It makes it easier. I always like to feel the atmosphere and vibe of the stadium, on the pitch. But also I like to think about where I came from. Where I started. I remember that I need to play each game like I did when I was playing in my home city when I was child. So that helps me to relax on the pitch."
And now Jorginho is a father himself ("my youngest is absolutely football mad!") does he follow the blueprint from his mother in bringing up his own family?
"Yes, that's exactly what I try to do. I try to educate them to always be kind and humble. If they want something, they need to work hard for it. They need to be humble because nobody is better than anyone else.
"Also I tell them if you lose, it doesn't matter how you go down, it's how you get up again.
"There's a game we always play at home with them. I say to my kids 'when you lose, what do you do? And they always reply "you try again!"
It's a life lesson that has stood Jorginho himself in good stead so far, and you sense there's plenty of ambition burning bright inside him to continue making his family proud.